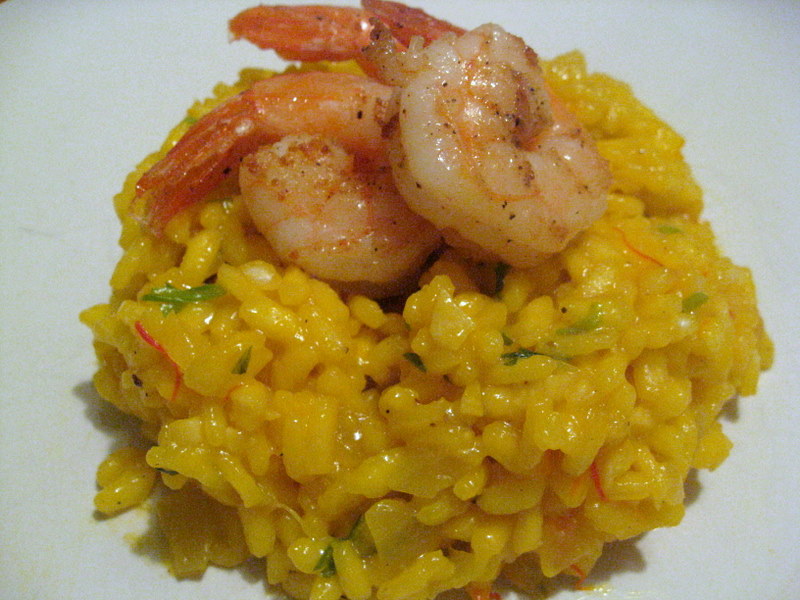 Having a good friend (that, notably, lives 500 miles away) over for dinner is truly one of my greatest joys in life. Few things make me feel as good as feeding the people that I love. After all, food is sustenance for the stomach, but also for the soul. This particular friend walked into my life at random (as good friends often do). We were randomly selected to room together in an apartment in Siena, Italy my junior and her senior year of college. She got the coveted single room, while my other roommate and I were livid about sharing space. In the end, Ruth ended up spending more time in Sonia and I's room than her own.
Over the years, we've managed to maintain regular visits and my cooking has come a long way since the early days. In Italy, I was obsessed with making bistecca Milanese–a thin cut fillet of beef that I would saute with garlic and olive oil and often eat alongside a big bowl of pasta drenched in olive oil and freshly-grated Parmesan cheese. Risotto was a splurge that I only allotted myself at trattoria outings. I never would have imagined stirring and stirring and stirring a pot of rice at home–methodically pouring in stock.
It's true, to make a good risotto, you've got to have a good arm–and a big wooden spoon. The worst thing you could do is under cook the rice. After all, the hard work leads to a luxuriously creamy mass that nearly melts off the spoon and is aromatized with a hint of white wine and a range of potential flavors.
The classic, of course, Risotto Milanese (check out this awesome adaptation of Mario Batali's recipe in the Paupered Chef), is a simple combination of arborio rice, chicken stock, white wine, onion, butter, tons and tons of cheese and saffron (which Matt tells me, by way of his friend Carlo, is more expensive than gold).
Given that Matt and I still had a freezer bag full of frozen homemade lobster stock (saved from the engagement lobster!), we decided to welcome our friends (Ruth and her fiance, Marty), into our home with some saffron risotto made with lobster stock and topped with sauteed shrimp. The meal not only felt appropriate given the history of Ruth and my friendship, but was also a great meal to cook in the presence of friends. All that stirring leaves one hand open for a glass of wine and great conversation.
Saffron Risotto with Tarragon and Shrimp
c/o Culinary Cafe
*serves 4
For the risotto:
5-6 cups of homemade lobster stock (we had about 4, which we diluted with 2 cups of water)
3 tablespoons of extra virgin olive oil
1/2 a yellow onion, chopped
3 cloves of garlic, minced
2 cups of arborio rice
2 cups of dry white wine
1/2 of a tablespoon of saffron threads
1 tablespoon of honey
2 tablespoons of fresh tarragon, chopped finely
salt and pepper, to taste
1. In a medium saucepan, bring your stock to a low simmer.
2. Meanwhile, pour 3 tablespoons of olive oil into a large soup/saucepan and heat over medium heat.
3. Add in the onion and garlic, sauteing until the onion has just begun to soften (don't allow the garlic to brown).
4. Dial the heat to medium-high and pour in the wine. Cook until the wine evaporates nearly completely.
5. Lower the heat again and pour in the rice. Throw in the saffron threads and mix with a wooden spoon, coating the rice with oil and cooking for a few minutes.
6. Now, it's time for the fun part! With a measuring cup, pour in one cup of the lobster stock into the saucepan with rice. Stir continually, until the liquid is absorbed. Add another cup and continue to stir until the liquid is absorbed.
7. At this point, start adding stock 1/2 cup at a time, stirring and allowing the rice to absorb the liquid each time–until you have fully incorporated the stock.
8. Throw in the honey and diced tarragon. Salt and pepper, to taste, and stir to incorporate.
Prep for the shrimp:
16 large shrimp (not pre-cooked, with shells peeled off)
2 tablespoons of extra virgin olive oil
salt and pepper, to taste
1. Salt and pepper the shrimp
2. Pour 2 tablespoons of olive oil into a medium skillet and heat to medium-high heat.
3. Cook the shrimp for about 2-3 minutes, flip and cook for another 2-3 minutes on the other side.
To serve: spoon the risotto into a volcano shape onto each plate and place 2-3 shrimp in the center. Serve the remaining shrimp on a plate for guests to help themselves.
Set a ramekin with freshly-shaved Parmesan on the table, for sprinkling over the risotto.
Musical Pairings: Al Green–The Greatest Hits (1975) and Saffron Risotto with Tarragon and Shrimp
Al Green's sexy vocals and the rich, lush arrangements of his early brand of soul/R&B, especially those featured on this 1975 Greatest Hits compilation, are the perfect pairing for this recipe. You can almost hear this decadent bowl of risotto sing, "Here I am, come and take me."
I'm sure I don't need to tell you how great Al Green is. His awesomeness is pretty universally renowned. Nonetheless, I wouldn't be surprised if many readers still don't own an Al Green album. With an artist with this much history, it can be hard to figure out where to start. So, if you are looking for another classic to add to your iPod, this Greatest Hits collection is a great place to start as it features many of Green's greatest hits: "Tired of Being Alone," "Call Me (Come Back Home)," "I'm Still in Love With You," "Here I Am (Come and Take Me)," "Love and Happiness," "Lets Stay Together"–imagine those are just the first 6 tracks. The smoldering "I'm Still in Love With You" is the potentially the most sweetly sensual song ever written. The smooth and sexy "Here I Am (Come and Take Me)" simmers just on the verge of boiling over from start to finish. Featuring a backing organ, call and response vocals, and a slow building groove, "Love and Happiness" demonstrates the influence of gospel music on Green's music as he testifies to the power of love. Over thirty years later, this stuff is still rightfully hot. I can almost guarantee you'll be tossing Al Green on the next mixtape/playlist you give to your someone special.
If you don't own this album, buy it today: you'll play it until you wear down the grooves on your record or melt the hard drive on your iPod. If you need to be convinced, head over to The World In a Paper Cut to download Al Green – Love and Happiness. –Matthew