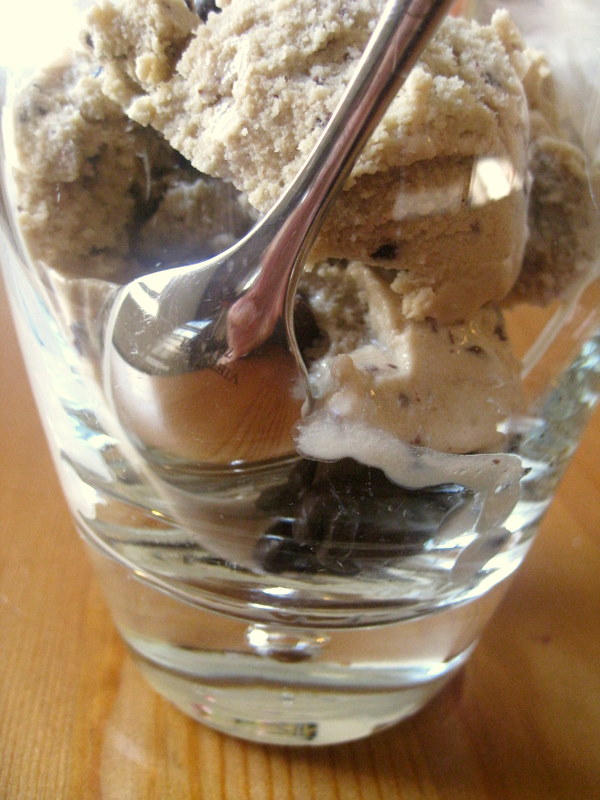 Ever since I got my ice cream maker (a very well thought out gift from Matt's parents), I've been increasingly having cravings for ice cream. Don't get me wrong–I've always liked ice cream, but only while living in Italy did I crave it on a daily basis. My fascination with making ice cream came as a culmination of several occurrences: my very first taste of olive oil gelato (which I am pretty sure I can't buy at any regular 'ol store) and the idea of making tart frozen yogurt without having to go to one of the myriads of froyo shops that seem to have taken over the Financial District.
My initial ice cream forays were generally successful–chocolate almond ice cream with chopped almonds (a cream-based recipe), honey cardamom ice cream (a custard-based recipe), and mixed berry frozen yogurt. Sadly, making pumpkin ice cream (another flavor I've really taken to of late) did not prove to be as easy as it sounded.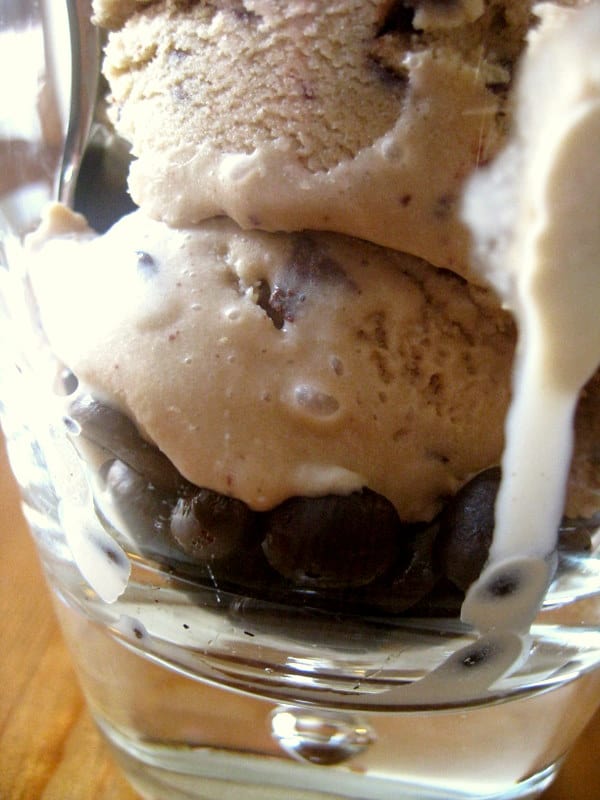 Coffee seemed like a natural progression. Coming from a serious coffee-drinking family (my parents own one of those coffee shop-sized all-in-one coffee makers) and living with Matt (he is a coffee connoisseur if I've met one, and never starts the day without coffee)–I knew that coffee was next. Coffee ice cream can definitely be done wrong and it can definitely be done right. But no matter what you do, I think chocolate is always a good addition. Most of the recipes that I found (both in my Cuisinart ice cream maker manual and on the Internet) called for instant coffee granules (the horror!). But I wanted to find a recipe that used real coffee–the good stuff that we drink every day. Enter Cathy Erway–the writer of Not Eating Out New York–and one of the speakers at the SXSW Interactive food blogging panel that I had the pleasure of meeting in person. Her recipe not only called for 1/2 cup of real coffee, but suggested mixing in chopped chocolate into the mix (always a right idea!). I was a little nervous about stirring in so much water into the mix, and wasn't quite sure how it would turn out but in the end–well should I tell you? It was the most aromatic and luxurious coffee ice cream I could have hoped for. Java Chip, to be more specific.
Being an owner of not one, but three modes of coffee making (drip, espresso and Turkish), we opted to swap out "the strongest coffee you've ever made" for 1/2 cup of espresso. The custard-based recipe lasted a good week (though it did get a bit hard and frost-bitten towards the end). I'd recommend serving it up shortly after the 2 hour freezing period, scooped over a warm chocolate brownie.
Java Chip Espresso Ice Cream
*c/o Cathy Erway, adapted by yours truly
1.5 cups of heavy cream
1.5 cups of milk (I used 2%)
2 eggs and 3 egg yolks (save the whites for another recipe)
3/4 cup of white sugar
1/2 cup of fresh brewed espresso, cooled completely–the darkest roast you can find/make
1/3 cup of bittersweet chocolate, chopped into small chunks
1. Place the eggs and yolks in a medium bowl. Pour in the sugar. Using a whisk attachment on your blender, whisk for 5 full minutes until the mixture becomes a pale yellow color and is almost a creamy/frothy consistency.
2. In a medium saucepan, heat the milk, coffee and cream over medium heat (until you start seeing small bubbles, but the mixture is not boiling).
3. Take the saucepan off the burner and pour about a cup's worth of the mixture into the egg mixture bowl as you whisk to incorporate.
4. Next, place the saucepan pan on the burner and pour the egg mixture back into the milk mixture, whisking it to combine all the while.
5. Continue to stir as you heat the mixture until it coats the back of a spoon in a consistent layer.
6. Take the saucepan off of the burner and pour it into a Tupperware container. Covered with plastic wrap that fits snugly right over the mixture.
7. Chill overnight.
8. Once you're ready to make the ice cream: turn on your ice cream maker and quickly pour the mixture in, churning for about 25 minutes. Sift in the chocolate chunks and churn for another 5 minutes.
9. Pour the ice cream (which will be somewhat thickened but still too runny to eat at this point) into a Tupperware and freeze for several hours before serving.
*Cooks note: I was a little concerned about whether or not the mixture would freeze properly once it finished churning. No worries! After several hours, your ice cream will be the proper consistency.
Musical Pairings: Madvillain – Madvillainy w/ Coffee Ice Cream
Both coffee and ice cream score very highly on a list of my favorite things in this world. Nonetheless, when I first discovered coffee flavored ice-cream (a long, long time ago), I was very skeptical. It turns out my skepticism was quite misplaced, and now it seems like an obvious pairing. Of course, a far more obvious pairing is underground rap's producer/DJ Madlib and rapper MF Doom. MF Doom, whose hip-hop persona is modeled after the Marvel comics' super-villain Dr. Doom, has mastered his own style of wry, cerebral rapping on numerous solo-albums, mixtapes and guest appearances. Madlib is a crate-digging producer/DJ/MC with an impeccable and commanding eye for detail, whose affection for jazz led to the smooth, laid-back Shades of Blue record where he was given full access to the Blue Note archives. Because their separate work demonstrated an interest in pushing against the edges of hip-hop while incorporating outside influences, a collaboration between the two extremely talented musicians promised great things. The hypnotic, thoughtful 2004 album Madvillainy is the result. Madvillainy is layered, forward-thinking and spotless.
Madlib squeaks out the first full song on Madvillainy, "Accordion," with a looped accordion sample (what else?) supported with a laid-back beat and chill bass-line. MF Doom strolls in 19 seconds into the track and unfurls a well-phrased, brilliant verse that keeps the listener entranced without any identifiable "hook." This is followed up on the next track, as a skeevy bass-line lurks smoking in the corner while Doom rolls out a relaxed, effortlessly-cool verse on "Meat Grinder." Of course some songs are better than others but aside from skits, there are almost no dull moments. Highlights include the playful, trance-inducing "Figaro," the quirky, delinquent "America's Most Blunted," and the phenomenal album closer "Rhinestone Cowboy." Only three of the twenty-two tracks on the entire album exceed 3 minutes, and most fall in under two minutes. Not a song on the album feels incompl
ete. Instead, the songs come across controlled and precise. The music blog Ca Va Cool offers a download of Madvillain – Accordian. –Matthew