Have you started making your New Year's Resolutions yet? I haven't, but I know one thing: good cooking/eating is at the top of my list for 2010. If you're like me and have overeaten and overloaded on cookies/candies/gingerbread lattes this past week, you're probably looking for something light, not too fussy and maybe even a little different for dinner. The holidays often mean a lot of eating out for me–before I met Matt, with friends (and about 3 peppermint mochas at Starbucks a day), and after, in the 'burbs of Ohio with his folks. It's great, and fun and relaxing, but when it's all over (and sadly, it is), I can't wait to get back into my kitchen and play. So today we're serving up something a little funky–roasted sumac chicken served atop a crispy, flatbread-eque pita and roasted red onions.
I've always been a big fan of Middle Eastern food–it's probably one of my favorite cuisines–but I got particularly hooked on it when a little place called Lavash opened up in my neighborhood a few years ago. The Persian restaurant is a family-run establishment and serves a range of delicious goodies including buttered rice with sumac and kabobs of all sorts atop delicious lavash bread (also topped with sumac). If you're unfamiliar with it, sumac is a spice that has a wonderfully lemony tartness that's great for marinating meats and sprinkling atop rice. It's not a spicy spice, so you never really have to worry about over seasoning.
I've often thought about the genius layering that happens in Middle Eastern dishes–bread topped with veggies and/or rice, topped with meat, topped with spices, topped with herbs (typically cilantro and sometimes mint). The best thing for me is always the bread–often a little bit crispy, flavored with all off the juices from the toppings, and perfect for eating with your hands. I'm not sure how or when I came across this recipe, but I had thrown it into my Evernote, and recently stumbled upon it to my great delight. If you've never made anything in your entire life, if you've burned pasta, and if you've messed up toast, come to this recipe with open arms, a big napkin, and clean hands.
On an entirely irrelevant side note, I wanted to say a little something about other half of this blog–Musical Pairings @ eating/sf–which has, most recently, acquired its own little domain: musicalpairings.com. When I first asked him to pair albums with recipes, Matt didn't think twice about giving up many weeknights to help me with my blog. In January, Musical Pairings will turn 1, and at this point I can't imagine eating/sf without Musical Pairings. These days, we hear from bands from across the country–not to mention from other countries–and we plan to continue to bring not only good recipes, but good music to your life, too. Happy birthday, Musical Pairings!


Roasted Sumac Chicken Atop Pita and Onions
*serves 2
adapted from a recipe in Apple Pie, Patis & Pate
2 whole wheat pitas (or regular)
1/2 onion, sliced thinly
Salt and pepper, to taste
2.5 tablespoons of ground sumac
4 chicken drumsticks
3-4 tablespoons of olive oil
roughly chopped cilantro, for serving
1. Preheat the oven to 450 degrees F.
2. Oil the bottom of a large glass baking dish and place the pita breads on top.
3. Divide the sliced onions between the two pitas, and season both with salt and pepper. Sprinkle each with about 1 tablespoon of sumac.
4. Place the drumsticks on top of the pita and onions and season with salt and pepper. Dust again with about 1/2 tablespoon of sumac–don't worry about the amount of spice, it's not spicy!
5. Drizzle the bread and chicken with the remaining olive oil and place in the oven to bake for about 45 minutes. Watch it closely, and if you notice that your pitas start browning too quickly, tent the baking dish with foil.
6. Serve each individual pita bread on a plate, sprinkle with some cilantro and prepare to eat with your hands and get messy!

Musical Pairings: The Rural Alberta Advantage – Hometowns + Roasted Sumac Chicken Atop Pita and Onions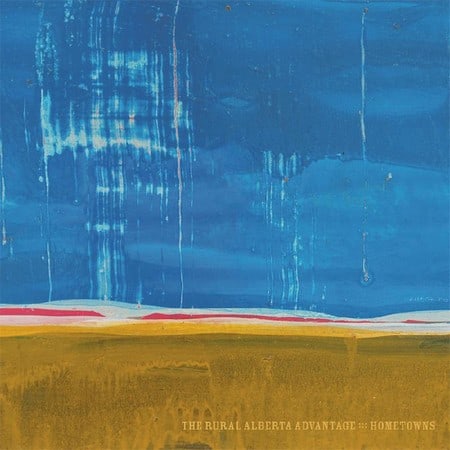 The sumac chicken recipe featured by Kasey on eating/sf is rustic but elegant. It is surprising and colorful. And as a result, it is beautifully paired with the Rural Alberta Advantage's debut album, Hometowns. The Rural Alberta Advantage began, in part, as a project by songwriter Nils Edenloff to combat his homesickness after moving from Edmonton to Toronto. Edenloff began performing his songs during an open mic gig he hosted. While hosting the open mic, he met drummer Paul Banwatt, and the two began perfecting a greater collection of tunes. After a series of other members joined and left the band, and after recording a demo, the Rural Alberta Advantage eventually settled into its current state as a trio including Amy Cole. The band entered the studio to record their debut in 2007. The result is the rustic but elegant Hometowns. Check out Musical Pairings' home for some tracks and the rest of the album review. –Matthew