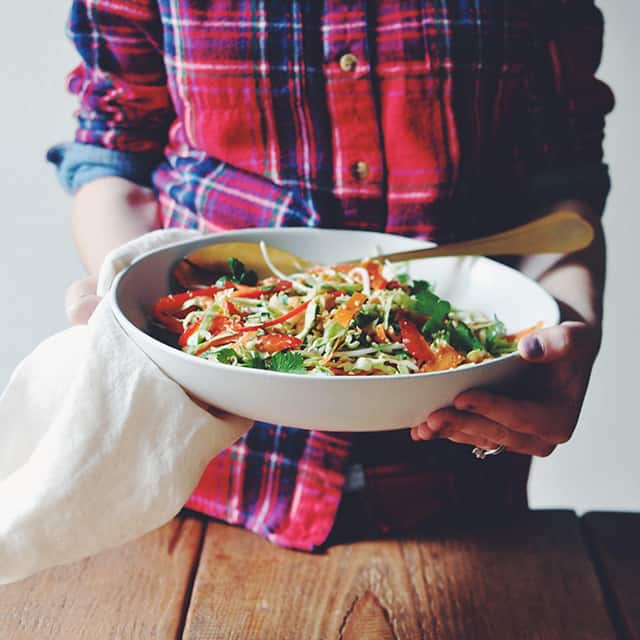 For many years, I consistently brought the same exact salad to work in a square tupperware tucked into a plastic bag that is no longer allowed in the city of San Francisco. It wasn't revolutionary by any stretch: spinach, berries, walnuts, goat cheese, and a very basic balsamic dressing. Because it was so light, I'd always pack a slice of bread and and these amazing little soy crisps that Trader Joe's stopped making at some point. The downside of my routine was that I almost never left the office while many of my coworkers would venture into downtown San Francisco to grab a burrito or a cup of soup, only to bring it back to their desks or lounge area. But the upside was that I saved quite a bit of money and felt better about my body than I had in years. That salad was the beginning of my life in San Francisco, my career, work friendships, and a significant shift towards a healthier lifestyle.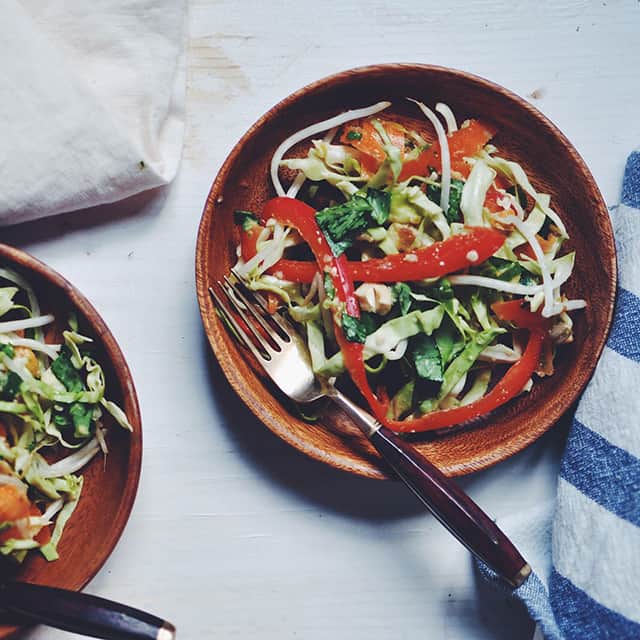 In the years since, I've been lucky enough to work for companies that provide lunch and slowly, my salad-making days were phased out. We still make plenty of salads at home, but more often than not, they are quite simple. During these summer months, even when our weather resembles a gloomy winter scene or seems to forbode an oncoming sea storm, we tend to toss the freshest tomatoes with some crisp cucumbers, a little salt, and olive oil. I love multi-dimensional flavored and textured salads but for some reason, I rarely tackle them at home.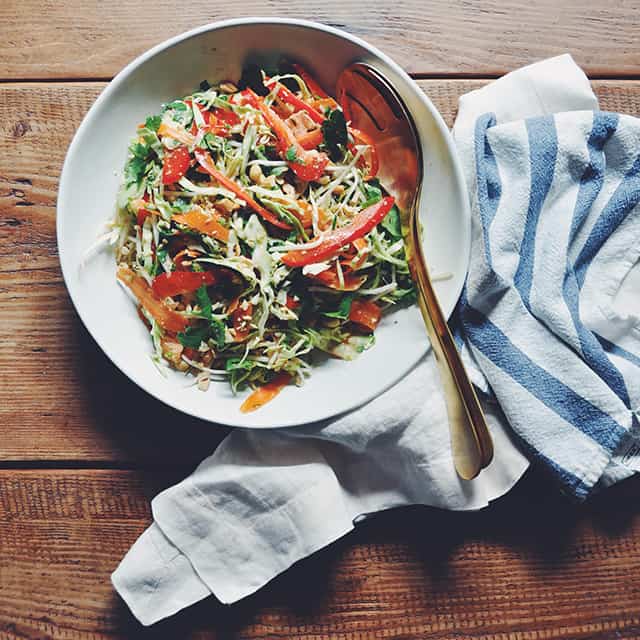 But when Anna Jones' A Modern Way to Eat arrived on my doorstep, my eyes settled on this Raw Thai Citrus Crunch Salad. I couldn't stop thinking about it, as I tend to do, whenever I acquire a new cookbook. Always, always, I find 2-5 recipes that call out to me, so to speak. I re-read them and dream about them until finally, an occasion calls to make them. Such was the case with this salad. It is what I'd call an exercise in patience: there are lots of vegetables involved — no less than a small farmer's market haul — and plenty of peeling, slicing, and shredding. But it is worth it, trust me.
Anna writes that this salad reminds her of one of her beloved comfort dishes: pad Thai, and I can definitely see the connection. This is the sort of healthy salad that doesn't lack anything in flavor in exchange for nutrition. I'm impressed by just how spot-on the Thai-inspired flavors are. The dressing, alone, is worth trying.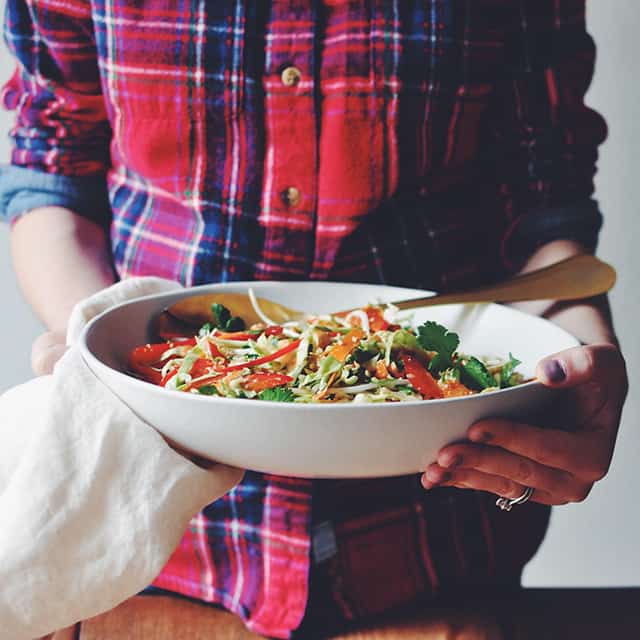 Raw Thai Citrus Crunch Salad
adapted from A Modern Way to Eat
for the salad:
1 zucchini
3 carrots, peeled
1/2 head of white cabbage
1 red bell pepper, seeded
2 green onions
1 pink grapefruit
1 lime
large handful of each: fresh basil, cilantro
2 large handfuls of bean sprouts
for the dressing:
2 Medjool dates, pitted
handful of cashews (optional: soaked overnight)
1 1/4 inch piece of fresh ginger, peeled and chopped
1/2 clove of garlic, chopped
1/2 jalapeño pepper, seeded and roughly chopped
juice from 2 limes
roughly chopped cashews, to serve
1. Peel the carrots and zucchini into thin ribbons, using a vegetable peeler. Add the ribbons to a large bowl. Then, thinly shred the cabbage, and add it to the bowl.
2. Very thinly slice the red pepper into strips. Thinly slice the green onions and add both to the bowl.
3. Peel the grapefruit and lime. Cut out the segments, separating out the pith and membrane. Add the segments to a small bowl and use a potato masher or fork to crush them until they're mostly juice and a few 'juicy jewels.'
4. Add the bean sprouts to the rest of the vegetables. Then, roughly chop the basil and cilantro, adding all of the basil and about half of the cilantro to the bowl.
5. Make the dressing by adding all of the dressing ingredients to a high-powered blender. Add about 2/3 cup of water and puree until smooth.
6. Dress the salad, tossing until the vegetables are covered. Transfer to a serving platter and top with roughly chopped cashews and the remaining cilantro.
The salad can keep in the fridge for about a day, though it will start to turn soggy the longer it sits.