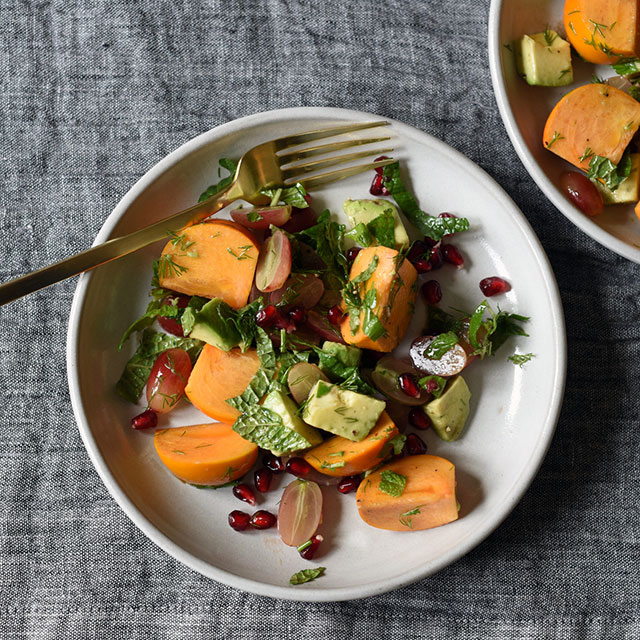 Persimmons and I have a funny relationship. My mom and grandpa love them and for years, I didn't really know what the fuss was about — especially after I had mistakenly assumed that Hachiya and Fuyu persimmons were interchangeable. I bit into the former — an elongated fruit that seemed as harmless as a pear — only to spit it out in revolt.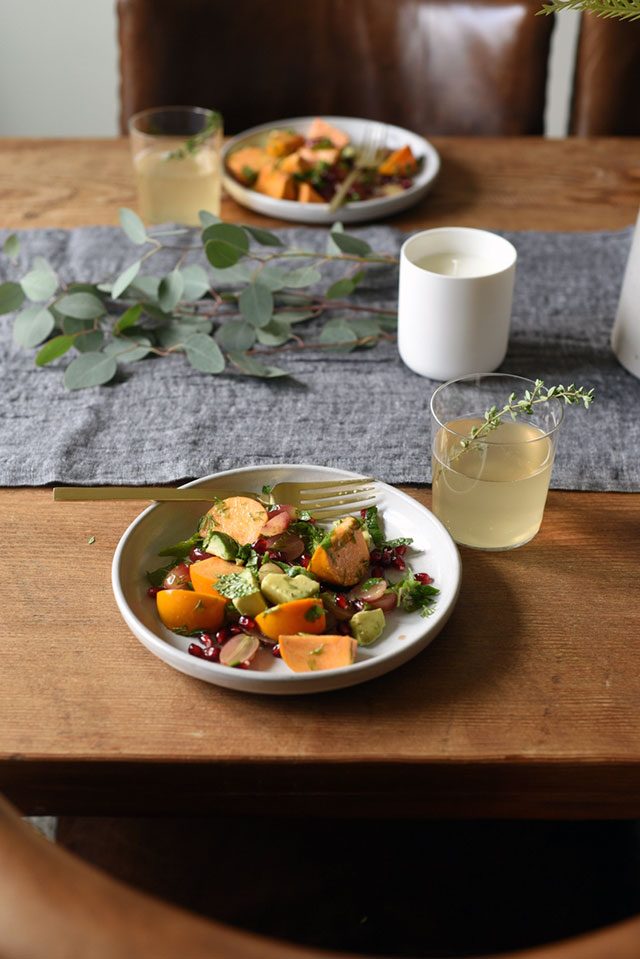 Turns out, Hachiya persimmons can only be eaten when they are super, super soft. But a Fuyu persimmon (the round brother) is crisp and safe at any point in time. Since that disaster, I've cautiously tried persimmons in salads — only in salads — until I finally had the courage to eat one like an apple again. These babies are in peak season right now and they're not only the color du jour, but their honeyed flavor feels like a celebration of fall.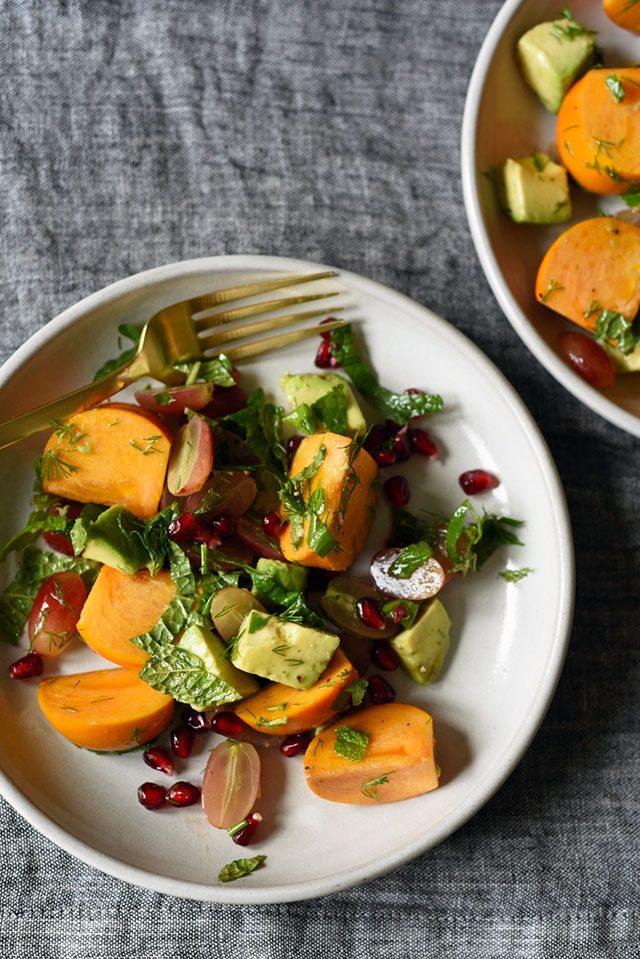 I'm going to come out and say that planning Thanksgiving recipes in advance hasn't been my forte over the last few years. Prior to that, I would bookmark and earmark magazines and cookbooks to the death, debating between this green bean salad or that, this chocolate pie or that. Nowadays, we're lucky if we eat food hot, which is an even better reason to offer you this Thanksgiving salad recipe, otherwise known as "that beautiful dish you don't have to fret about in advance."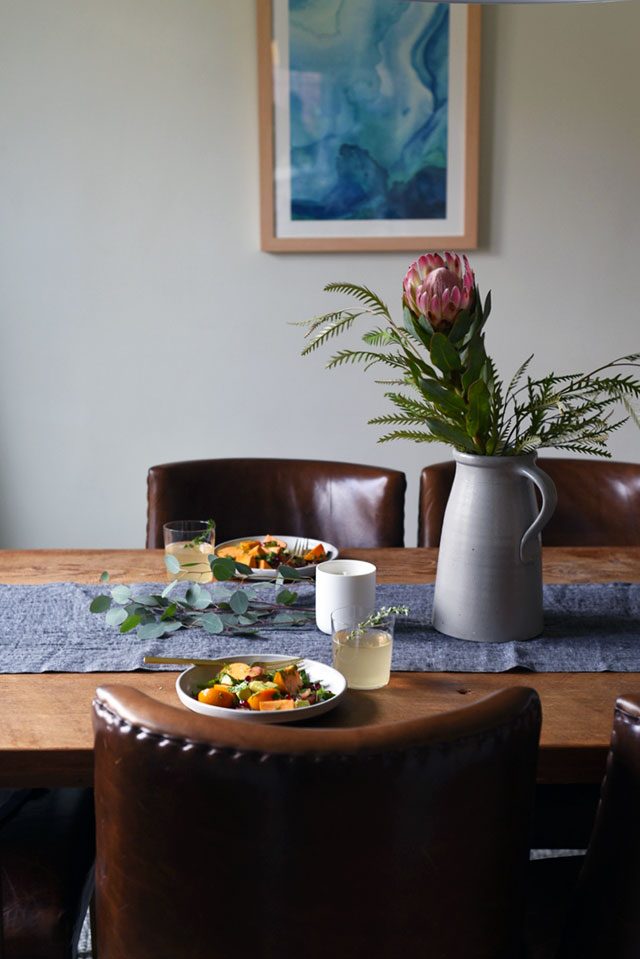 It comes from the gorgeous Baco cookbook which, if you've never been to the restaurant in LA (we have), you'll still want to own. It's packed full of creative recipes, bold colors, and a WHOLE SECTION CALLED "FRUIT MASHES."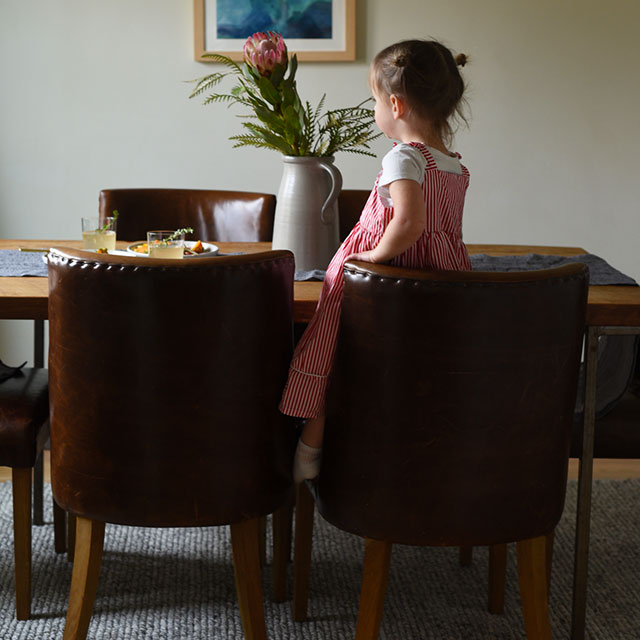 As far as salads go, this one is totally forgiving. Throw in all the herbs you've got, or none at all. Go fancy with red walnuts, just go pedestrian, or skip them all together. Carve your own pomegranate, or make your life easier and get that cup of seeds that's three times as expensive. YOLO. This recipe is a generous adaptation, as I also left out chopped shallot and chives from the original.
We hope you have a wonderful Thanksgiving and will see you soon with a whole lotta gift ideas.
Persimmon Salad with Grapes, Avocado, and Walnuts
adapted from Baco
Serves four
2 firm Fuyu persimmons
1/2 cup of red or purple grapes, sliced in half
1/4 cup of pomegranate seeds
handful of walnuts (optional)
2 tablespoons of extra virgin olive oil
1 tablespoon of sherry vinegar
pinch of salt
freshly ground pepper, to taste
1 tablespoon of each: finely chopped mint, flat leaf parsley, and dill
1/2 avocado
1. Slice each persimmon in half, then cut each half into 4 slices. Add the persimmon slices to a salad bowl.
2. Toss in the grape halves, pomegranate seeds, and walnuts. Sprinkle with a bit of freshly ground pepper.
3. Combine the sherry vinegar and salt in a bowl. Whisk to combine. Whisk in the olive oil, then add the dressing to the bowl. Fold in the herbs and toss (gently) one more time. Remove the pit from the avocado, scoop out the meat, and cut it into cubes. Spoon in the avocado, then toss gently before serving.
Some items featured in this post were gifted: Dash & Albert rug, Lightwell candle, linen table runner from Parachute Home, gray stoneware pitcher from Schoolhouse Electric