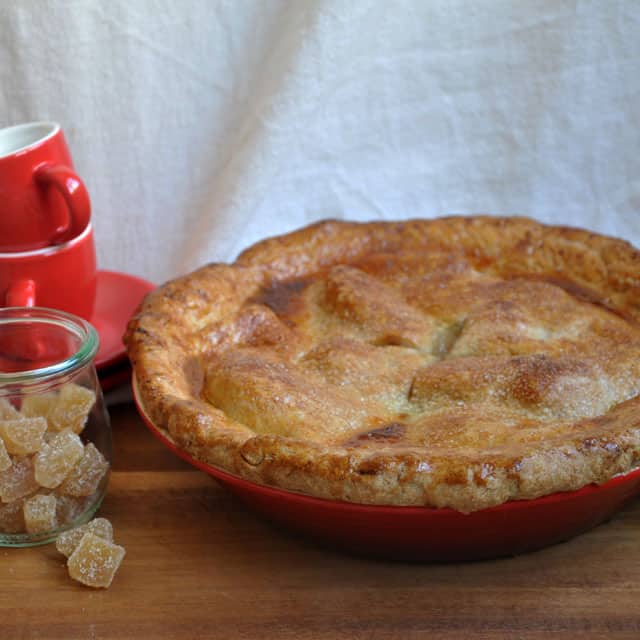 The thing about pie is it's quite mysterious until you cut into it. Unlike a tart, which openly reveals its identity upon first glance, a pie only beckons with its crust. Perhaps the moral of this story is that any good pie must start with a good crust. I happen to know a professional pie maker, so I chose to follow her suggestions for my Thanksgiving pie, but when it came to the filling, I proceeded with an untraditional route.
For the last six years, I have been going to my friend Thomas's house for a friends Thanksgiving (usually a week prior to the actual holiday). I wrote about it last year (I made savory bread pudding from my Tartine cookbook). I wait in anticipation to receive an evite to this event every year and excitedly start planning my contribution weeks in advance. The final decision is usually made a night or two before and this year was no different. My obsession was pie. Apple Pie? Pecan Pie? Pear-Cranberry Pie? When it comes to pie, there are so many, yet so few choices during this time of year. The traditional apple pie is probably my favorite, though if I had to choose any other, I would lean towards a summer fruit pie. Maybe peach or berry pie. But the pears have looked so beautiful this season; the brown Bartlett, the green D'Anjou and my favorite — the round, luscious, juicy Comice.
I wanted my pie to be the sort you might eat in a candle-lit room on a rainy day, with a cup of steaming hot tea. Maybe with a scoop of vanilla bean ice cream. I wanted my pie to have a romantic element to it. I didn't just want it to smell of pears, but of spiciness, sugar and warmth — the kind that's different from heat. I had a vision for a pear-ginger pie, so when I came upon this recipe for a pear pie made with some unexpected additional ingredients — maple syrup and lemon — I knew I'd found the one.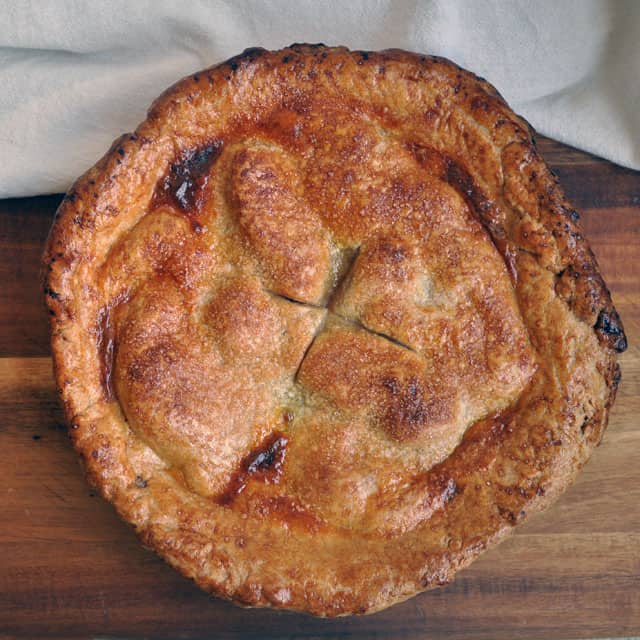 What can I say about this — my 6th — friends Thanksgiving? It was, in some ways, the same as always. Robert made cornbread. Kathy drank red wine. Thomas made two turkeys (the second of which — the barbecued — came out way after dessert, when most of us were too stuffed to eat it). Max brought salad from Safeway, which he purchased right after getting off the plane ('What did you expect?' he said). Jeff was loud (in the very best way, of course). But in some ways, it was different. There were more married couples (myself and Matt included), and simultaneously, more single folks, too.
This year, our Thanksgiving will be quiet. My parents are taking advantage of the holiday to sneak away on vacation, while Matt and I will be spending Thanksgiving day with my grandfather. We're cooking for three, but we're not taking shortcuts. There will be turkey and cranberry sauce. There will be stuffing and mac and cheese. There will be wine. And there will be pie. And, best of all, a fire in the fireplace.
If you're still searching for more Thanksgiving inspiration, check out some of our suggestions here:
Turntable Kitchen Thanksgiving Inspiration Guide
Pear Pie with Maple and Ginger
adapted from this recipe, with a modified version of Megan's baking technique
For the crust:
Pate Brisee recipe from Martha Stewart (I used 1/2 cup of all-purpose flour and 2 cups of whole wheat pastry flour)
For the filling:
4-5 large Comice pears, peeled, cored, halved and sliced into 1 inch thick wedges
1/3 cup of pure maple syrup
1/3 cup of sugar
2 tablespoons of cornstarch
2 tablespoons of lemon juice
2 tablespoons of finely diced crystallized ginger
1 teaspoon of vanilla extract
1 teaspoon of grated lemon zest
For the egg wash:
1 egg yolk
1 tablespoon of heavy cream
Turbinado sugar
1. Remove one ball of dough from the refrigerator and roll it out into a 12 inch round. Gently press it into a 9 inch round pie pan. Leave the overhang, trimming it, if needed. Refrigerate for 30 minutes.
2. Preheat your oven to 400 degrees F. Toss all of the filling ingredients in a large bowl and set aside.
3. Remove the pie pan from the refrigerator and fill with the pie filling. Roll out your top crust and place it over the filling. Trim any excess overhang and crimp the edges as you wish (this isn't perfect science).
4. Whisk the egg yolk with the heavy cream to make the egg wash and then brush it over the pie. Sprinkle the pie with turbinado sugar and cut two slits in the center of the pie to allow the steam escape as it bakes.
5. Bake the pie for 15-20 minutes (until it's a nice golden brown color). Lower the temperature to 350 degrees F and bake for about 40-45 minutes. Serve warm, or at room temperature.
Musical Pairings: Dum Dum Girls – Only In Dreams + Pear Pie with Maple and Ginger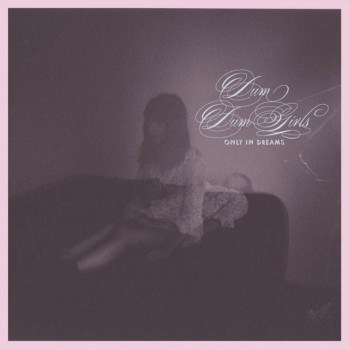 More on the Turntable.