After my recent trip to Stellina, I can't stop thinking about bacon. Not just bacon–but little bits of smoky bacon trapped in pasta and accompanied by peas and lots of cheese. Normally, I'm not a big fan of bacon. In fact, I lament about how much it stinks up my apartment when Matt makes breakfast on a Sunday morning. That said, I will not lie: I've recently had bacon in pasta, nectarine salads and quiches…and I like it!
The inspiration behind this recipe certainly came from the pasta that I ate at Stellina. It incorporates fresh-from-the-market English peas, as well as a medley of wild mushrooms, shallot, bacon, and cheese…lots of cheese. Everything came together pretty quickly and I must say looked gorgeous. I wouldn't recommend making this with plain old mushrooms–if you don't have access to wild, just skip them all together. You could, in theory, use frozen peas, but nothing beats shelling a bagful of peas that are crisp and tender, and collecting them into a bowl. You're also certainly welcome to add a splash of white wine to this dish, but it's really not necessary. Between the olive oil, bacon fat, garlic, shallot, and cheese, I think you've got a lot of flavors working with you.
Also, don't drain the fat. I know you're going to squirm, and be tempted to, but just don't do it. If you're worried about your waistline, just remind yourself that Fall is just around the corner. Just kidding. Go ahead and use lean, thin cuts of bacon that are more meaty than fatty. And remember that you are using whole wheat pasta in the recipe. And the freshest of vegetables.
Pasta with Wild Mushrooms, Peas and Bacon
* serves 2
8-10 ounces whole wheat fettuccine
1 cup of mixed wild mushrooms of your choice, cleaned, with stems trimmed to your liking
1/3 cup of fresh, shelled English peas
2 slices of good quality bacon, cut up into 1 inch cubes
2-3 tablespoons of olive oil
salt and pepper, to taste
1 large shallot, chopped finely
Parmeggiano Reggiano, to taste
2 tablespoons of fresh parsley, chopped finely
1-2 cloves of garlic, minced
1. Heat 2 tablespoons of olive oil in a non-stick saute pan over medium heat. Add in the chopped shallot, garlic and bacon, cooking until the shallot softens and then bacon begins to crisp up nicely.
2. Toss in the mushrooms (make sure you've sliced any large ones), sauteing everything together for another 5-6 minutes, or until the mushrooms reach your desired consistency (tender, but not falling apart).
3. Meanwhile, cook the pasta until it is al dente. I prefer to use a nice whole wheat fettuccine for this recipe as it pairs well with the nuttiness of the mushrooms. Once the pasta is cooked, drain it and set aside.
4. Add the peas and parsley to the skillet, season with salt and pepper and cook for just a minute or two before tossing in the pasta and mixing well, coating the pasta with the oils and fat.
5. Remove the skillet from the heat and put the pasta into a large serving bowl. Shave a generous amount of Parmeggiano Reggiano over the dish, tossing to combine.
6. Serve with additional cheese and salt and fresh pepper, to your liking.
Musical Pairings: The Black Keys- Thickfreakness + Pasta with Wild Mushrooms, Peas and Bacon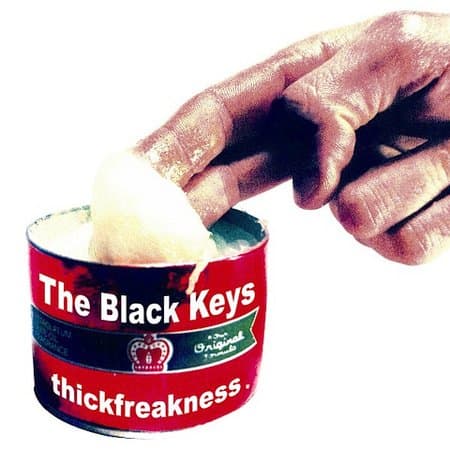 The pasta with wild mushrooms, peas and bacon that Kasey and I threw together last week was pure comfort food at its best. A medley of my favorite ingredients including quality apple-smoked bacon, wild mushrooms, fresh peas from our farmer's market and yummy Al Dente pasta was a sure hit on a day when I was feeling weary. And we must have done something right because after dinner, I was feeling great. Likewise, Akron, Ohio's the Black Keys must be doing something right. After all, Thom Yorke from Radiohead had this to say about the band in a recent interview with Pitchfork: "There are bands I look up to. Like I look up to the Black Keys." Although I wouldn't try to speculate why the Radiohead front man looks up to this relatively low-key Ohio two-piece, it is easy to see why he would love their music: their rootsy, minimalistic brand of blues-rock is rustic warming, comforting, and if you are like me – just makes you feel good, just like today's recipe. Head on over to Musical Pairings to read the rest. –Matthew