There are few things better in life than a hot summer day, a cold dip in an ocean/lake/pool, a run through the sprinklers, a bowl full of watermelon, and a mid-week day off from work.
Here in America, we celebrate our independence like the forefathers did — with plenty of beef, corn, pie, and fireworks. Kidding. A mad dash to the shore, lakeside cabins, or just our backyard/rooftop.
This 4th of July, I have, in my possession, a popsicle mold, so naturally, I thought I'd celebrate the holiday with some Mexican Chocolate Fudgesicles and a little poem that I'll admit is dipping my toes into some old territory (did you know I was the founder of my college's Poetry Club? That's a story for another time…).
I don't get the urge to write poetry often these days (I prefer to read it, and am always impressed by my friend Nicole's food and poetry pairings), but something about the holiday, these popsicles, and this Pairing, brought me back to a time where poetry was my everything.
I hope that wherever you're celebrating (or not), you are indulging your everything, whatever it may be.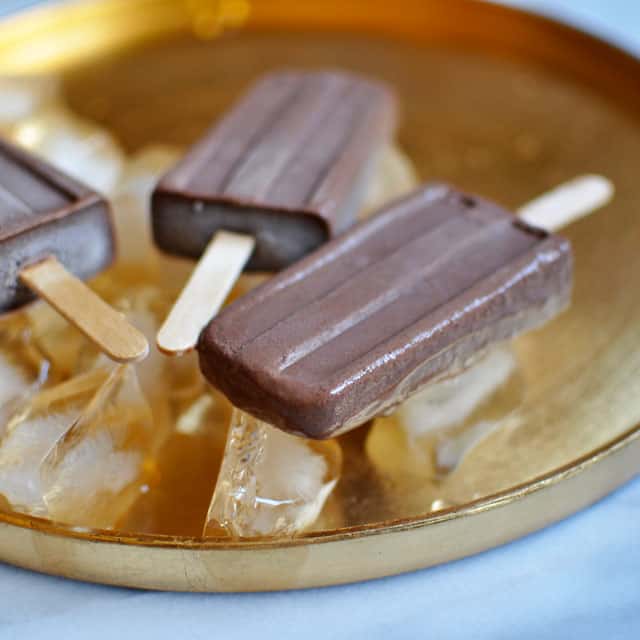 We left behind our circumstances
squeezed among the rocks
climbed to the top
where the sun was warmer
the layers came off
we sat above the people
closer to the clouds
higher than the ocean
nearer to each other
it was quiet, lovely.
cold wind licked our eyelashes
along the steep descent
back through the rocks
tiny shapes, striped umbrellas
came into full focus
men and women and children and waves and wind
until we were among the many
scattered
back to the Earth
and we ate our ice cream from
a little window
and it drip dripped down our fingers
and our forearms
so we licked faster
and slurped louder
it wasn't quiet, but still lovely.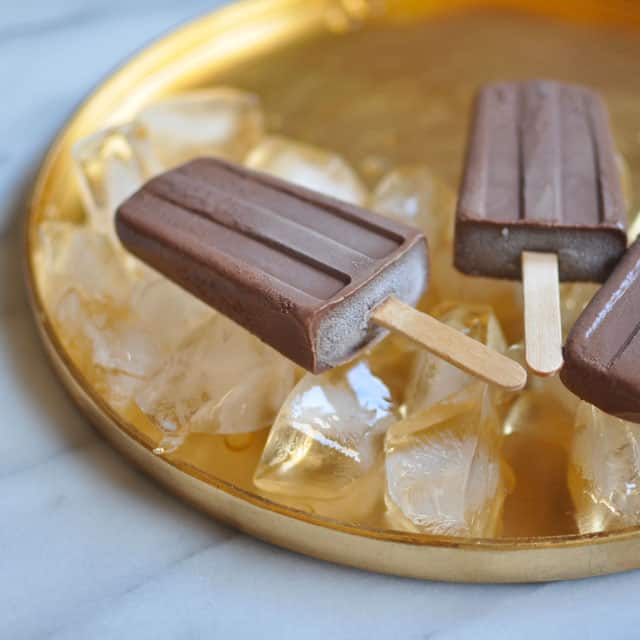 Mexican Chocolate Fudgesicles
adapted from The Blue Bottle Craft of Coffee
*makes 10
8 ounces of finely chopped dark chocolate
1 teaspoon of pure vanilla extract
1/2 – 1 teaspoon of ground cinnamon (use more or less, depending on your taste)
1 1/4 cups of heavy whipping cream
1 cup of milk
1/4 cup of sugar
4 teaspoons of cocoa powder
1/2 teaspoon of kosher salt
1. Combine the chocolate and vanilla extract in a large bowl.
2. Add the cream, milk, sugar, cocoa, salt and cinnamon to a medium saucepan. Cook over medium-low, whisking to incorporate the cocoa powder. Continue cooking until bubbles begin to form around the edges (around 180 degrees F, if you have a candy thermometer).
3. Pour the cream mixture over the chopped chocolate in the bowl and use a silicone spatula to stir it until the chocolate is fully melted.
4. Pour the mixture into ice pop molds and freeze for about 4-6 hours, or until firm. The Blue Bottle cookbook recommends straining the mixture, but I didn't think the extra step was necessary.
5. To loosen the popsicles from their molds, simply run then until warm water, then slip them out of their shells. Popsicles will keep for several weeks in the freezer.
Musical Pairings: Smith Westerns – Soft Will + Mexican Chocolate Fudgesicles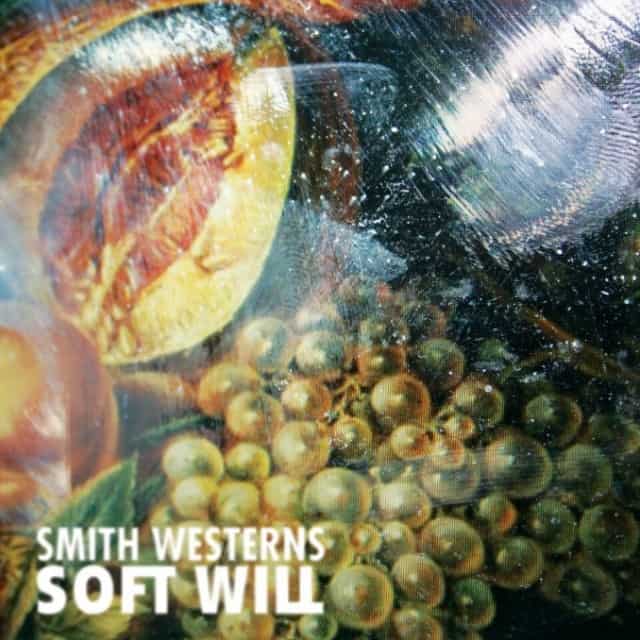 More on the Turntable.