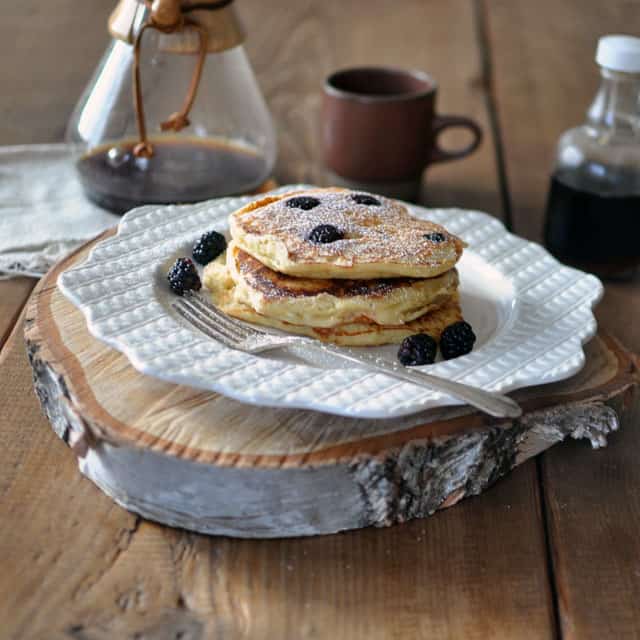 Order your copy of Pancakes: 72 Sweet and Savory Recipes for the Perfect Stack here.
Growing up in the suburbs, I could clearly identity a handful of smells that distinctly made me feel 'home.' Freshly cut grass, clean laundry, and pancakes.
I was reading an article recently about memory and how malleable it is. Looking back at the highs and lows of my life thus far, I have a hard time re-connecting with those emotions. They feel numbed in some ways, carefully contained within photographs and even handwritten words that I can no longer relate to. The other day, I was driving to work and listening to NPR (as I often do). A story came on; an interview with an author. Truthfully, I was only awake enough to focus on the road, but suddenly I heard the speaker say something about "freshly cut grass."
I can't explain why this phrase seemed to jerk me out of my stupor but my entire car filled with the smell of freshly cut grass. It was pungent and overpowering and my mind flooded with memories. I pictured my clear jellies, the metal buckles digging into my ankles. I saw my dog's wild gray-white fur and could feel the soft, wirey texture in between my fingers. The hot San Jose sun permeating my closed eyelids. I could feel the ticklish, cold green spears gently encircling my twelve-year-old toes. All I could breathe was the smell of June and July. Salty, sweaty.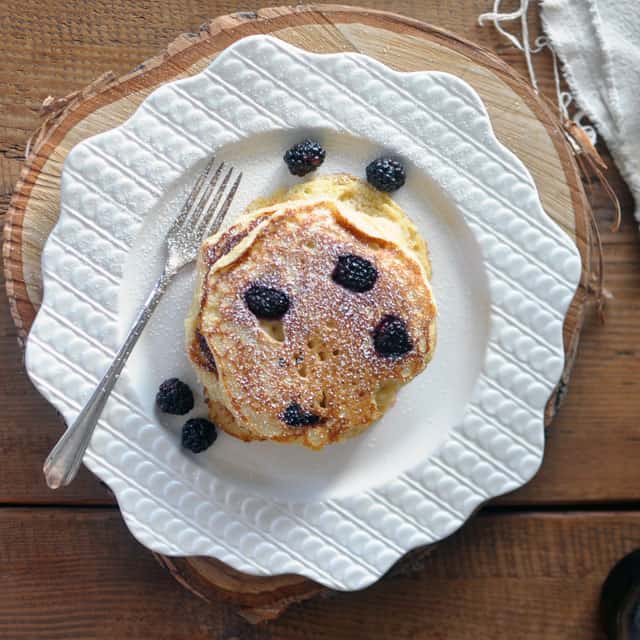 It's strange how smells, like good dreams, can transport us so easily and so vividly. Despite spending many years of my life moving across countries, states, and cities, I can say that there are a few smells that cross every stage of growing up and adulthood. One of these is the smell of pancakes.
If you were to browse through our recipe index, you'd notice that pancakes are probably my favorite food. Most Saturday mornings, what I crave is a stack of tender pancakes. Some weekends I resist. Others, I 'compromise' by making waffles. But truth be told, we eat more pancakes as a household than I care to admit.
Of course when my friend Adrianna's book (all about PANCAKES!) arrived at my door, I barely waited a day before whipping up a batch. Adrianna's book, like her gorgeous blog, A Cozy Kitchen, is beautiful, clean, inventive, friendly, approachable, and totally cozy. I've long been impressed by Adrianna's writing; her voice sounds like an old friend; a girlfriend you want to gab with for hours and hours. She's sassy and funny, truthful and to-the-point. I feel like I've known her for ages and yet we've never met in person.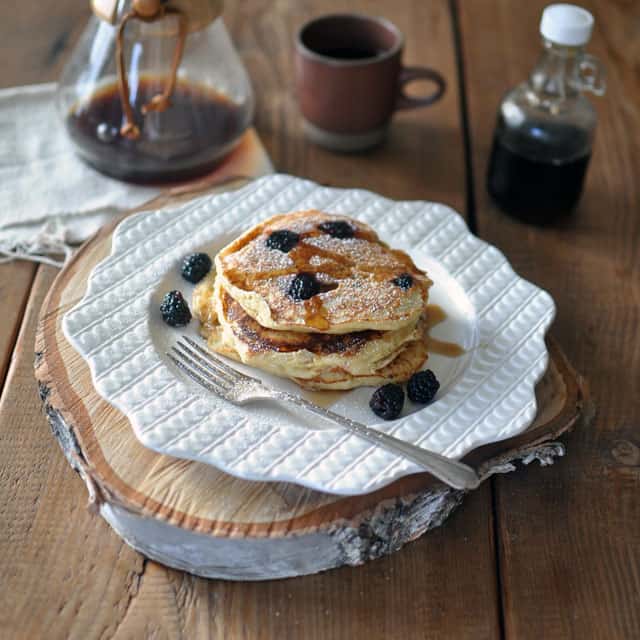 The awesome thing about Pancakes is that it features a surprising amount of recipes that aren't just your traditional buttermilk stack. There are savory recipes (like duck fat corn cakes), accompaniments (like berry butters), and a number of internationally-inspired dishes (like huaraches and llapingachos). I'm also fully in support of a concept Adrianna calls "dinner pancakes" because, let's be real, I can totally eat pancakes for dinner. Every night. Adrianna consistently impresses me with her creativity and the variety of dishes she's able to dream up and whip up. Her book, like her blog, is one I'll keep coming back to.
We're relatively devoted to our favorite buttermilk pancakes, but I was really excited to try Adrianna's recipe for Blueberry Ricotta Pancakes. I made mine with boysenberries but you can really use any berry you choose (the juicier, the better!). I also used bourbon vanilla extract.
Congratulations, Adrianna!
Also, just a quick shoutout to another good friend who has a breakfast book coming out. Megan Gordon has been working her booty off on this and I am so so so excited to see her book available for pre-order!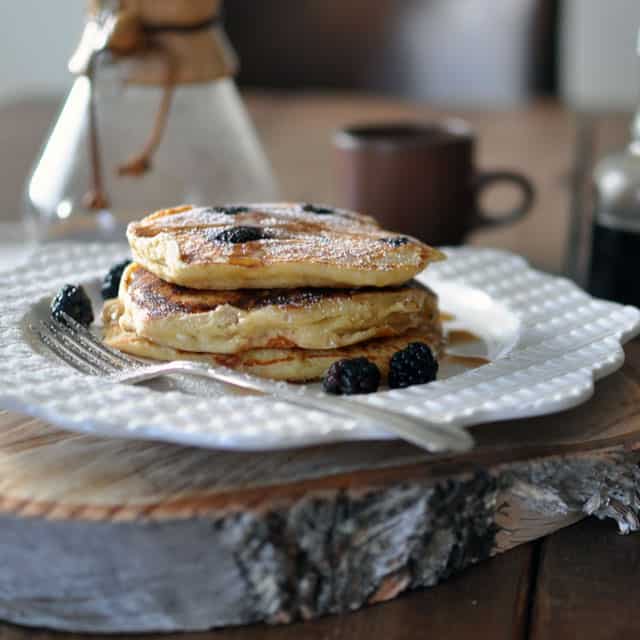 Berry Ricotta Pancakes
makes 8 pancakes
Adapted from Pancakes: 72 Sweet and Savory Recipes for the Perfect Stack by Adrianna Adarme
1/2 cup of whole wheat pastry flour
1/2 cup of all-purpose flour
2 tablespoons of sugar
1 tablespoon of baking powder
1/8 teaspoon of salt
1 cup of ricotta
3/4 cup of milk
1 large egg
1 1/2 teaspoons of finely grated lemon zest
1/2 teaspoon of pure vanilla extract
1 tablespoon of butter, melted and cooled
1 cup of berries (your choice)
butter for the skillet
1. Preheat your oven to 200 degrees F. Combine the flours, sugar, baking powder and salt in a medium bowl. Set aside.
2. Combine the ricotta, milk, egg, lemon zest, vanilla extract, and melted butter in another bowl, mixing until smooth.
3. Add the wet ingredients to the dry ingredients, mixing until just combined. Be careful to not over mix.
4. Preheat your skillet over medium high and brush with about 1 1/2 teaspoons of butter. Scoop up a 1/4 cup of batter into a measuring scoop and drop onto the skillet. Add a few berries, gently pressing them into the pancake. Cook pancake for 2-3 minutes (until bubbles appear on the surface) then flip and reduce the heat to medium-low. Cook for another 1-2 minutes, until golden brown. Repeat with the rest of the batter, re-buttering the skillet and adjusting the temperature, as needed.
5. Transfer warm pancakes to a baking sheet and place in the oven to keep warm.
Musical Pairings: She & Him – Volume 3 + Berry-Ricotta Pancakes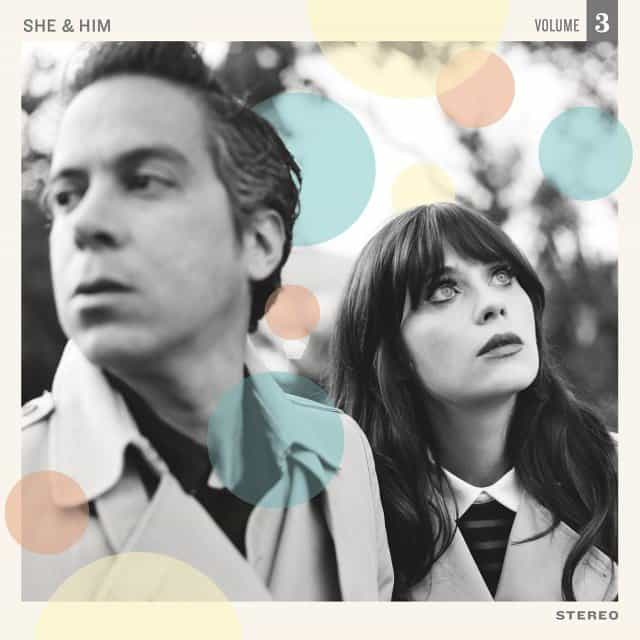 More on the Turntable.