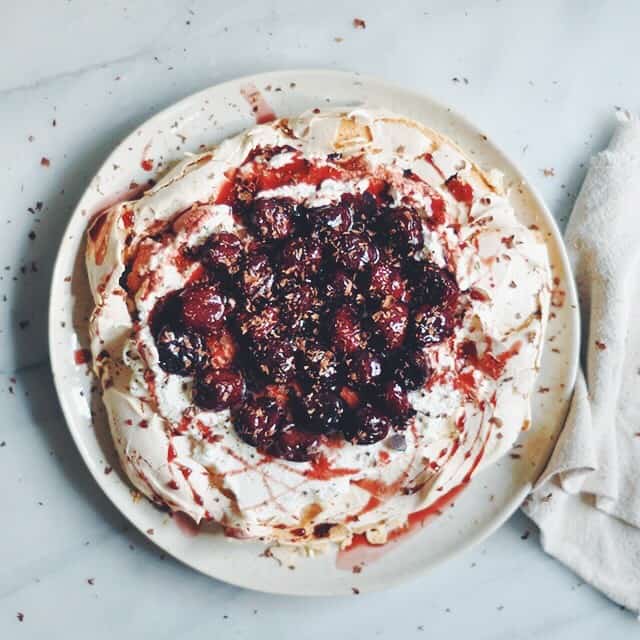 My friend Daniel introduced me to David Sedaris back when we were in high school. He leant me the hilarious book, Holidays on Ice, and the first time he recounted a few of the stories from the book, I had, for a moment, thought he was actually talking about himself. Whenever I read anything that David Sedaris writes, I find myself listening to Daniel's voice in my head, breaking out into fits of laughter as though we were back in high school. He is telling me about his crazy boss at the fro-yo shop at the local mall, or we observe a kid running after his dad yelling, "Dad! I think my back is BROKEN!" You might think this post is about my friend Daniel but it's actually not. It's about this article that David Sedaris wrote in the New Yorker about this crazy Fitbit business.
I have a Fitbit buried deep in my closet and for months, I told myself I'd start using it for the precise reason that David (I'll call him David) uses one: to be better. David finds himself walking remarkable distances just to clock in some extra stairs so that a piece of technology can tell him he's done good. He's healthy. He's living.
In fact, the primary reason I refuse to use my Fitbit is the very fear that some piece of technology might inform me that I'm not doing so well, or well enough. I'm not walking enough steps during the day. I'm not spending enough time standing at my standing desk at work. I'm not sleeping enough, or the sleep that I am getting is somehow interrupted and unfulfilling. And all of these things are true. But if I knew them so, I doubt I'd sleep any better.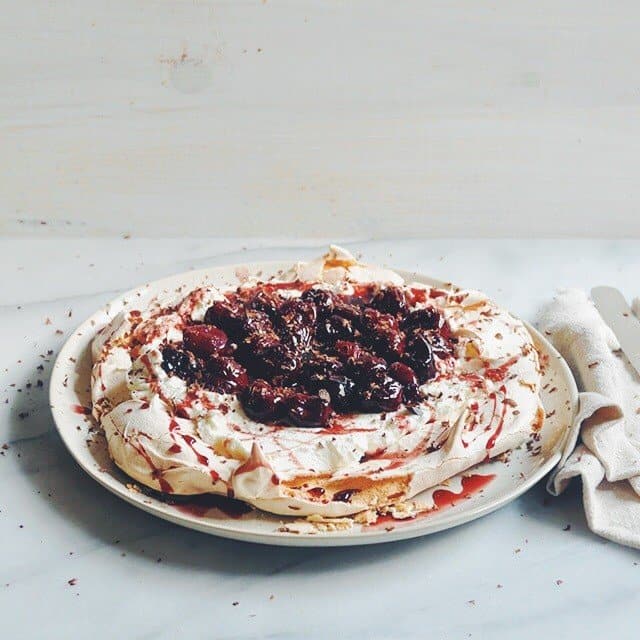 I don't need my waiter at a restaurant to remind me that too much bread might make me fat, and for the same reason, I'm a little tired of this notion that the things we do every day can and should be done better. I'm not saying let's not try. Or let's settle. But maybe let's evaluate when just being good enough is, well, pretty good. Satisfying.
I've been harping a lot on accepting the normal in everyday life, I know. I suppose it's just been on my mind a lot. There are days when I feel more balanced, and some less. But that's just the ebb and flow of life. I don't think David intended to slam Fitbit (he discovers a new world around him that his previously lazy self may have missed) but I'm vowing to — for as long as possible — let my body make some decisions for me, even if some of them aren't always the best.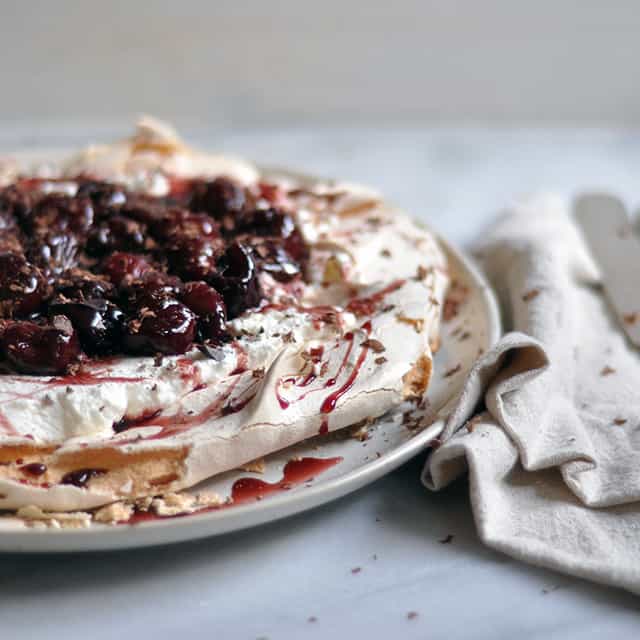 I know that 4th of July is just around the corner, and we're all going to party hard, and then vie that we're going on a juice cleanse, but let's just not worry about that for now. Let's binge on the good stuff. Because it's summer, and we deserve it a little.
Win a $50 Whole Foods Market Gift Certificate!
We often do our shopping at Whole Foods Market, and I am always consistently impressed to find some of the best produce there. This recipe uses organic Rainier cherries from Seattle. I highly recommend getting a cherry pitter to get the work done.
Lastly, we can all use groceries and I'm very much all for promoting healthy cooking, so we're giving away a $50 gift card to Whole Foods Market. To win, just leave a comment. We'll select a winner on Monday.
Have a fun and safe holiday, friends!
Magical Two Egg Maple-Cherry Pavlova
Meringue recipe adapted from here.
I've always thought that a pavlova required tons of egg whites, but I whipped this one up using only 2 eggs, and it worked great! Adding sherry helps make it crispy on the outside, marshmallow-y on the inside. This is a pretty simple dessert when it comes down to it. The maple cherries can be scooped over vanilla ice cream, or eaten with plain yogurt. The cherries and meringue are quite sweet, so I recommend not adding any sugar to the whipped cream. Depending on how sweet your cherries are, you can cut down the sugar there, too.

For the meringue:
2 egg whites, at room temperature
3/4 cup of caster (powdered) sugar
1/4 teaspoon of sherry vinegar

For the maple cherries:
1 1/4 cup of pitted Rainier cherries (we got ours from Whole Foods Market)
1/4 cup of maple sugar
1 teaspoon of pure vanilla extract
1/4 cup of water
For the whipped cream:
1/2 cup of heavy whipping cream
handful of shaved chocolate
1. To make the maple cherries: combine all the ingredients in a medium pot and heat over medium-high. Stir and let the sauce cook down until slightly thickened (and the cherries are tender). Remove from the heat and let cool. Preheat your oven to 350 degrees F and line a baking tray with parchment paper.
2. To make the meringue: add the egg whites to the bowl of a stand mixer fitted with a whisk attachment. Whisk until the mixture holds soft peaks (about 10-15 minutes).
3. Next, whisk the sugar, one tablespoon at a time, into the egg whites, until you have a smooth and glossy mixture. Use a silicone spatula to fold in the vinegar. Be sure to use a light hand!
4. Transfer the mixture to the parchment paper, spreading it into a circle. Use an offset spatula to create some peaks. Place the baking sheet in the oven and drop the temperature immediately to 300 degrees F. Bake for 45-50 minutes (until the meringue is set).
5. Allow the meringue to cool slightly. Meanwhile, add the whipping cream to a clean stand mixer bowl and whisk until soft peaks hold.
6. To assemble the pavlova: carefully transfer the meringue from the parchment paper to a serving platter. Spread the whipped cream over the meringue. Top with maple cherries, drizzling the thickened sauce over the meringue. Sprinkle with shaved chocolate.