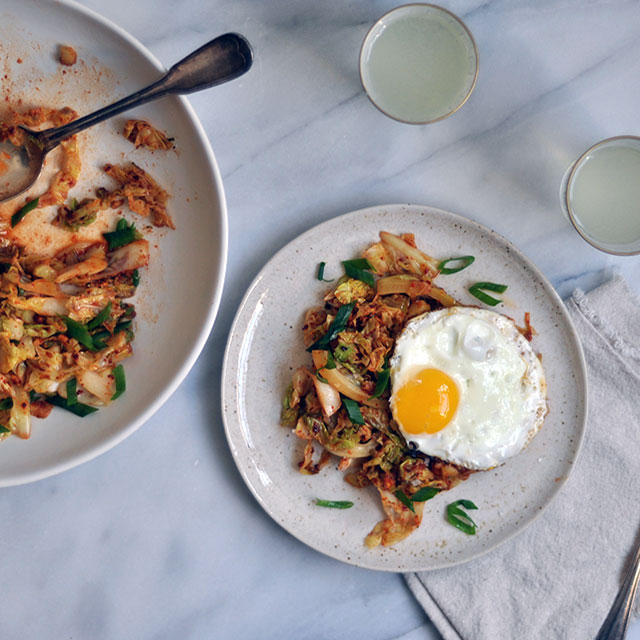 March is lot like a long, flat stretch of road somewhere. It's far enough away from where you've left (winter) and not quite to where you're headed (spring). In terms of writing, March feels like the first sentence, followed by a blinking cursor. It's a tough one, mentally, to overcome.
Most of the country is still holding its breath, waiting for that last snowstorm to pass. Here in California, we're starting to feel the beginnings of summer. It's still light out at 6 pm — a welcome change. We've been eating strawberries from the market that no longer taste like cardboard! The vegetable selection is still reminiscent of winter: kale and more kale, carrots and brussels sprouts. But there are signs. There are signs!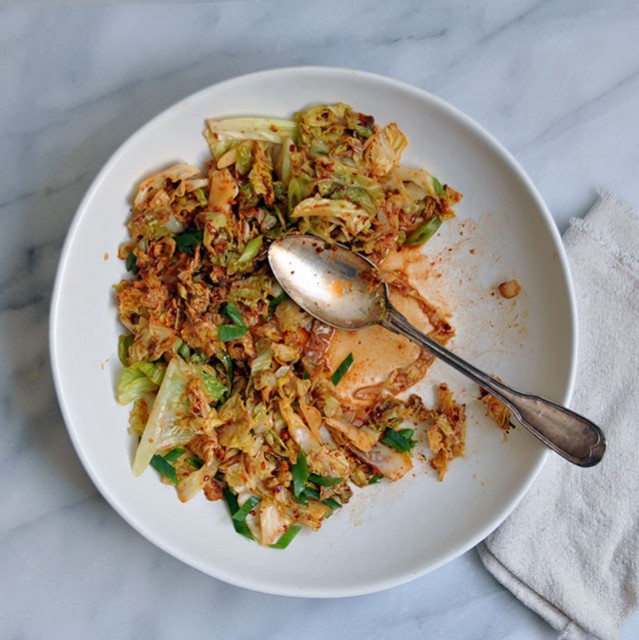 There are trips on the calendar; to Lake Tahoe and Portland and Seattle. I've got a little bunch of ranunculus in all shades of yellow and orange sitting in a vase on my bedside table. And a growing list of recipes I've been waiting all winter to make.
I remember in the latter stages of my pregnancy, having the strangest feeling. Like I was a balloon that had hit the ceiling, with nowhere to go. It was that in-between: a life I knew so well, fading, and a life I knew so little about, just beyond the door. I couldn't stand not knowing. I couldn't sleep, not knowing.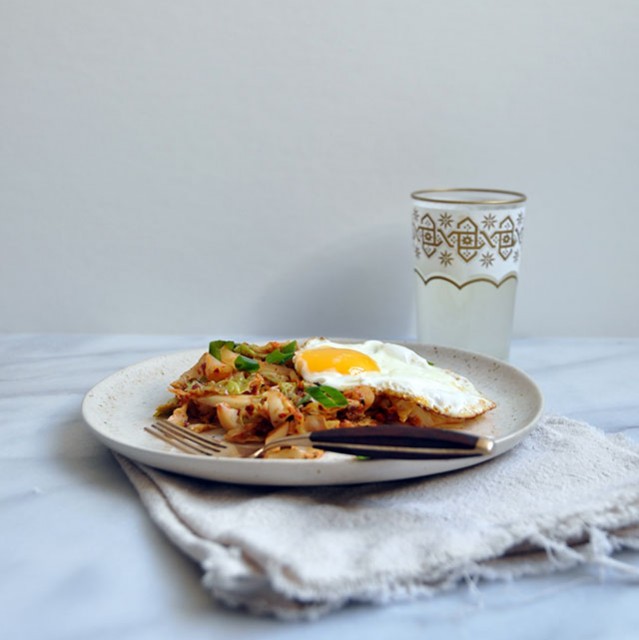 But what do we ever really know, anyway?
***
I can eat kimchi by the spoonful. Thankfully, I stumbled upon a recipe that allowed me to turn kimchi into a meal and required no fermentation! Remarkably, this fresh cabbage kimchi tastes very much like the real deal. I call it faux-chi. I recommend making a double batch, frying up some eggs and having yourself a splendid little lunch.
If you're mildly obsessed with kimchi like I am, here are a couple of other beautiful and original kimchi recipes:
Kimchi Fried Rice (are Nicole and I on the same wavelength or what?)
Kimchi Ramen (this soup had incredible flavor; I can't wait to make it again and again)
Brussels Sprout Kimchi Tacos (brussels AND kimchi? giiiiiiiirl….)
Kimchi Latkes (a lady after my own Jew-ish heart…)
Kimchi Style Cabbage and Fried Eggs
adapted from Bon Appetit
2 scallions, thinly sliced, plus more, for garnish
2 cloves of garlic
1 1" piece of ginger, peeled and roughly chopped
2 tablespoons gochugaru (Korean chili flakes)
1 tablespoon of fish sauce
1 tablespoon of brown rice vinegar
2 tablespoons of vegetable oil
1/2 head of green cabbage, sliced into roughly 1″ strips
sea salt and freshly ground pepper
2-4 fried eggs (sunny side up), for serving
1. Combine the scallions, garlic, ginger, gochugaru, fish sauce, and rice vinegar in a blender and puree.
2. Add the oil to a large skillet and heat over high heat. Add the cabbage and cook, tossing, for about five minutes (or until 'crisp-tender').
3. Spoon the puree into the cabbage and toss to coat. Divide cabbage among plates, top with fried eggs and season with salt and freshly ground pepper.
Musical Pairings: Kimchi Style Cabbage and Fried Eggs (Or, Faux-Chi) + MØ – No Mythologies To Follow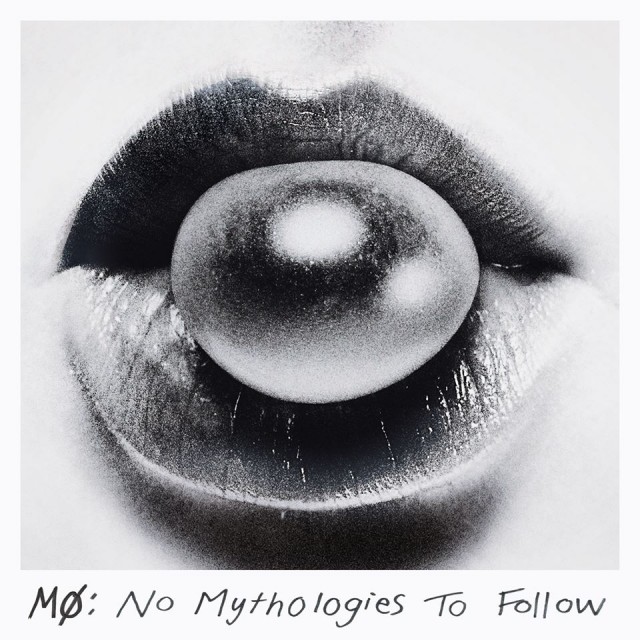 More on the Turntable.