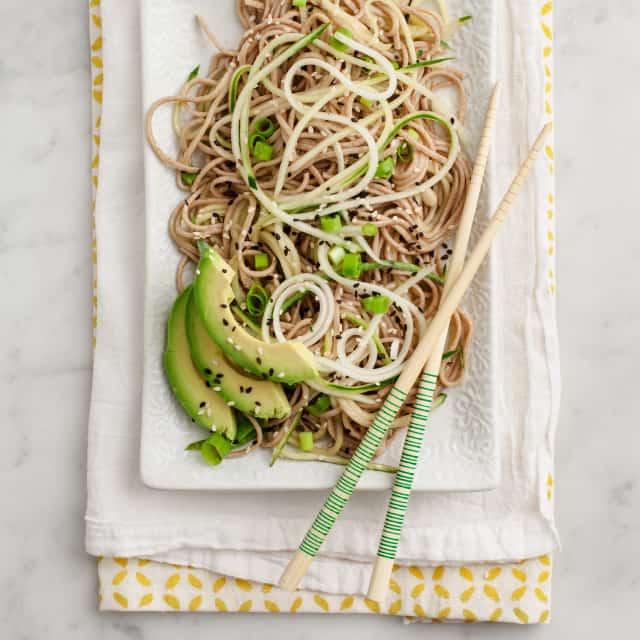 The first time I laid eyes on Jeanine's site, Love & Lemons, I was in love. Not only do I admire Jeanine's creative recipes, but I am in awe of her design skills. Jeanine and her husband Jack are also a blogging duo (though Jack's work is mostly behind the lens). They live in Austin, TX, and I've very much enjoyed getting to know Jeanine as a friend and supporter. I'm so honored to have her stop by TK in our absence and share a Japanese-inspired dish (so appropriate!). — Kasey
I'm so happy to be guest posting for Kasey while she's gone. She's been such a kind and supportive internet friend for a long time. I'm sure our paths will cross one day soon and we'll meet in person. The strange thing is that, in a way, we're crossing paths right now. Two years ago (almost to the day) my husband Jack and I were on our way to Japan. The memory of that trip is still fresh in my mind, so I'll be living extra vicariously through Kasey and Matt's travels.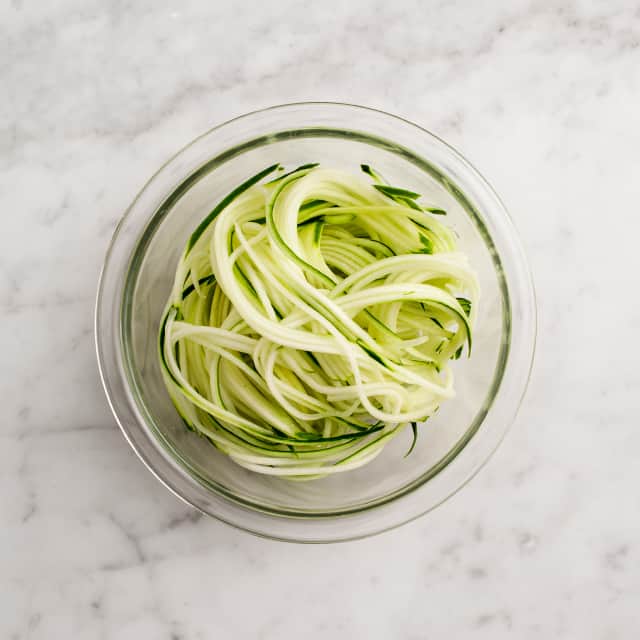 We spent a week in Kyoto and one of the first things we set out to find was soba. It's served in teeny tiny hundred-year-old restaurants. The noodles are handmade, and cold soba is served simply with a dipping sauce. Just dip and slurp. The louder the better.
Since the soba I make at home comes from a box I, of course, add stuff. But I try not to go too crazy with it. We've been loving this version lately where the cucumbers are sliced into nearly the same shape as the soba. It's a great light option for summer because it's as filling as a bowl full of noodles, with half as many actual noodles. You would never see avocado with soba in Kyoto, but, well, I'm not the one that's in Kyoto right now.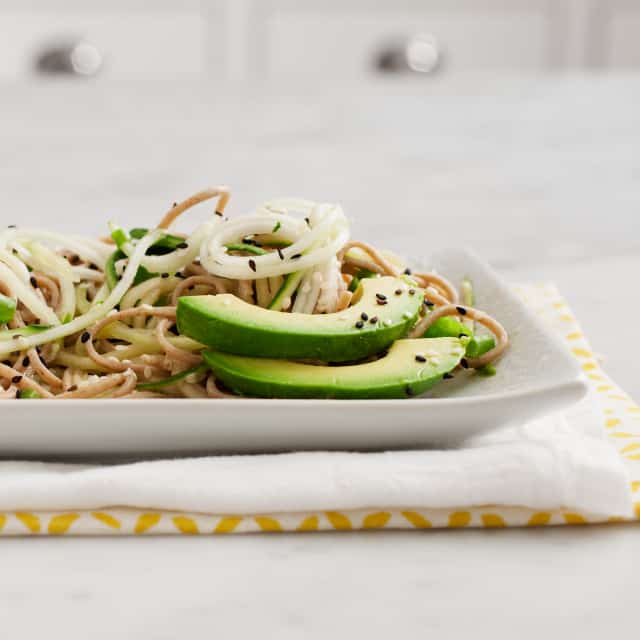 Cold Cucumber Soba Noodles
serves 2
4-6 ounces soba noodles
1-2 tablespoons toasted sesame oil
2 large cucumbers (or 1 large seedless cucumber)
1/4 cup chopped scallions
1 tablespoon tamari or soy sauce
2 tablespoons rice vinegar
1-2 tablespoons ponzu sauce (or extra tamari & rice vin with a squeeze of lime)
avocado slices
sesame seeds
optional additions: tofu or a protein of your choice
optional: sriracha or chile flakes
Boil the soba noodles in salty water until al dente. Blanch them for 30 seconds in a bowl of cold ice water, then drain. Return them to the (empty) bowl and gently toss with a splash of sesame oil so they won't stick together while you finish everything else.
Thinly slice the cucumbers using a julienne peeler. (you could also use a mandolin or veggie spiraler). Discard the first peel (it will be all skin) and carefully make your slices around the seeded part in the middle.
Toss the cucumber slices and scallions with the soba noodles. And tamari, rice vinegar, and ponzu and toss again. Taste and adjust seasonings. Top with sliced avocado and sesame seeds. Serve cold.