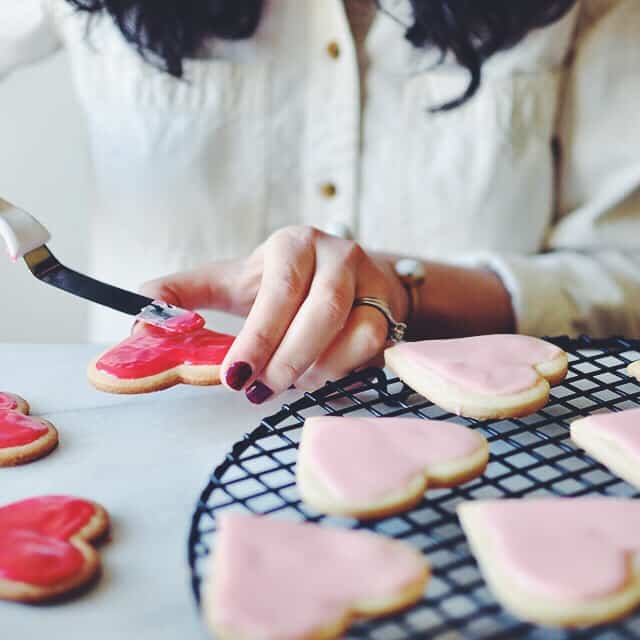 Few things are more therapeutic than mixing colors in a bowl and frosting cookies. These cookies involved only my second time using food coloring and I have to say, I'm kind of hooked on synthetic colors. I'm being only mildly sarcastic here. The truth is, I've always believed that food can be both pretty and tasty but I've long had mixed feelings about sugar cookies. Most of the ones I've had have been bland and uninspired. Frauds, if I must go there. I've always preferred cookies that aren't quite so fancy. Cookies that are brown and raggedy and maybe a little worse for wear. Cookies that aren't so dainty and cutesy.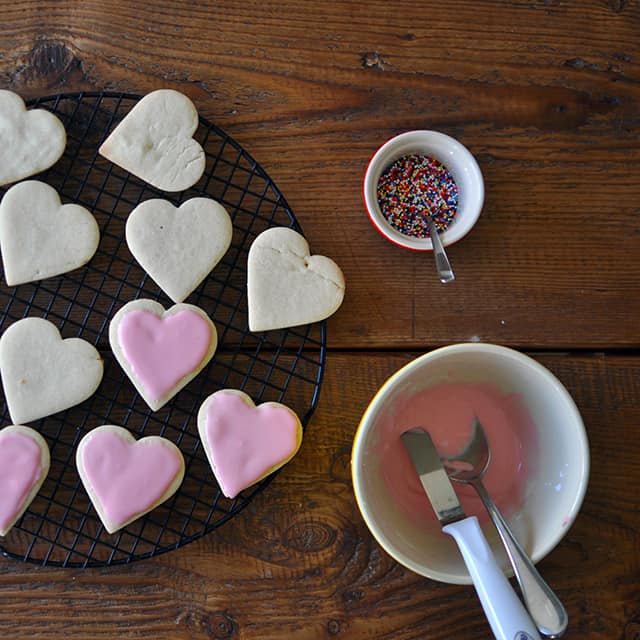 Valentine's Day is the sort of Hallmark holiday everyone loves to hate. And I get it. I'm not much for a dozen red roses or a prix-fixe menu. And I'm really not anticipating my kid bringing home a bagful of princess and superhero cards that I'm going to have to save for some extended period of time for 'sentimental' reasons. But as much as I love to join the masses in a collective eye roll when it comes to Valentine's Day, I have to say that sometimes, you just have to embrace your inner mason jar and decorative pillow-loving self….and bust out some cookie cutters. Besides shavasana, frosting cookies might be my new go-to relaxation technique.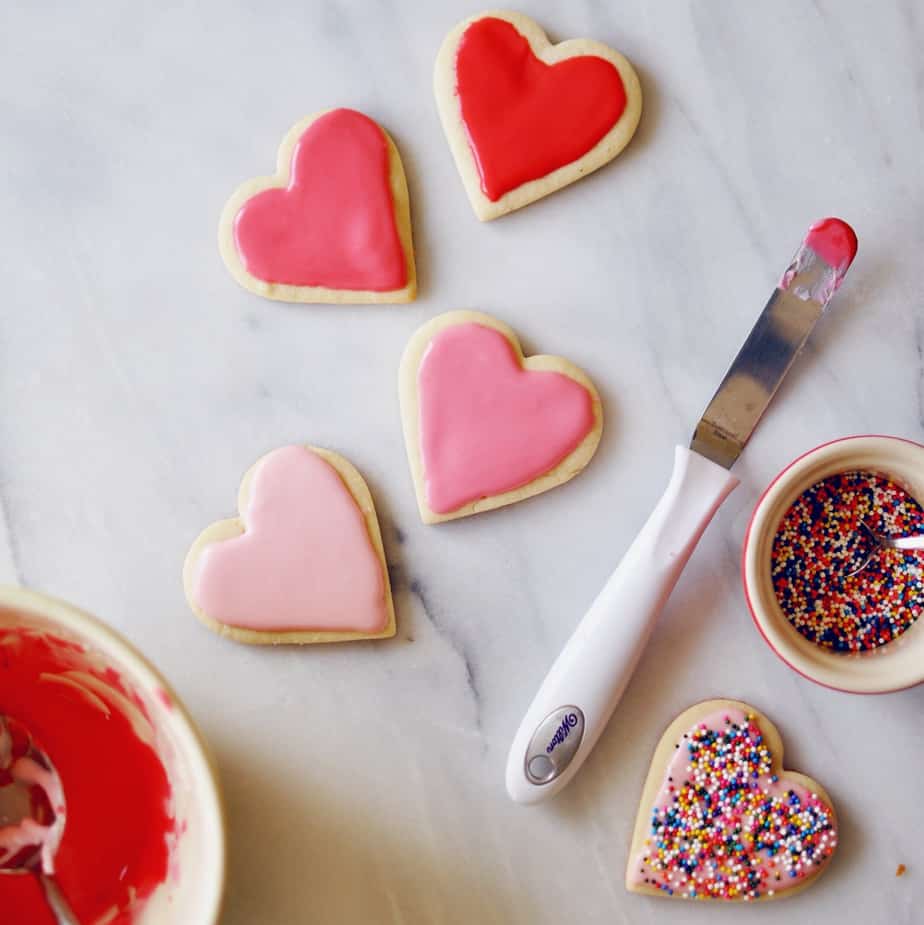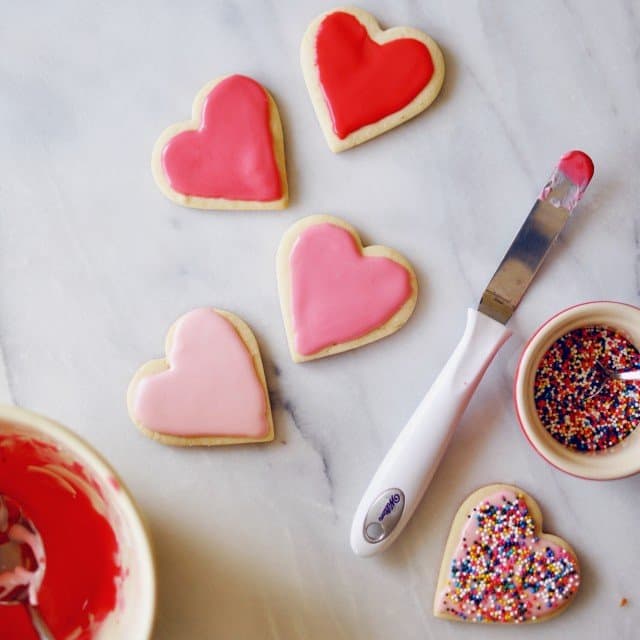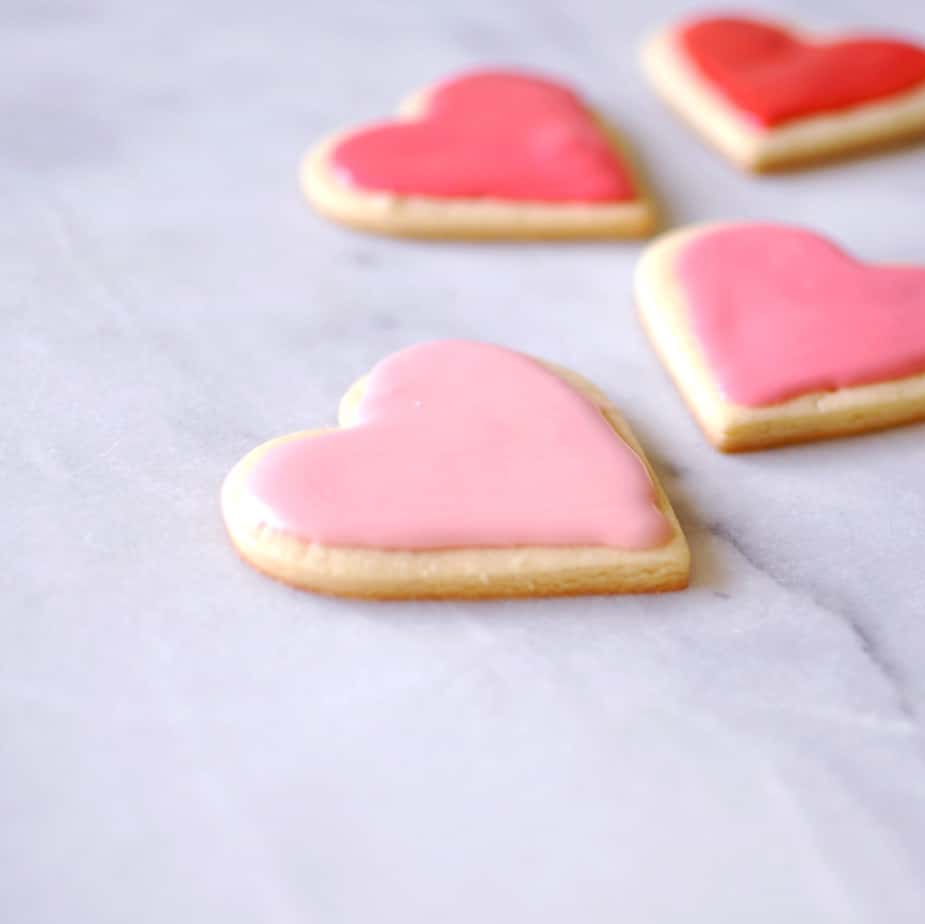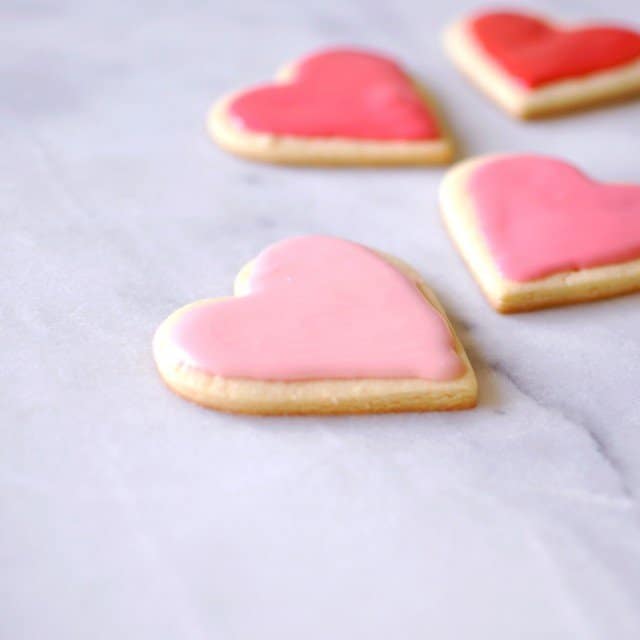 The thing with sugar cookies is that they pretty much taste like butter and sugar and whatever else you flavor them with. You can get all experimental with herbs and cheeses, but the foundation is pretty straightforward and this recipe will be good through next Christmas. As for frosting, I like to KISS (keep it simple, stupid). I'm not one of those perfectionist frosters or someone who regularly bakes three tier cakes. I keep my frosting to 3 ingredients: powdered sugar, milk, and vanilla extract. It tastes like sugar. AS IT SHOULD. So what we're looking at here folks is sugar and butter, layered with sugar. Because that is what this holiday is all about! The key to really good sugar cookies, I've realized, is having good ingredients on hand (mainly the butter). Try not to re-roll the dough scraps too many times so that your cookies stay tender.
Regardless of how you feel about the holiday (and cookies), I can pretty much promise you that giving one of these to someone will put a smile on their face.
Frosted Heart Cookies
adapted from Gourmet
*makes about 3 dozen cookies
For the cookies:
2 1/2 cups of flour
3/4 teaspoon of salt
3/4 cup of unsalted butter, at room temperature
3/4 cup of sugar
1 large egg
1 teaspoon of real vanilla extract
For the frosting:
1 cup of powdered sugar
1-2 tablespoons of milk (plus more, as needed)
1 teaspoon of real vanilla extract
food coloring
1. Add the flour and salt to a medium bowl. Whisk to combine.
2. Add the butter and sugar to an electric mixer bowl and beat on medium-high until pale and fluffy. Beat in the egg and vanilla extract, then reduce to low speed and slowly beat in the flour mixture until incorporated.
3. Shape the dough into two balls, flatten them into disks, and wrap them in cellophane. Place in the refrigerator for one hour to chill.
4. Preheat your oven to 350 degrees Fahrenheit and generously dust a work surface with flour. Roll out your dough, starting with one ball, until it is about a quarter of an inch thick. Use a cookie cutter to cut out shapes and transfer them to an ungreased baking sheet, spacing the cookies about 1 inch apart. Re-roll any scraps and continue to cut out shapes, placing the rest of the cookies on a second baking sheet. Bake the cookies for about 10 minutes (or until the edges begin to turn golden) then remove from the oven and transfer to a cooling rack to cool.
5. To make the frosting: combine the powdered sugar, milk, and vanilla extract in a bowl until it's just slightly thicker than you'd like for frosting (the food coloring will thin it out, and you can always stir in more milk, if desired). Divide the mixture among three bowls and add the desired amount of food coloring to each. Use red food coloring to achieve various shades of pink.
6. Use an offset spatula to frost the cookies and let them dry at room temperature. We like to spice things up with some sprinkles.