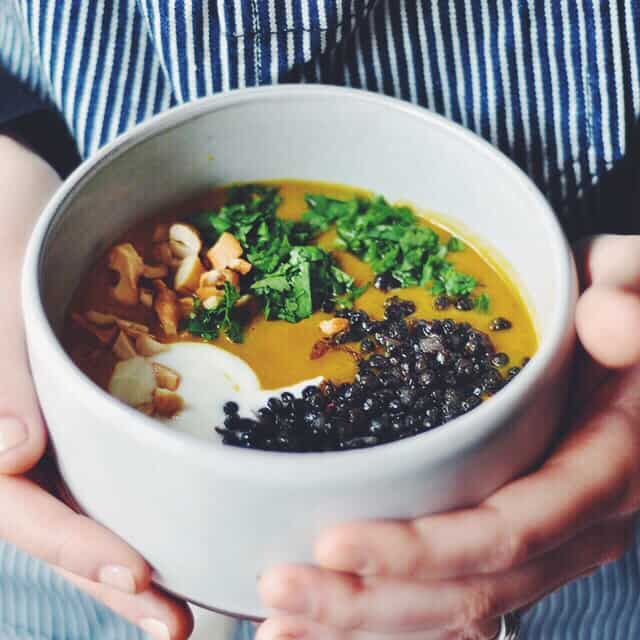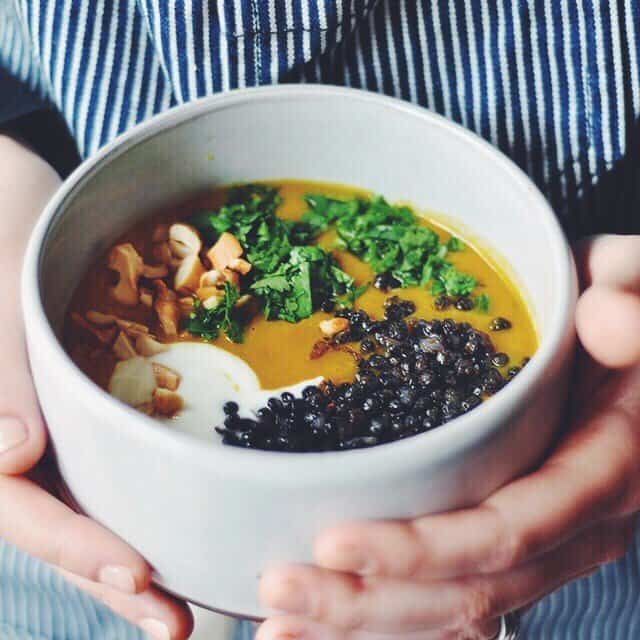 I'm partial to soup. "Bowl food" as Sara dubbed it, is my kind of food and this, among other things such as our husbands' bordering-on-obsessive love of coffee, makes Sara the sort of person I trust when it comes to eating and living. Her first book is in frequent rotation and her second, appropriately titled Bowl + Spoon, will soon become dog-eared, too.
A bowl of soup might be a universal language: hot or cold, vegetarian or meat-based, soup is often the answer to all of our problems. Sure, we may wallow in a glass of wine, or medicate with a cup of tea, but I've found that soup can lift my mood and improve my physical well-being in ways that no other food simply could. A bowl of soup doesn't have to be boring, either. Soup can be dressed up or down with a variety of toppings, sauces, herbs, and spices. Smooth, chunky, or a little bit of both, it is humanity's way of pleasing everyone at the table and letting you know that through its ups and downs, life will be all right.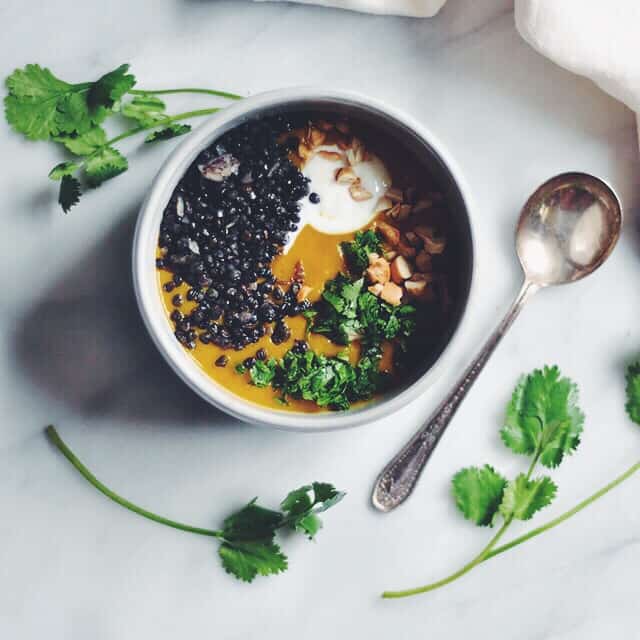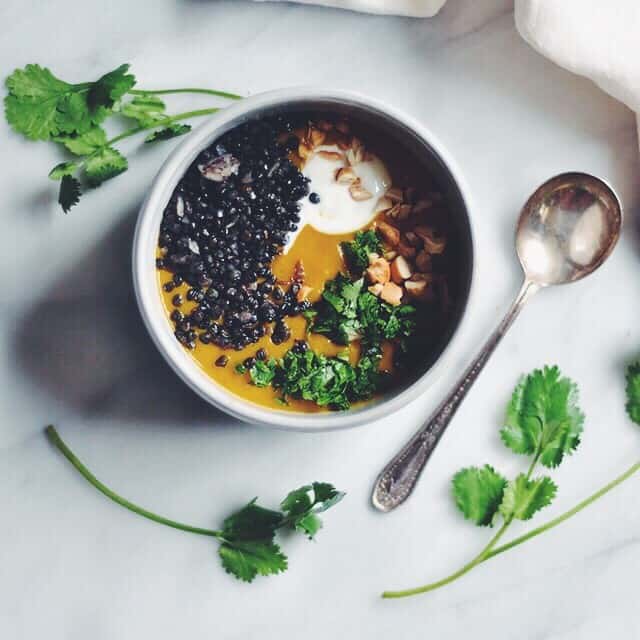 It's no surprise that this Curried Sweet Potato soup, topped with crispy black lentils, toasted cashews, yogurt, and chopped cilantro, was one of the recipes that jumped out from Sara's book. It seemed both humble and complex — a complete, nutritious meal in a bowl (Sara's specialty). And indeed, the results were tremendous. The soup itself came together quickly and while the toppings took a little extra effort, they were well-worth it.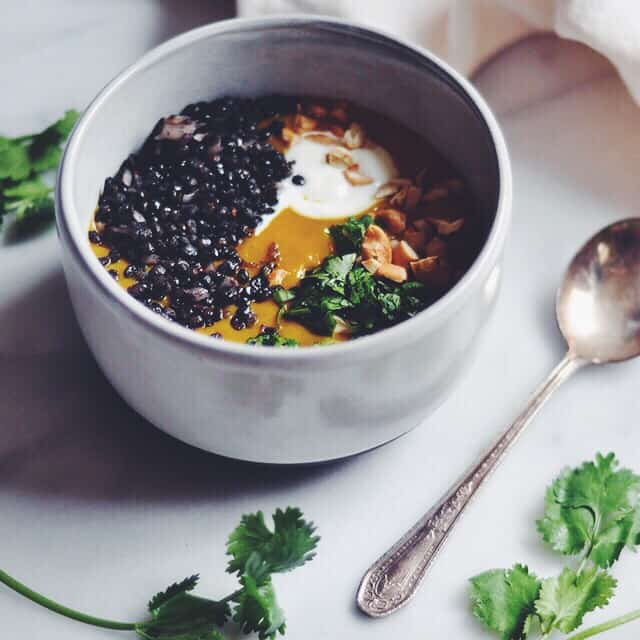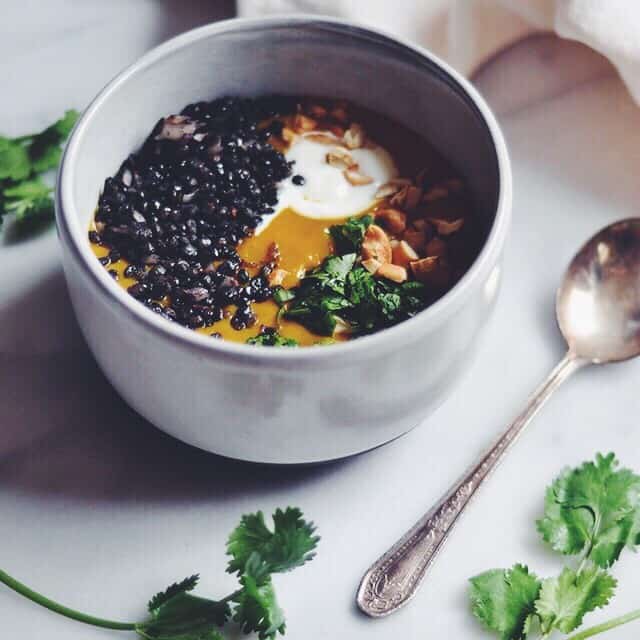 Since Bowl + Spoon arrived on my doorstep, I've flipped through it at least a dozen times, mentally bookmarking Sara's breakfast bowls and dessert bowls (how incredible does this look?), not to mention the entire section devoted to sauces and dressings.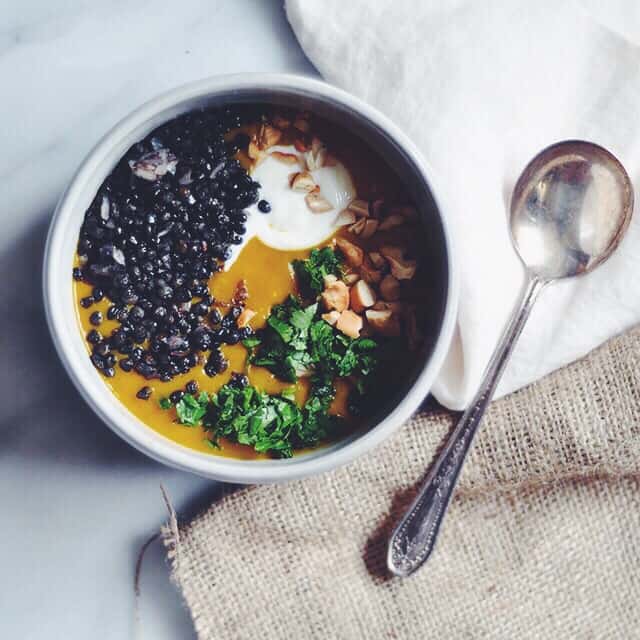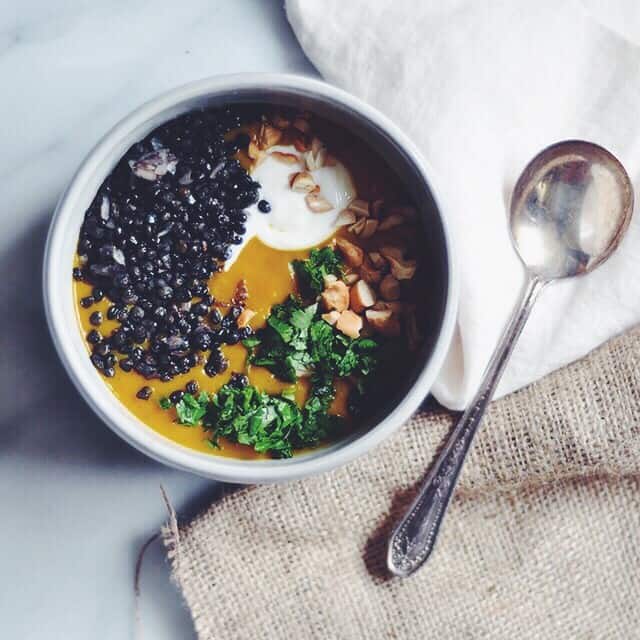 In the literary world, successful authors are famous for the sophomore slump but this second book is no wallflower and I would argue, has already impressed me as much as the first.

Curried Sweet Potato Soup with Crispy Black Lentils
adapted from Bowl + Spoon
2 1/2 tablespoons of coconut oil
1 onion, roughly chopped
1 teaspoon of ground turmeric
3 tablespoons of freshly grated ginger
2 teaspoons of sweet curry powder
2 pounds of sweet potatoes (2 large), peeled and cut into 1 inch cubes
3 cups of vegetable stock
1/2 cup of orange juice (I used blood orange)
1 to 2 tablespoons of Sriracha
1 cup of light coconut milk
sea salt and freshly ground pepper
1 shallot
1 1/4 cup of cooked black lentils* (I used beluga)
yogurt
1 bunch of cilantro, chopped
handful of cashews, toasted and chopped
*Sara recommends thoroughly drying out the lentils before frying (don't use the canned kind) to ensure the crispiest results.
1. Heat one tablespoon of coconut oil in a large pot over medium heat. Stir in the onion and saute for about 2 minutes, or until translucent. Stir in the turmeric, ginger, and curry powder. Cook for another minute or two. Then, add the sweet potatoes and broth.
2. Bring broth to a boil, then dial back to a simmer and cook for 15-20 minutes, or until the potatoes are cooked through.
3. Stir in the orange juice and use an immersion blender to puree the soup until smooth (add more broth if the soup is too thick for your taste). Stir in the Sriracha and the coconut milk. Season with salt and pepper. Taste and adjust seasoning. Cover and keep warm while you prep the lentils.
4. Heat one tablespoon of coconut oil in a medium skillet over medium high. Mince the shallot and add it, along with the lentils, to the skillet. Fry for about 2 minutes, or until crispy.
5. To serve soup: ladle soup into bowls. Add a swirl of yogurt, spoonful of lentils, cilantro, and chopped cashews.