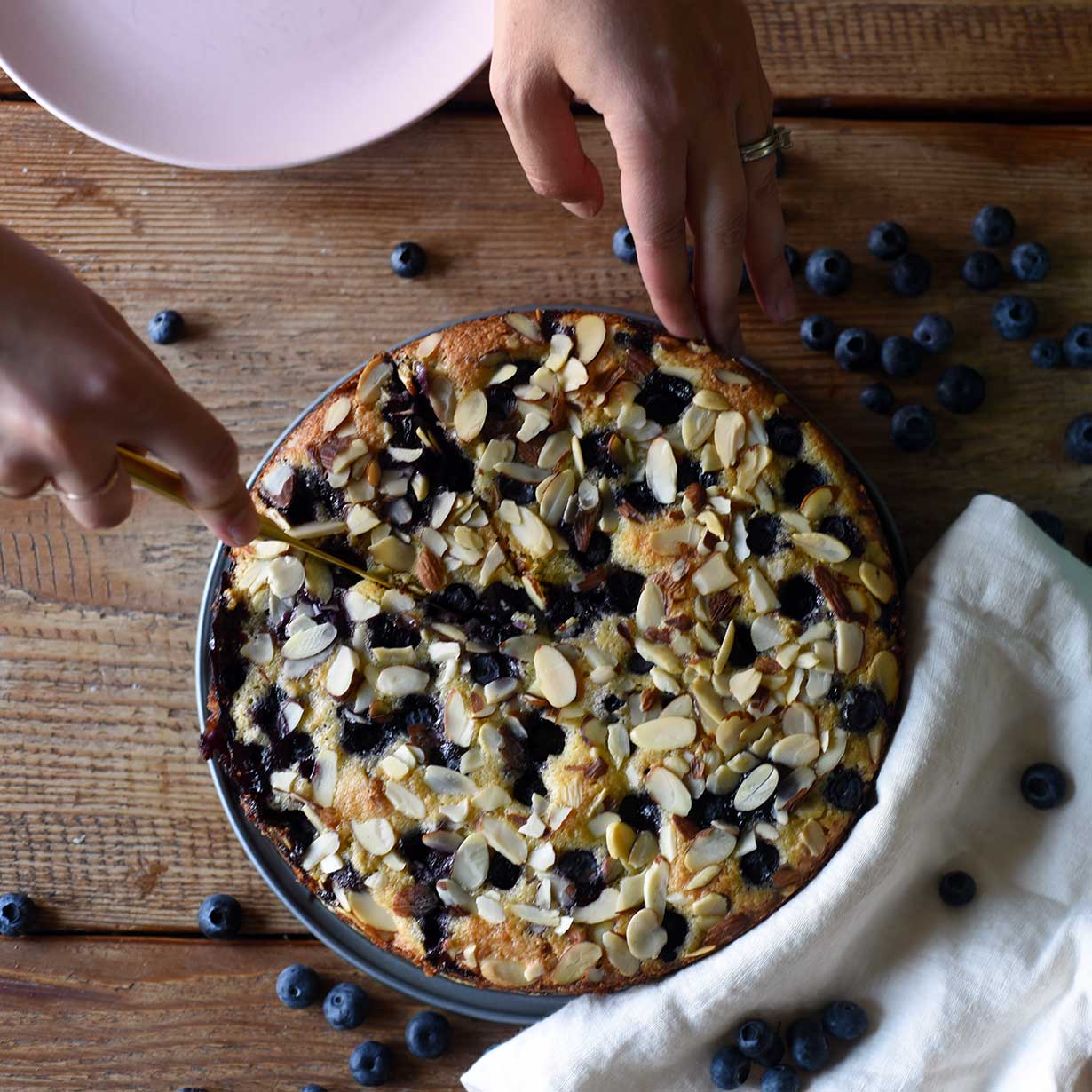 Weekends are the longest and shortest days when you are a parent. Especially during summer days in the PNW that feel both beautifully and painfully endless. Last weekend, in particular, felt painfully long, despite the fact that I had been away from home for several days (for work, but still). On my very first and very short flight from Seattle to Vancouver, I read an interesting book called When: The Scientific Secrets of Perfect Timing (I recommend it!). As a content marketer, I am pretty sure the author, Daniel Pink, ran that title through a headline testing tool because it definitely caught my eye.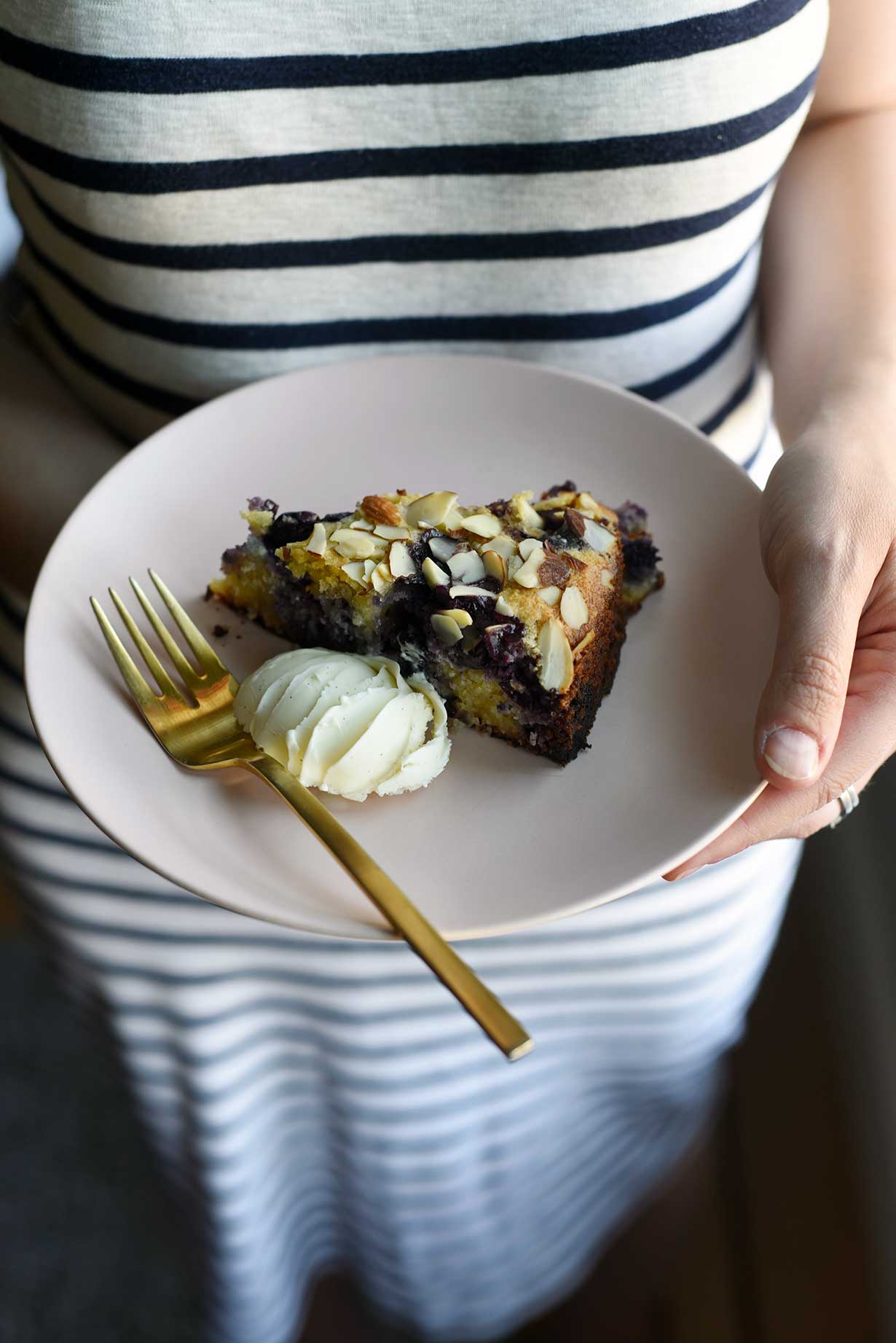 In his book, Pink argues that we all beat to a biological drum, and for all of us, the days start out with a peak, then plummet, and then see a return to optimal mood and productivity. Some of us are night owls, peaking later in the morning and in the evening, while others are what he calls larks, bright-eyed and bushy-tailed early in the morning. Most of us, though, we fall into a third category of in-between. Much of how we operate stems from this daily rhythm, and he argues that we can better structure not only our days, but our lives, to be happier and more productive if we become more aware of timing.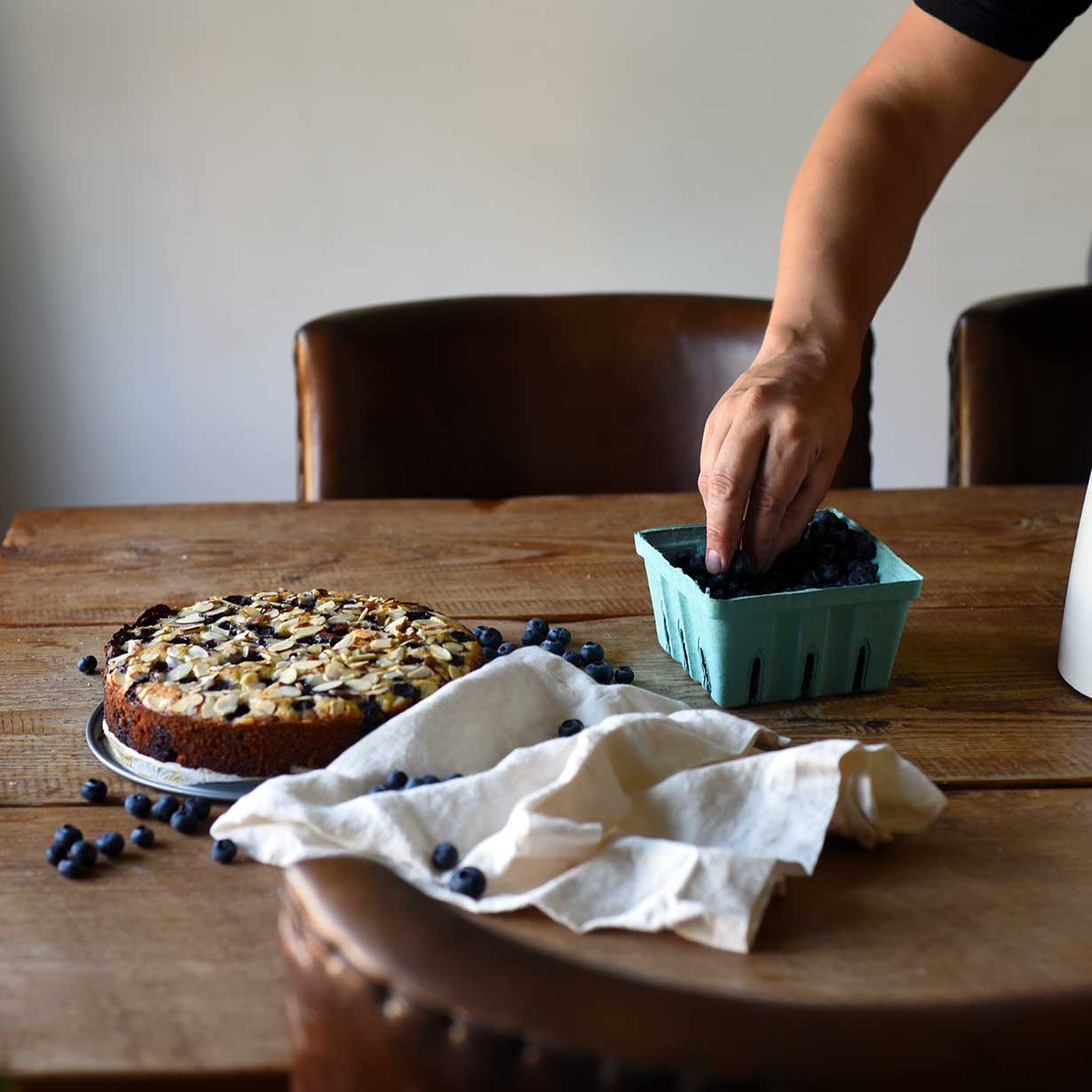 One aspect of his book really struck with me (besides the fact that you're more likely to win a game when you're 1 point behind your competitor during halftime). It was that studies have shown we remember endings more than beginnings; and middles are often forgotten. It got me thinking that even the toughest parenting days, the ones that end well stick in my memory as "good ones." All the tantrums (mine and the kids') are redeemed by a game of chase, a bike ride, or just a sweet cuddle at the end of the night.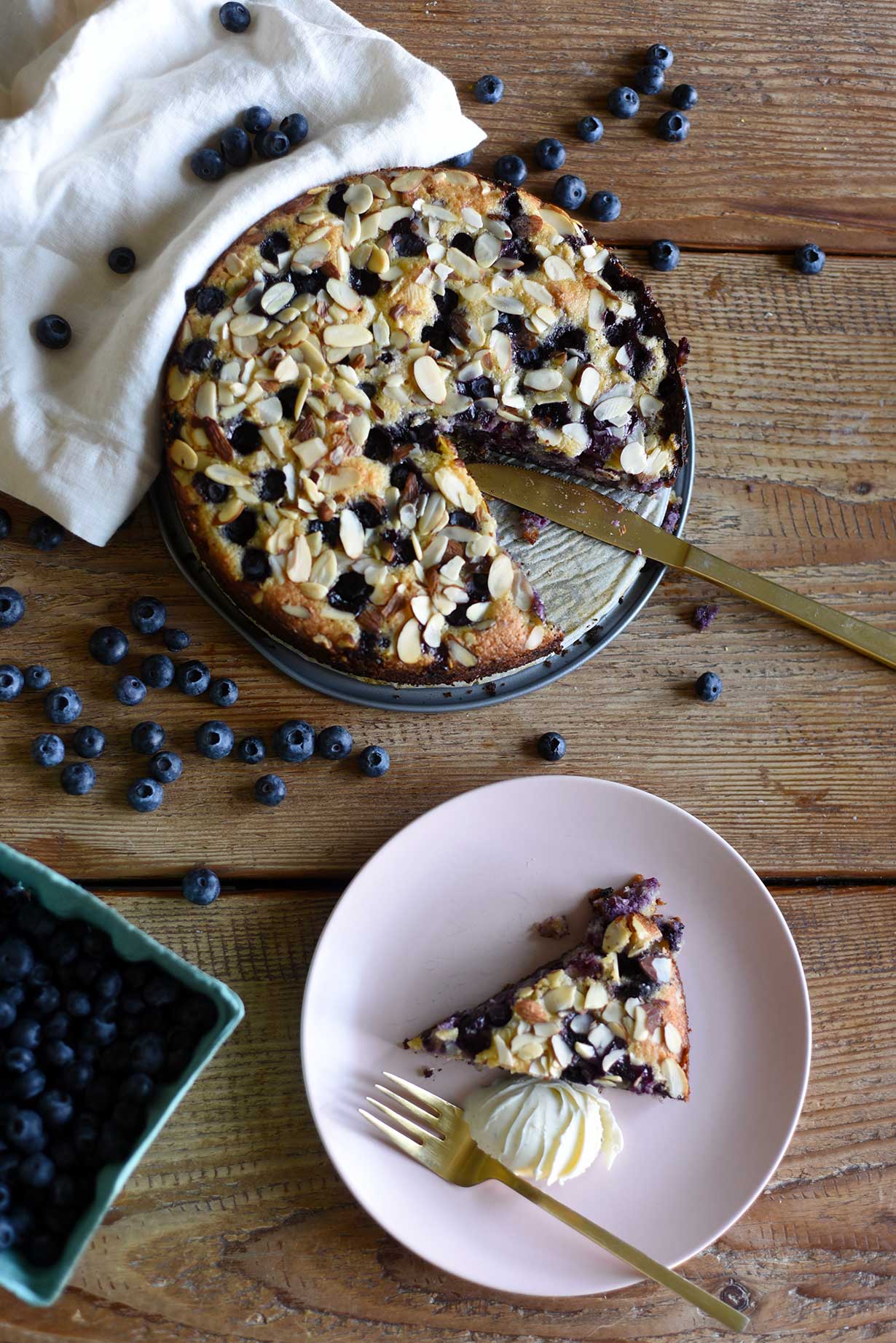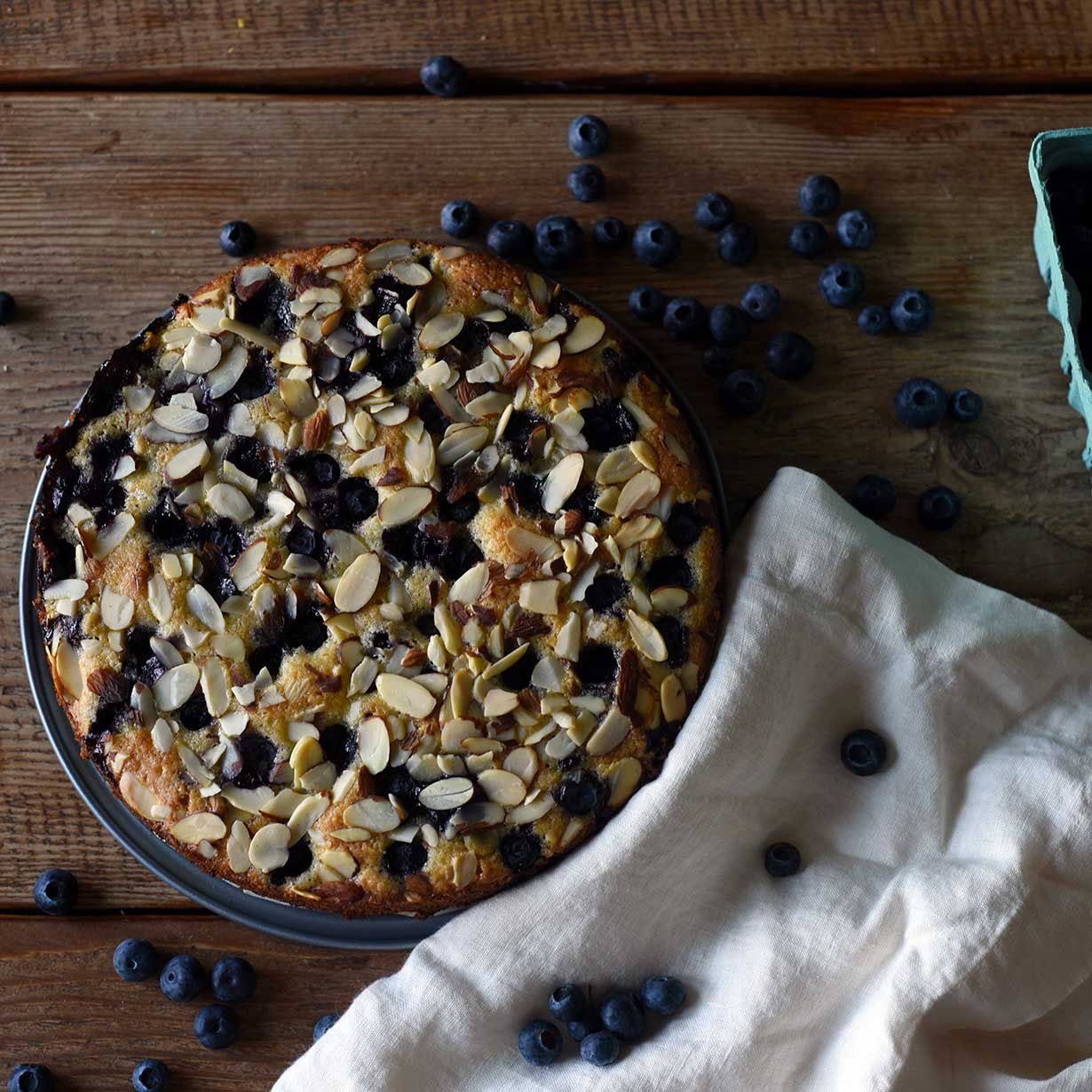 I am pretty sure I made this blueberry cake on one of those long parenting days that I now only remember as "a pretty good Saturday." A particularly hot one, during which the twins inevitably boycotted their naptime, I inevitably tried to control everything, and ultimately threw up my hands and said (or maybe screamed), "That's it. I'm making cake!" This cake is for you. For those days.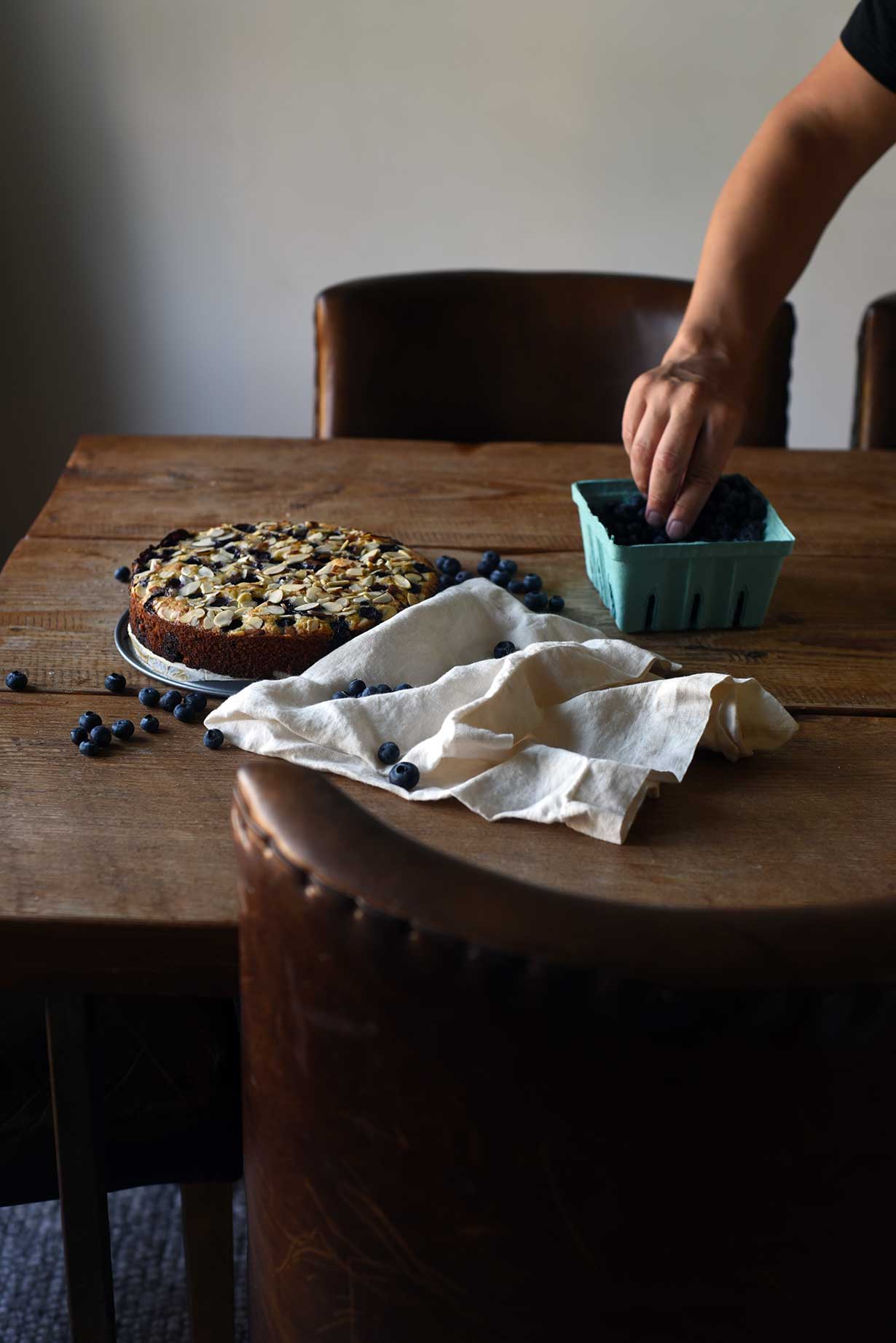 Coconut, Almond, and Blueberry Cake
adapted from Sweet: Desserts from London's Ottolenghi
1 2/3 cups of almond meal
2/3 cup of shredded coconut
1 1/4 cups of sugar
1/2 cup of all-purpose flour
1/4 teaspoon of kosher salt
1 teaspoon of freshly ground cardamom
4 large eggs
3/4 cup + 2 tablespoons of unsalted butter, melted
2 teaspoons of bourbon vanilla extract
1 1/4 cups of fresh blueberries
1/4 cup of sliced almonds
Note: the original recipe calls for lemon zest, which I replaced with cardamom. I've made the cake both ways, but I have to say that I love the combination of blueberry and cardamom best.
1. Preheat your oven to 350 degrees F. Grease a 9 inch round cake pan and cover the bottom with parchment paper.
2. Combine the almond meal, shredded coconut, sugar, flour, ground cardamom, and kosher salt in a medium bowl and whisk to incorporate.
3. Whisk the eggs together in a large bowl, then add the (cooled) melted butter, whisking until fully incorporated. Pour this into the dry mixture, whisking to combine, then stir in 1 cup of blueberries.
4. Transfer the batter to the prepared pan and dot the top with the rest of the blueberries and sliced almonds.
5. Bake for about 50 minutes, or until a toothpick inserted into the center comes out clean. Be sure to watch the cake closely so as not to burn it.
6. Let cool before transferring to a serving dish. This cake is particularly delicious served with a scoop of vanilla bean ice cream.