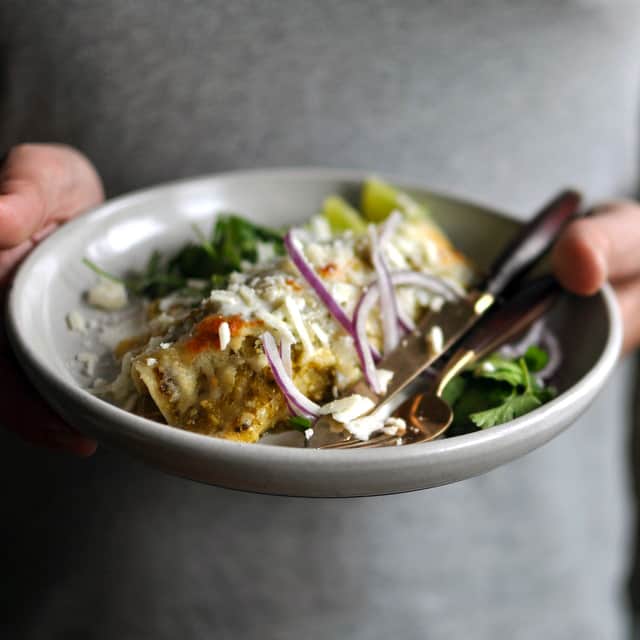 One thing I've quickly realized as a home owner is that nothing is ever 'done.' Hard as I struggle to have the picture be 'complete' there is always room to change (or shitty pipes to fix before thinking about pretty tile work). I'm reluctantly beginning to accept that this applies to more than just home ownership.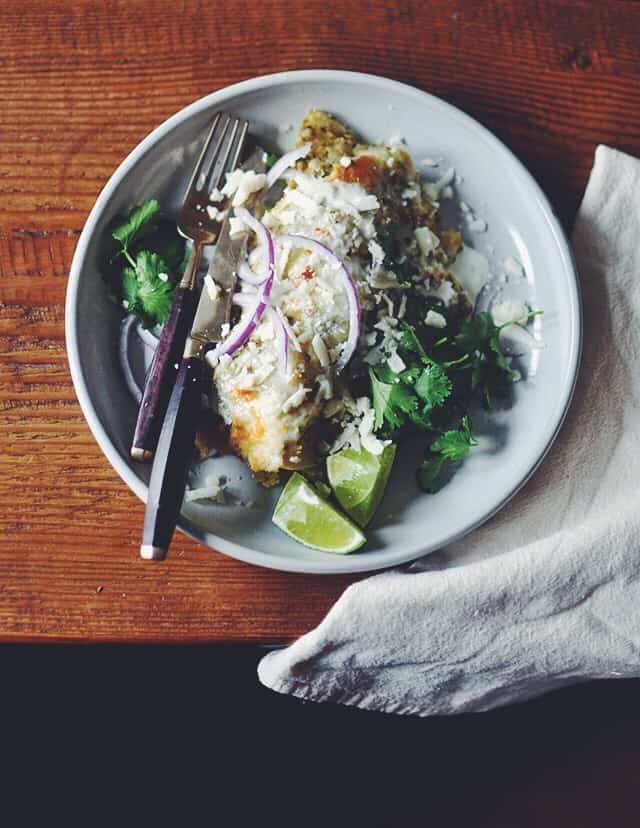 A few years ago, I read a lot of articles about 'having it all.' Fueled by Sheryl Sandberg's Lean In movement, we (women) and men, too, were told that having it all was an attainable state of being. I strived to have it all. The career, the house, the kids, the beautiful clothing. An Instagram feed to perfectly document all the bougainvillea bushes and Golden Gate spotting trips in my life.
Then, a bunch of critics came out telling Sheryl that she was hypocrite for trying to suggest that anyone can have it all — and that having it all was even a thing to strive for. I saw both sides of the argument.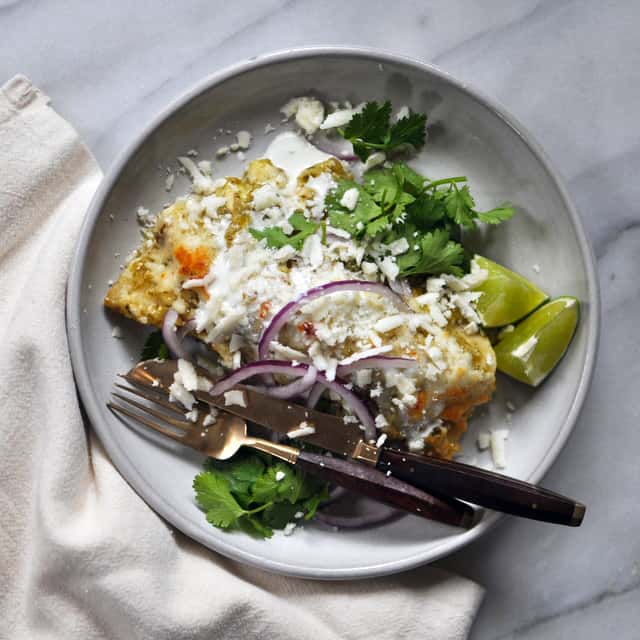 But I continued to want it all, dammit.
And I continue to want it all. Unfortunately for us all, whether through words or images, opportunities to feel inadequate hide in all sorts of nooks and crannies. And as many friends — all of whom are going through different stages of life — have recently reminded me, having it 'all' means different things to different people.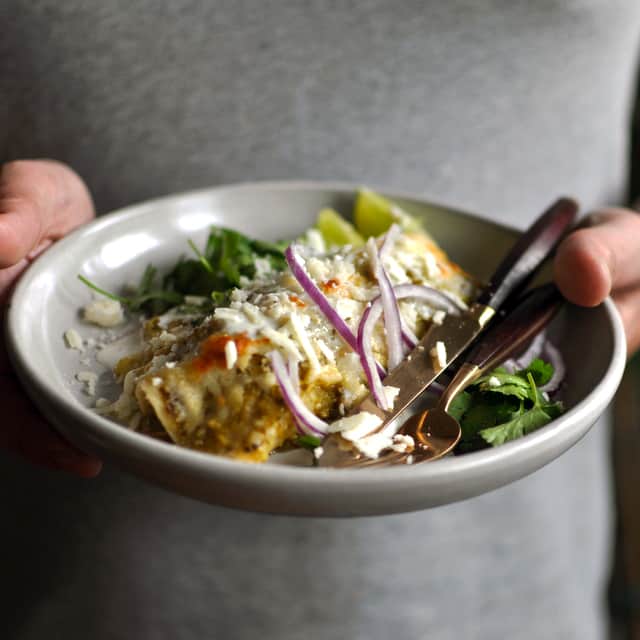 Recently, I've been stuck on the idea of being able to work, raise three children, and cook a nutritious dinner every night. It happens, sometimes. But more often than not, we've been saving our big cooking explorations for the weekends. We made these enchiladas this past weekend while two babies hung out in the kitchen in their bouncy chairs and a toddler 'cooked' with her wooden play food. I photographed said enchiladas and then we ate them *sorta* hot!!
This is what "having it all" looks like right now.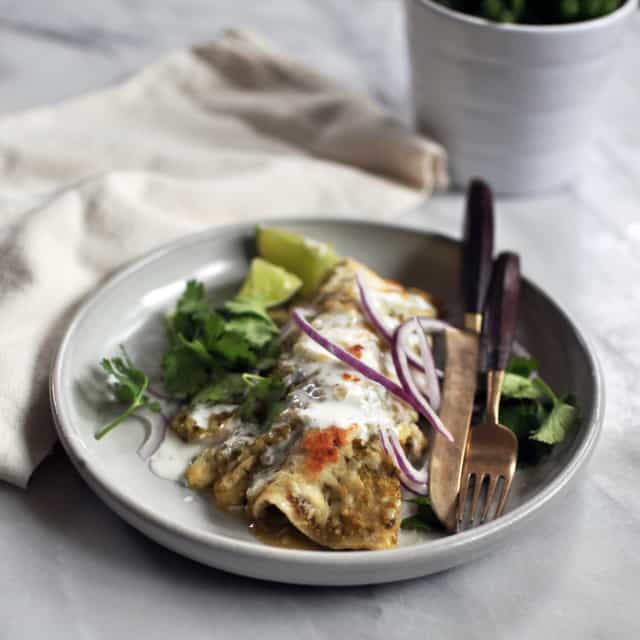 Chicken Enchiladas Verdes
adapted from Bon Appetit
*serves four
For the green sauce:
2 tablespoons of olive oil
1/2 onion, cut in half
1 poblano chile, halved and seeded (stem removed)
about 2 pounds of de-husked tomatillos
1 serrano chile, seeded (stem removed)
3 cloves of garlic, smashed with the side of a large knife
1 cup of chicken stock
one large handful of cilantro (leaves and stems)
1 tablespoon of freshly squeezed lime juice
Kosher salt, to taste
For the enchilada filling:
shredded meat (skin removed) from 1/2 rotisserie chicken (ours was from Whole Foods)
1/2 teaspoon of ground coriander
pinch of Calabrian chili flakes
Kosher salt, to taste
For assembly and serving:
vegetable oil, for frying the tortillas
8-10 6-inch corn tortillas
12 ounces of grated Cotija cheese
1/2 cup of crème fraîche
1 tablespoon of milk
thin slices of red onion, lime slices to serve
1. Preheat your oven to 425 degrees F. To make the green sauce: Line a rimmed baking sheet with foil and add the tomatillos, poblano chile, and onion. Drizzle with oil and sprinkle with salt then roast for about 35 minutes, or until the vegetables are tender and browned.
2. Allow the vegetables to cool before peeling off and discarding the poblano chile skin. Transfer the veggies, along with their juices to a blender and add the serrano chile, crushed garlic, chicken stock, cilantro, and lime. Puree until smooth, season with salt and set aside.
3. Pour off the sauce into a large bowl. In another bowl, combine the shredded chicken with coriander, chile flakes, 1/2 cup of the green sauce, and some salt. Toss to coat.
4. Gently fry your tortillas: add oil to a small skillet and heat over medium-high. Add the tortillas, one at a time, and let brown slightly, on both sides, before transferring them to a paper towel to soak up the oil.
5. Spread about 1 cup of green sauce along the bottom of a large glass baking dish.
6. Assemble the enchiladas: dip a tortilla into the green sauce then transfer to a plate and add 1/4 cup of filling. Roll the tortilla and place it seam side down in the baking dish. Continue with the remaining tortillas, nuzzling them close together in the baking dish.
7. Pour the remaining sauce over the enchiladas and sprinkle with Cotija cheese, leaving some cheese for sprinkling over the enchiladas later. Bake the enchiladas for about 25 minutes, until the cheese and sauce are bubbling.
8. Make the crema by combining the crème fraîche and milk in a bowl.
9. Serve enchiladas with crema, red onion slices, lime slices, and extra cheese sprinkled on top. Leftover enchiladas can be warmed in the oven or microwave.