I miss peaches and blackberries this time of year. But, I'm becoming more aware of eating with the seasons. So, rather than succumbing to ridiculously-priced produce that's been shipped to the city from lands far, far away, I'm eating what's fresh and in season. We've got lots of apples at our house. And pears. And squashes of all sorts (delicata being my favorite). Mushrooms seem to be aplenty at this time of year, and they add a nice earthy, hearty flavor and texture to big dishes, as well as lighter summer favorites.
With the recent shutdown of Gourmet magazine, I've been doing a lot of online recipe searches on magazine websites. Some part of me is paranoid that I'll wake up and find my other favorite magazines closing down. There are so many great magazines out there and I find it so disheartening to see the print industry suffering. Saveur is one of the best out there. The writing, the photographs, the combination of food, culture and travel. It's all there. I've been a subscriber for over a year now and I get excited every month when my new issue arrives. When I can't get enough and want more, I can now go to their spiffy re-designed site, which is chock-ful of fantastic recipes.
This seared cod with mushrooms, thyme and sherry vinegar felt like the perfect weekend dinner, and a great meal to pair with a good bottle of Viogner (try Praxis, which has a fantastic grapefruit aroma) or Sauvignon Blanc. The original recipe called for center-cut cod with its skin on, but we opted for a thinner cut, which lended itself to an almost hash-like dish and cooked almost instantly. The sherry-infused onions and mushrooms filled the kitchen with a sweet aroma that lingered as we sat down to the table. Good sherry vinegar is essential to this recipe.
We purchased all of our produce for this meal at our local farmer's market, and opted for little brown mushrooms (I always find their flavor to be more pleasant than that of the plain white ones).

Cast Iron Skillet-Seared Cod with Mushrooms
*serves 2
adapted from Saveur Magazine

2 fillets of cod
5 tablespoons of olive oil
6 cippolline onions, peeled
8-12 small crimini mushrooms
salt and pepper, to taste
1/2 cup of good sherry vinegar
few springs of fresh thyme
1. Preheat the oven to 400 degrees F and heat 3 tablespoons of olive oil in a cast-iron skillet over medium-high heat.
2. Cut the larger onions in half, then add the onions and mushrooms to the skillet, seasoning with salt and pepper. Saute for about five minute, shaking the pan and stirring them around with a spatula until nicely browned.
3. Reduce the heat and continue to stir them around until softened. Add the sherry vinegar, scraping up any bits, and letting it cook down for about a minute. Pour the pan juices, onions and mushrooms into a bowl and set aside.
4. Let the skillet cool a bit, and wipe it down with paper towels.
5. Season the cod fillets with salt and pepper, and drizzle with olive oil.
6. Drizzle a bit of olive oil into the skillet and bring it back to high heat. Add in the cod, searing it for about 2 minutes (because we used thinner fillets, we didn't need long to brown them a bit).
7. Flip the fish (don't worry if it breaks) and add in the onions, mushrooms and pan juices–arranging them around the fillets. Scatter the thyme springs on top.
8. Throw the skillet into the oven and let roast for approximately 5-6 minutes. The fish will cook very fast, so watch carefully!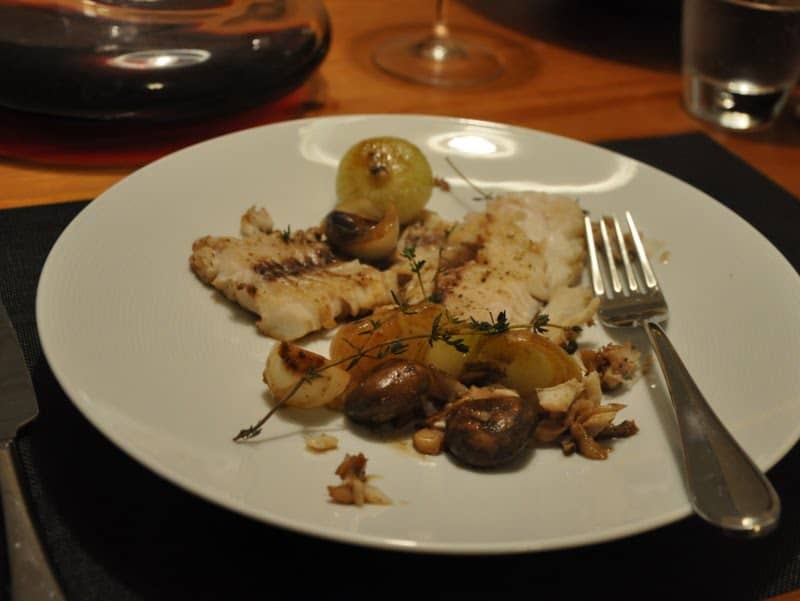 Musical Pairings: Spoon – Series of Sneaks + Cast Iron Skillet-Seared Cod with Mushrooms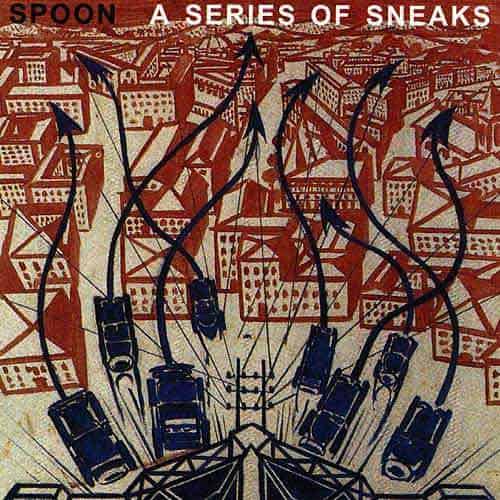 This cast iron skillet-seared cod with mushrooms and cipolline onions recipe is delicious, hearty and satisfying. It is earthy and flavorful, but also pretty simple. Today's pairing, Spoon's 1998 sophomore album Series of Sneaks, is similar in that it is hearty and satisfying. Flexed, sharp, jangly guitar riffs are joined with a booming, grooving rhythm section. Lead singer and guitarist Britt Daniel's throaty vocal licks are earthy and raw. But if Series of Sneaks deceptively sounds like a simple album, it is decidedly not so. Although it may lack the studio polish and shine found on some of Spoon's other albums, a great number of the songs on Series of Sneaks still standout as some of the band's very best. Read the rest over at Musical Pairings. –Matthew