There are those dishes that instantly transport you to distant destinations, or the comforts of your childhood. Associations, as we call them, are what gives these dishes such boundary-bending properties. We all have these associations, these connections that add context to our beginnings, and all of the places that we've been since. In addition to place-based associations, certain foods create a different type of emotion–the ability to create a new little home within your home. A blanket to spread out and sit upon, and get comfortable.
When I went backpacking through Europe the summer after my junior year of college, I remember reading a poignant quote–on the wall of the Guinness Factory in Dublin, Ireland, of all places. It said, "home is not where you live but where they understand you." I hold this concept close to my heart because, in my opinion, a place is really just a place. You can like it, sure, but the thing that makes it home are people.
It took me a long time to find the banana bread recipe. The one I want to make over and over again. The one I want to wrap up, still warm, and present to a friend after getting off a plane, or out of a car after a long drive. Unsurprisingly, the one that blew me away features a hearty dose of chocolate.
The banana-chocolate combo is my blanket. It makes me think of traveling on trains with a jar of Nutella and a few bananas tucked away into my bag (for 'nutritional purposes').. And crepes from the streets of Paris. I associate the combination with city-hopping adventures, but it also instantly envelops me in warmth because nowadays, I bake this bread to share with friends. Break into it, still warm and gooey, at a kitchen table–no matter where that kitchen table is–and propel the conversation wherever it might head.

Banana Bread with Chocolate and Ginger
* adapted from A Homemade Life by orangette blogger, Molly Wizenberg
6 tablespoons of butter
2 cups of white whole-wheat flour
3/4 cup of sugar
3/4 of a teaspoon of baking soda
1/2 of a teaspoon of salt
either 3/4 cup of semi-sweet chocolate chips, or 3/4 cup of finely chopped semi-sweet chocolate
1/3 cup of diced crystallized ginger (optional, but highly recommended)
2 eggs
2 large, overripe, well-mashed bananas
1/4 cup of yogurt (while Molly's recipe calls for whole milk only, I say low-fat is fine!)
1 teaspoon of vanilla extract
1. Preheat the oven to 350 degrees F and grease a loaf pan with butter.
2. Microwave the butter for about 30 seconds, or until it is melted (make sure not to overcook).
3. Whisk together all of the dry ingredients (save the chocolate and the ginger) in a large bowl.
4. Next, add in the chocolate (chips or well-chopped shards) and ginger, until they're well-incorporated. Set aside.
5. In a separate, deep bowl, beat the eggs gently. Mix in the yogurt, butter, vanilla extract and mashed banana.
6. Stir the wet ingredients into the dry mix with a spatula until just combined. Don't worry if you see lumps of banana in there!
7. Transfer the batter into your loaf pan, distributing evenly.
8. Bake the bread in the center of the oven for about an hour (until a toothpick inserted into the center comes out clean). The top should be nicely browned, but not burned.
9. Serve warm out of the oven, cooled, chilled, by itself, or with a nice dollop of whipped cream or a scoop of ice cream.
Musical Pairings: Matt & Kim + Banana Bread with Chocolate and Ginger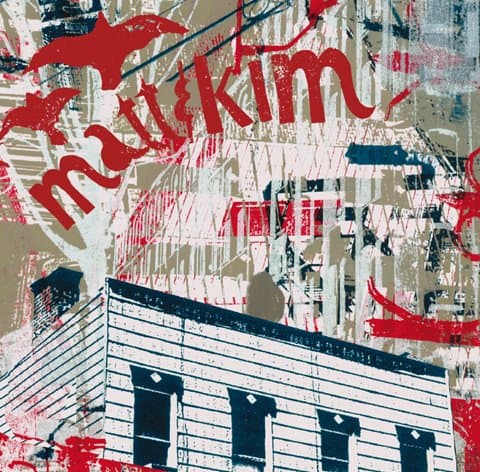 Like Kasey, and probably like most of our readers, I have associations with banana bread. Specifically, I associate banana bread with childhood. I still have lots of great memories of mom's banana bread, which of course for many years was the only "good" banana bread. However, unlike some of my other favorite childhood foods (i.e. Fruity Pebbles, Oreos and the uncooked cake batter than I would eat with my younger brother when our parents were away), I never grew out of banana bread. It still makes me feel good, and although it probably isn't an especially "healthy" food-stuff, it isn't as bad for you as the other childhood favorites. Accordingly, I think banana bread, especially a banana bread with crystallized ginger and chocolate, deserves a pairing that calls to mind the excitement of childhood. Thus, Matt & Kim's self-titled debut album is a perfect pairing for this banana bread recipe – after all, you'd be hard pressed to find a band that plays and performs with more of the enthusiasm and excitement. Click over to Musical Pairings' homepage to read the rest of the review. –Matthew