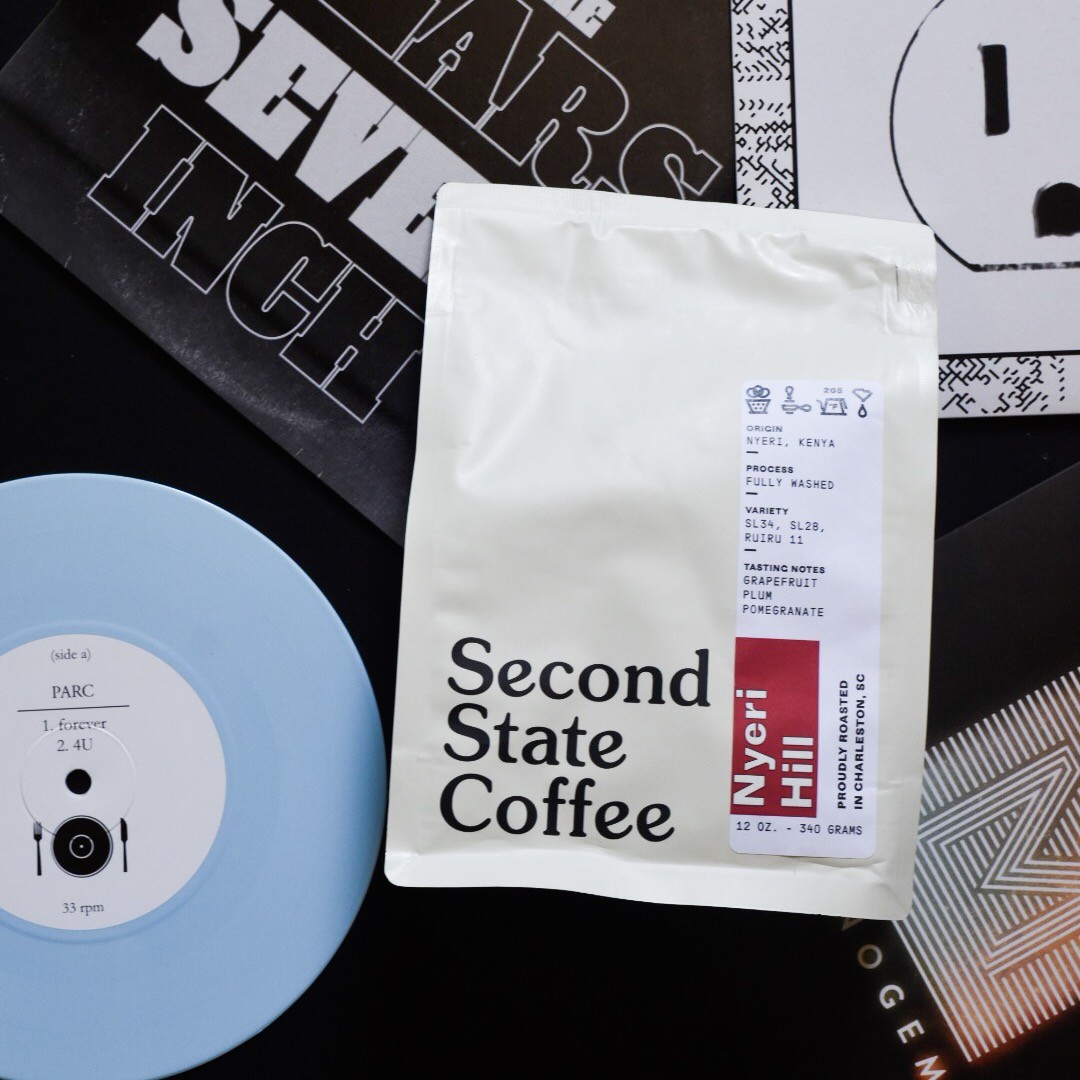 We first discovered Second State Coffee (then called Black Tap Coffee) when we were on a memorable trip to beautiful Charleston, South Carolina (you can check out our Charleston City Guide for more about Charleston).
We were immediately impressed by their roasts and some of their unique beverages and, as a result, they were one of the first roasters that sprung to mind when we started collaborating with new roasters for the Coffee & Vinyl Pairings. This month's offering features their Nyeri Hill roast. Here's what they had to say about it:
"We're very excited to share the first Kenyan coffee ever roasted at Second State. One of the first coffee farms established in eastern Africa, Nyeri Hill Estate planted its first coffee seedling in 1914. Located two kilometers northwest of the town of Nyeri, along the Nyeri-Ihururu road, this expansive estate stretches along the slopes of the region's central highlands. At Nyeri Hill, three-hundred employees harvest three main varietals: SL28, SL34 and Ruiru 11. This Rainforest Alliance-certified, fully washed coffee is dominated by its juicy, deep mouthfeel with just the perfect touch of a light fruit acidity."
We think it makes for a great, flavorful cup when brewed with an Aeropress, Chemex or other pour over. Upon tasting you'll discover notes of grapefruit, plum and pomegranate. We're shipping this with a hot, brand new wax from Wild Moccasins. We'll have more on that EP soon.
If you haven't yet discovered the joy of Coffee & Vinyl Pairings, take note: most artisan coffee subscriptions will run you $25 – $50 per month. AND NONE OF THEM COME WITH LIMITED EDITION VINYL. Except this one.
We've now released 80 limited edition 7"s, and most have become coveted collectibles selling for well upwards of $150 on eBay and Discogs.
The bottom line is: if you like vinyl, and you like coffee, there's really no decision to be made.