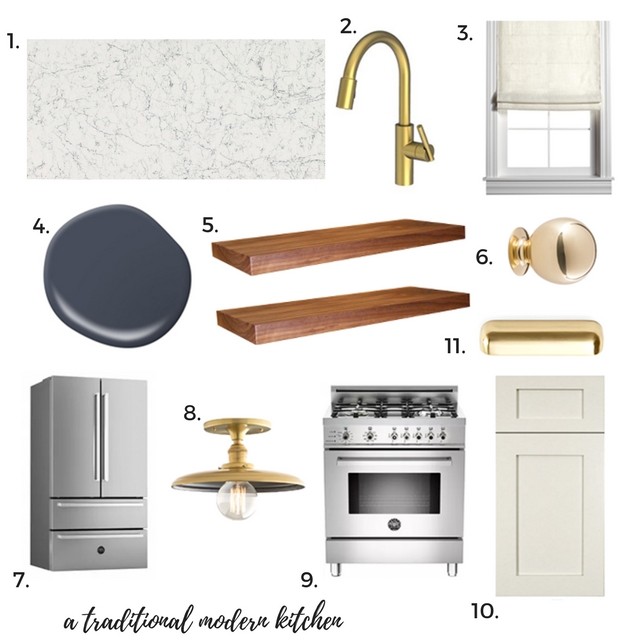 Caesarstone in White Attica 2. Newport Brass faucet 3. Barn & Willow roman shades 4. Behr Secret Society5. Walnut Shelves (made by our contractor) 6. Ball knobs from Rejuvenation  7. Bertazzoni refrigerator 8. Schoolhouse Electric pendant 9. Bertazzoni gas range 10. UltraCraft Cabinetry custom cabinetry 11. Rejuvenation bin pulls
I have been dreaming about renovating our kitchen since the day we moved into our home. Our kitchen is perhaps the most-used room in our house (save for our living room, where our record collection lives). When we bought our 1930's brick tudor in Seattle, we knew that we would eventually renovate our kitchen. Initially, I thought it would happen right away, but little did I know that kitchen renovations are extremely expensive.
As new homeowners, we were also rudely awakened to the fact that some home improvement projects aren't ones that you actually want to tackle, but ones you have to take on out of necessity. For example, we quickly learned that we had to immediately replace many of our windows, and a pipe going from our house to the street required drainage and repair. It added up, and so did the costs of getting our business, SOUNDS DELICIOUS, off the ground simultaneously. We realized that it simply wasn't realistic to try to remodel our kitchen in the first year of owning our home.
So, to my great disappointment, we abandoned the project, but I kept chipping away at it. The kitchen isn't just the center of our family home, it's core to our business. It's where we prepare every recipe that we share on the site, and where we develop all of the recipes for the Pairings Box. Little by little, I began to plan this massive project and today I am excited to share a peek at what's to come. Scroll down for some before photos, too! Demo started a week and a half ago.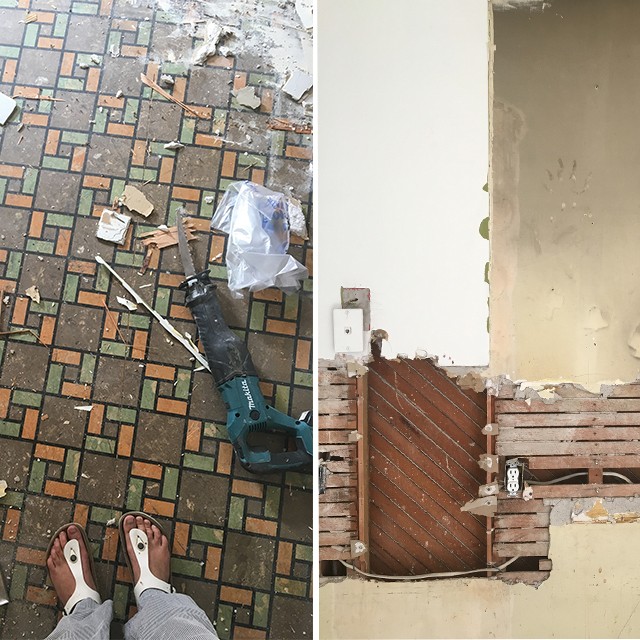 Demo! Those aren't the original floors — we think those were put in in the 60s. 
Matt and I definitely had a vision for our kitchen, but we knew we needed an expert to help us bring it to life. I reached out to interior designer Heidi Caillier to help me come up with the master plan and was thrilled when she agreed to partner with us. Heidi and I hit it off immediately — and I knew that I could trust her to help us put all of the pieces in place to design a functional and beautiful space.
We've partnered with the fine folks at UltraCraft Cabinetry to replace our dingy old cabinets with beautiful white Shaker cabinets. UltraCraft Cabinetry offers a huge range of cabinet styles and also has a fantastic custom color program (which I'll tell you more about further down the post). One of the things we are so excited about in our new kitchen is a full-height, pull-out pantry. I really love that UltraCraft Cabinetry is committed to manufacturing cabinets using responsible materials and minimizing their environmental footprint.
We have a huge collection of flours, grains, and spices, and I am so looking forward to having them all be organized and accessible, yet sleekly hidden away. Our old kitchen had an incredibly inefficient layout, including cabinets that you literally had to crawl into in order to reach something in the back. One particular cabinet was literally a hazard from day one; I'm pretty sure everyone that has ever been to our house has banged their hand on its corner at least once. Our new kitchen will feature smartly-designed drawers, pull-outs, and cabinets that are optimized for storage and accessibility.
Our old appliances are going bye-bye, too, so we can step up our cooking game in a big way. After lots of research, we opted for a Bertazzoni gas range (my heart), fridge, and dishwasher. Another thing we can look forward to? A hood that vents out (our old kitchen had no hood or vent so making burgers or pan frying a steak was out of the question). Bertazzoni makes incredibly reliable and beautiful stainless steel appliances and I'm can't wait to feel like I'm actually using professional appliances for cooking after all these years.
On to countertops: our old kitchen counters were laminate — the cheapest thing you could install. Aside from being horribly unattractive, they were easily damaged by heat and general use. Originally, we had considered doing part stone, part butcher block countertops, and doing a hex tile backsplash. But, after coming across a few drool-worthy images on Pinterest, we decided to scrap the butcher block and tile and go all out Caesarstone. That's right, we're using Caesarstone for our counters and our backsplash. Caesarstone is actually a quartz surface that's molded and pressed into slabs; it's well-known for its durability.
Here's a peek at the plan: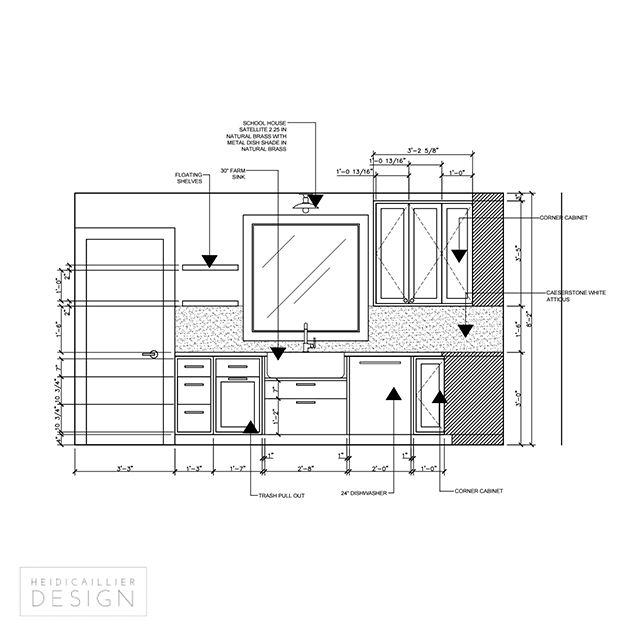 As I mentioned earlier, our house was built in the 1930s, and when it comes to updates, we want to respect tradition, while introducing modern elements. Both Matt and I have pretty classic taste, and given how expensive and challenging this renovation is, we want to make sure it doesn't feel dated a year from now. We love the subway tile look, but ultimately, we're super excited to go with a Caesarstone backsplash. We chose White Attica, which is reminiscent of marble (I'm obsessed with the gain veins!).
We've long been fans of Rejuvenation, and there was no question that when it came to hardware, we'd go with their classic pieces. We opted for antique brass finishes throughout our kitchen because they felt like they fit with the era of the home, and would age well. For cabinets, we're going for simple yet solid ball knobs, and for drawers, we chose these bin pulls. I love that they're curved, so I don't need to worry about kiddos ramming into them while they're running circles around the house (a common activity).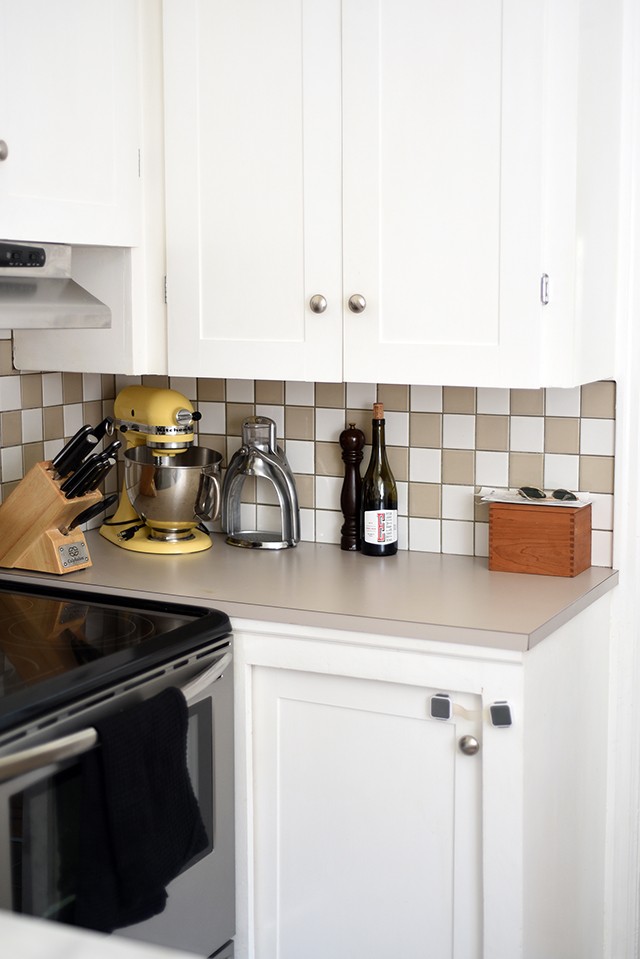 Our old kitchen: laminate countertops, checkered backsplash, inefficient use of cabinet space
Color-wise, we're going pretty classic. UltraCraft Cabinetry created a custom color for our lowers based off of Behr's Secret Society, if you are wondering. Ultracraft Cabinetry was able to match it perfectly — it's sort of a cross between navy and charcoal, and we absolutely love it.
For uppers, we went with a crisp white from UltraCraft Cabinetry's color catalogue. We decided to add two open wooden shelves, where we plan to display our coffee gear, some of our favorite pottery pieces, and our new Vifa bluetooth music player (because we love listening to music while we cook!). To the left of our open shelving is our side door, which is getting a major upgrade thanks to new hardware from Grandeur Hardware as well. Our whole kitchen will get a paint job, but only after we put in hardwood floors (ahhh! I can't wait!).
Accessorizing the new kitchen: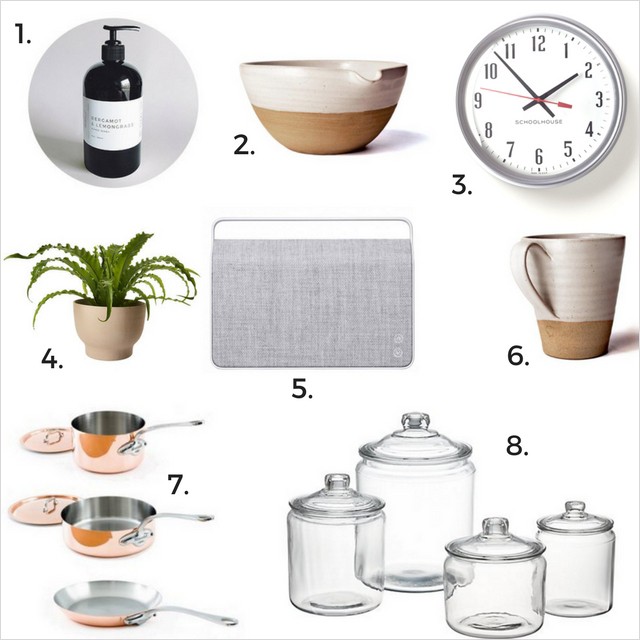 Hand soap from Lightwell Co. 2. Bowl from Farmhouse Pottery 3. Clock from Schoolhouse Electric 4. Planter from CB2 5. Vifa bluetooth music player 6. Mug from Farmhouse Pottery 7. Cookware from Mauviel 8. Glass jars from Crate & Barrel
We're also (unsurprisingly) getting rid of our 1980s track lighting, and replacing it with cans and this stunner of a light from Schoolhouse Electric (they make the BEST stuff, and the aged brass is going to play nicely off of the hardware). I mentioned that we're going all brass in the kitchen for accents, which includes a faucet I've perhaps been dreaming about since before I even had a kitchen of my own — it's made by Newport Brass and going to look a-mazing with our new farmhouse sink. I will tell you: I will NOT miss our old 2-sided sink — I always felt like it was impossible to wash anything other than a couple of dishes in there.
When it came time to choosing a contractor, we went with the crew that partially remodeled our downstairs when we first moved in — they worked super quickly, and turned a dark, sad room into one that we LOVE now. Our contractor also introduced us to the wonderful folks at Granite and Marble Specialties, who will be fabricating and installing our counters and backsplash. We are so excited to be working with them!
Last but not least, we couldn't leave our kitchen window undressed. We chose a beautiful gray linen roman shade from Barn & Willow to add just a touch of color. One day, I hope to plant some ivy outside of our window.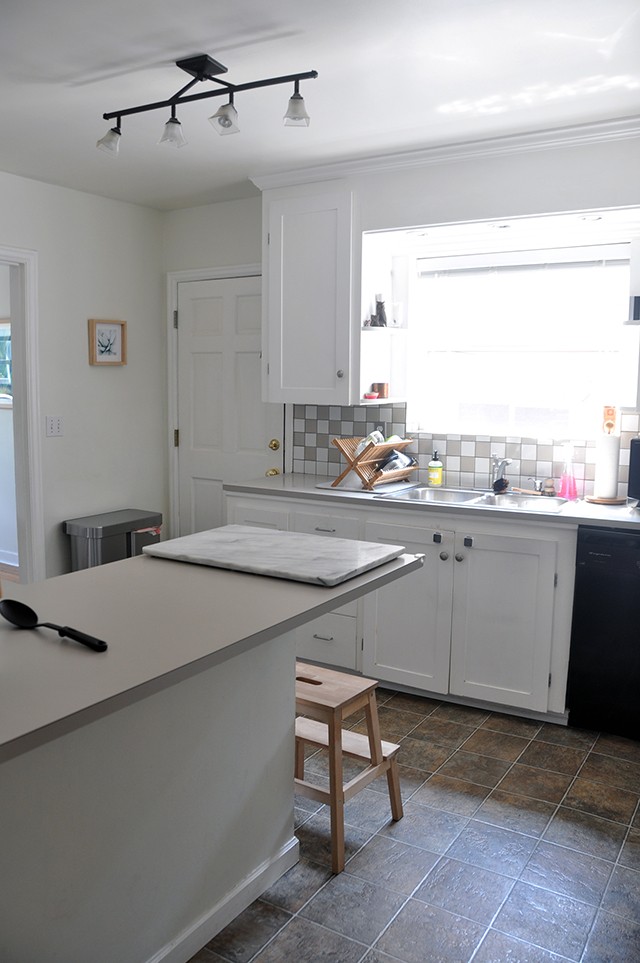 Our old kitchen: you can't quite tell, but the floor actually dips down to the right and our countertops are constantly flooding. The patio door doesn't seal properly because the house has settled over the years. Oh, and there's no storage under than extra long counter.
If you're wondering, we are living in our house through the remodel, but hoping to get out of the house for a few small trips (I'll let you know how it all goes!). We strategically planned the remodel for the summer so that we could take advantage of our backyard and grill, and we did clean up the utility sink we have in the lower level of our house. We've also agreed to a weekly family takeout night (Neko is especially excited for pizza nights). In the meantime, if you'd like to follow our progress, be sure to follow us on Instagram, and follow the tag #tktudor).
Finally, I want to be completely transparent with you: this kitchen renovation would not be possible without some incredible partners, who have so generously offered us product and discounted items and services for this remodel. We are so grateful to be able to work with them on this project, and we can't wait to share the reveal with you.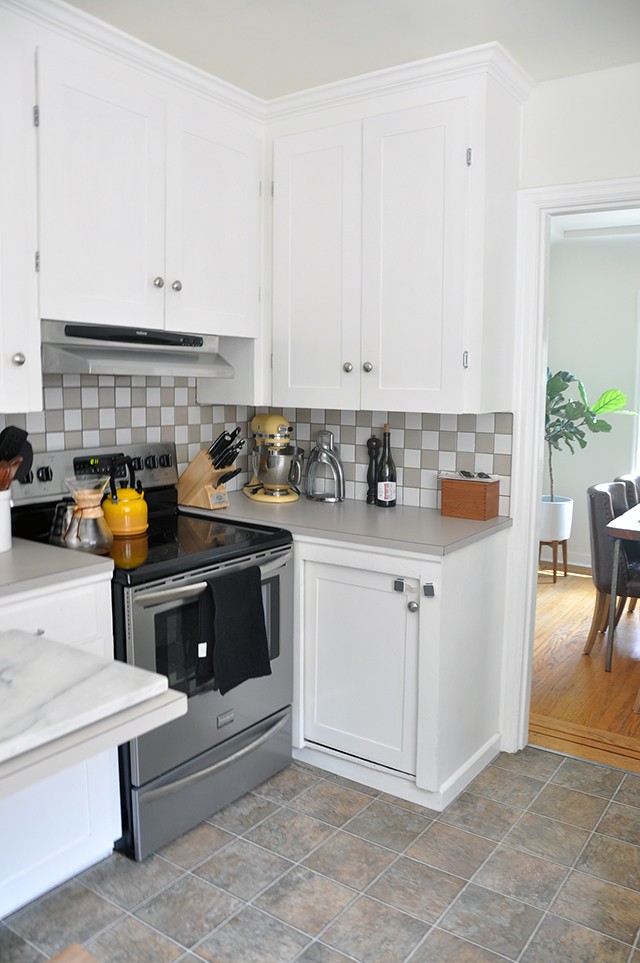 Our old kitchen: the electric stove came with the house. The "hood" doesn't actually vent out, meaning cooking a steak is out of the question. A peek into our dining room (our original hardwood floors are getting refinished!).
Our partners include: UltraCraft Cabinetry, Caesarstone, Bertazzoni, Rejuvenation, Schoolhouse Electric, Barn & Willow, Granite and Marble Specialties, Grandeur Hardware, Newport Brass, Heidi Caillier Design, Vifa, Farmhouse Pottery, Mauviel, and Lightwell Co.