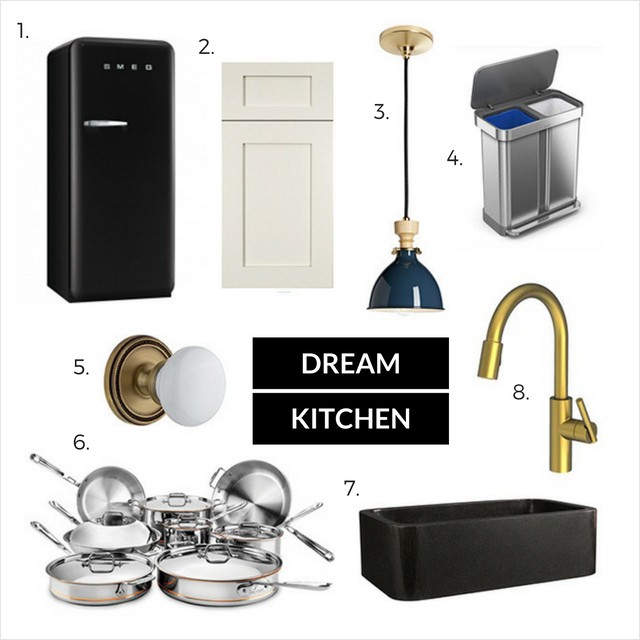 I have been thinking about my dream kitchen for years now. Having a beautiful and functional space where I can cook, photograph, and hang out was probably one of the most exciting things about buying a house. But soon after we purchased our first home and I began reaching out to contractors and architects, I quickly realized that my dream kitchen renovation wasn't going to happen right away.
Aside from the sheer cost, renovating a kitchen is a massive headache. Friends of mine have spent months washing dishes in their bathtub and eating pizza for dinner night after night. They've all said it was worth it, though. One of the positive side effects of having to wait a while to remodel our kitchen is that it's given me a lot of time to think about what I really want, and value.
Color-wise, I've really been loving black, white/cream, brass, and a range of navy blues. I've developed a green thumb since relocating to Seattle, so I imagine accenting a lot with herbs and plants — not to mention some art and photos.
Our kitchen space isn't tiny but it isn't huge and right now, the layout is super inefficient. There is cabinetry everywhere, but it's weirdly short or tall in places, and sometimes you have to literally lie on the floor with outstretched arms to reach something. I won't even get into how many times all of us have hit our heads on sharp corners. The floors and countertops are uneven, the sink is tiny, the faucet is unattractive, and there's no nice hardware to speak of. There's a reason we don't take a ton of snaps of our kitchen!
But slowly but surely, we are making plans to reno our kitchen and to make it the sort of space we'll be excited to use and proud to show off. Since our home is a 1930's brick tudor, I'm taking cues from one of my favorite bloggers, Wit & Delight, to brainstorm ways to stay true to the home's time period with beautiful hardware that feels stately and quality custom shaker cabinets, while incorporating more modern elements, like a sleek compartmentalized trashcan, granite sink, and brass faucet. And of course, no kitchen is complete without a cookware set that will last for years. I hope to slowly accumulate each of these pieces from All-Clad's Core Copper collection.
We're hoping (fingers crossed) to kick off a kitchen renovation this summer and I'd love to know if you have any advice? Anything to avoid? Any products you love?
*Some of the companies mentioned in this post have provided Turntable Kitchen with product in exchange for this post, or have been Turntable Kitchen sponsors in the past.