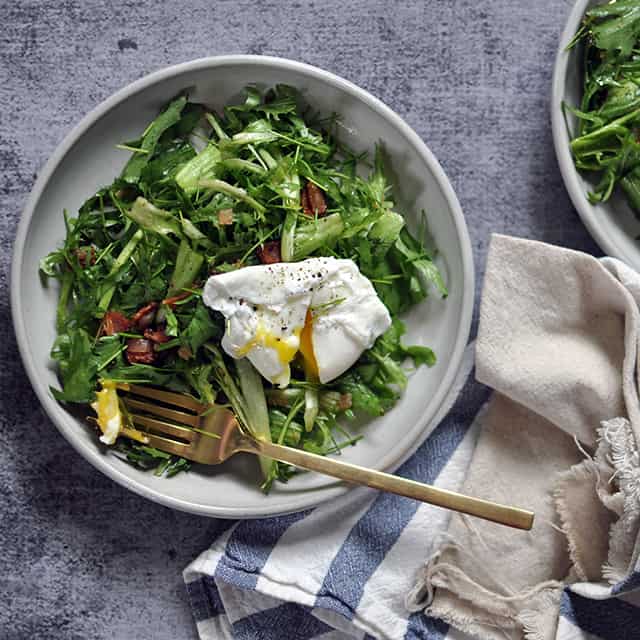 Thank you so much for helping us spread the word about our Kickstarter. We're humbled by the response so far (over 75% backed!) but we still have 25 days to go! Learn more and back the project here.
I am surprised by my own change of heart. I am the sort that's not easily convinced. I will stubbornly watch a television show out of the corner of my eye while on my computer. I'll do this over the course of three or four episodes until one day, finally, I'll close the computer and admit to myself and my spirited companion that, yes, I am indeed interested — "no, you don't say!" For years, I hated coconut. I mean, a speck of coconut in any baked good would have me spitting it out into a napkin. Same goes for peanut butter. For years still, I argued that while I love the beach, I find beach vacations boring and worthless without some sort of urban pursuit.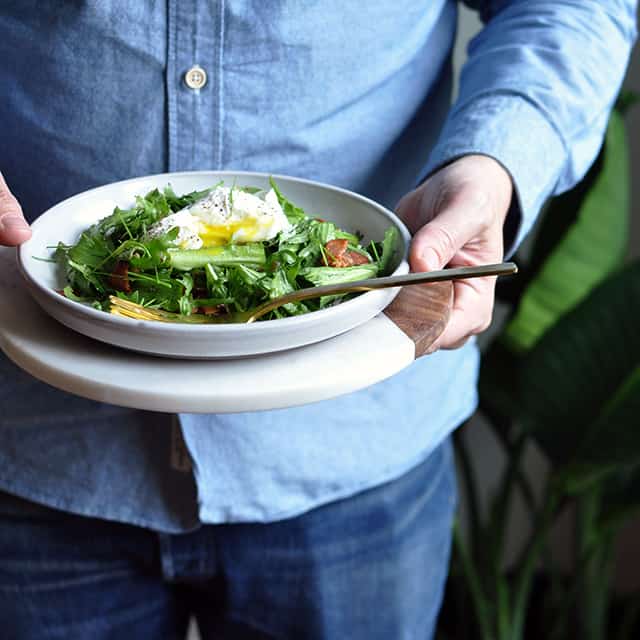 This year, I turned 33 and a new side of me has awakened: the one that is glad to be wrong. I've learned that no matter how old you are, the opportunity to change your mind is one of the greatest gifts. Overcoming a long-held belief is the most freeing sensation — even if you end up going back after trying something new.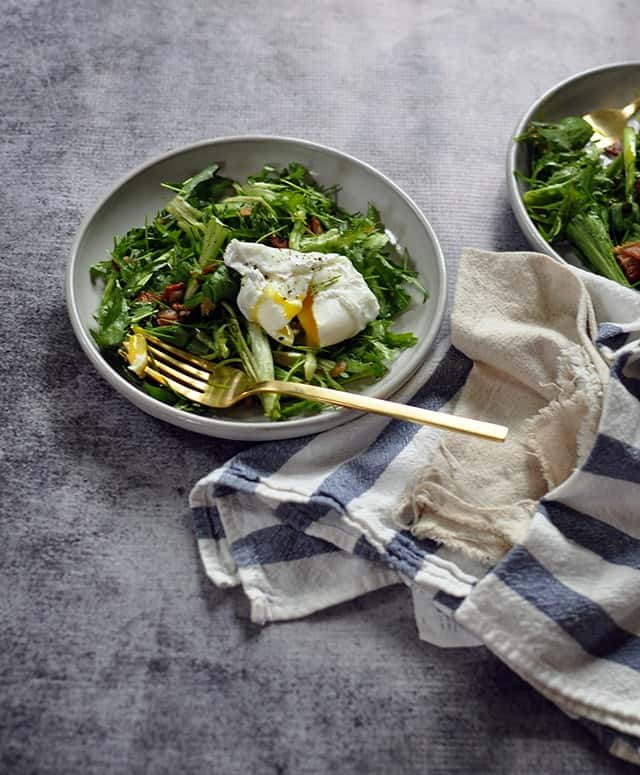 This year, I had the best birthday I've had in years. I didn't throw a party or get together with a gluttony of friends. I made my own birthday cake, the way I always do because let's face it — I do not trust anyone else to make exactly what I crave that day. I got a mani/pedi (my first since having the twins!). I went out to lunch and dinner with my husband. I did yoga. I hung with my kids. And I took the day off from work, which I do almost every year and highly recommend. I exchanged a bunch of texts with friends and family, and took a few calls, too. I can't say that this birthday was particularly grand but it was so good.
I felt free. Free of expectations. Free to change my mind. Free to give myself exactly what I need: a really good dose of self-love, because I am damn proud of where I stand today.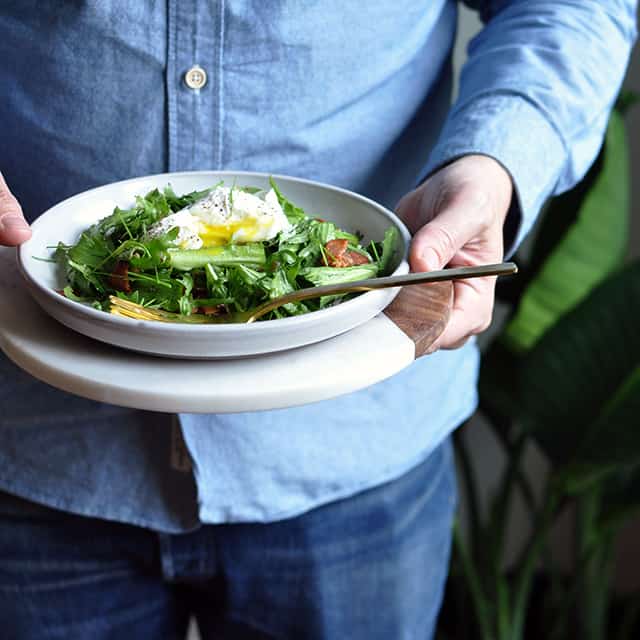 Here's the thing about frisée — we grew a shit ton of it in our newly-minted backyard garden and not by choice. My friend Mori insisted of getting some bitter greens — my least favorite kind. I've been giving it away by the truckload but the other week I thought, "Why the hell not? I'll give these bitter greens a shot." And I'm so glad I did. This is the sort of 'pair with a glass of rose and pretend to be French' salad that suits someone who loves salads AND bacon AND perfectly poached eggs. You with me?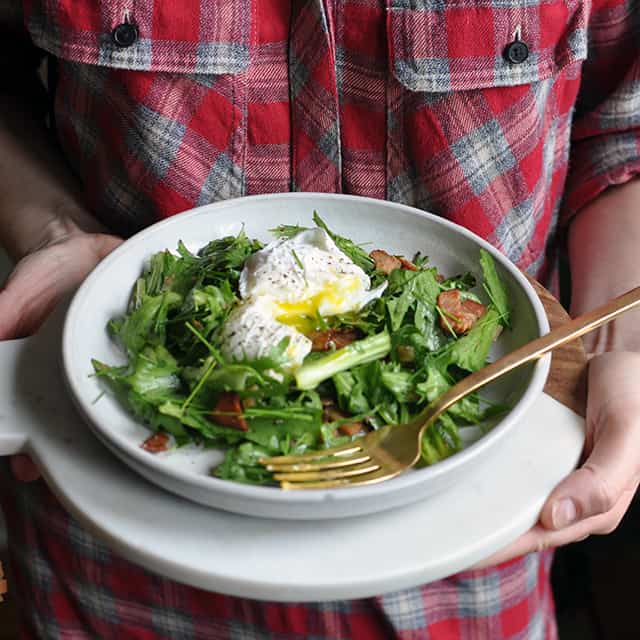 Frisée Salad with Warm Bacon Vinaigrette
adapted from Bon Appetit
1 tablespoon of vinegar
4 large eggs, at room temperature
2 tablespoons of olive oil
4 ounces of bacon, cut into bite-sized cubes
1 shallot, minced
Kosher salt and freshly ground pepper
1/2 cup of red wine vinegar
2 large bunches of frisée, cut or torn into bite-size pieces
handful of chives, cut into 1 1/2 inch pieces
1. Fill a medium pot with water (about 2 inches deep). Bring to a boil, then drop to a simmer and add the vinegar.
2. Break the first egg and slip it into a small bowl, then slowly slide it into the water. Do this with the remaining eggs and cook them for about three minutes. Remove them with a slotted spoon and gently transfer to a paper towel-lined plate.
3. Heat the oil in a large skillet over medium heat. Add the bacon, stirring, until it's crispy (about 5 minutes or so). Next, add the shallot, stirring, until it's softened (about 5 minutes as well). Stir in the red wine vinegar and bring the mixture to a boil. Cook down by about three-quarters. Add salt and pepper, to taste.
4. Put the frisée in a large salad bowl and add the warm vinaigrette. Toss to coat then season with more salt and pepper, to taste.
5. Divide the salad among plates, top with poached eggs, season with more salt and pepper, and top with a sprinkling of chives.
We just launched a Kickstarter to bring a new vinyl subscription service to life. Learn more here.