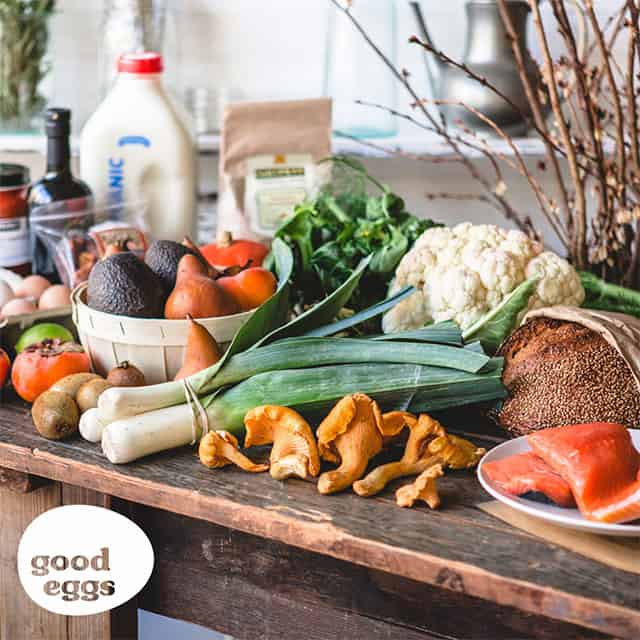 Our week of giveaways to celebrate the launch of Turntable Kitchen 2.0 continues! Read more about what's new.
Have you heard of Good Eggs? They're a fantastic company based in San Francisco that aims to build better food systems by connecting individuals to food producers and making it easier for you to get high quality local food. You order online, directly from farmers and food makers, and Good Eggs packages and delivers your goods to you. If fresh farm eggs, jersey milk, cheese curds, grass-fed meat, and fresh baked bread are your thing, we think you'll be pretty jazzed about what these guys are offering.
Their operation is still pretty new: you can use Good Eggs in the Bay Area, Brooklyn, New Orleans, and Los Angeles.
The kind folks at Good Eggs are giving one lucky Turntable Kitchen reader a $150 gift certificate to be used toward the purchase of groceries in their operating regions. If you don't happen to live in one of these regions, you can certainly re-gift the gift certificate to someone who does, or send a care package to a friend or family member who lives in the San Francisco Bay Area, Brooklyn, Los Angeles, or New Orleans.
How to enter this giveaway
There are two ways to enter:
Leave a comment on this post telling us why local food is important to you and share this giveaway on whichever social channel you use prefer. Be sure to tag Turntable Kitchen and Good Eggs in your post (@ttablekitchen / @goodeggs on Twitter, @turntablekitchen / @goodeggssf on Instagram).
Enter via Instagram! Follow @turntablekitchen and @goodeggssf on Instagram. We'll post a pic of the giveaway there with instructions on how to enter.
We'll work with the Good Eggs team to select a winner based on the quality of their response.
You have until 5 pm PST on Thursday, May 8th to enter.
Good luck!