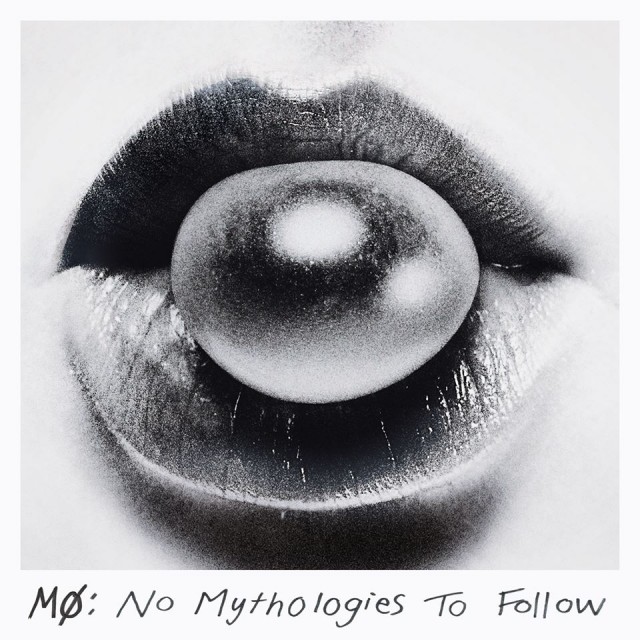 It's been a little over two years since Copenhagen-based dark-pop chanteuse MØ unleashed her first singles (which were collected on a TK-released debut 7″). On a surface level, the fact that it's taken two years to release her debut is worrisome. After all, in today's musical industry two years can be a lifetime for many artists. For example, since that time, Foxygen released a critically acclaimed debut LP; [nearly?] disbanded; and both of the primary songwriters have already released solo albums (as Diane Coffee and Jonathan Rado). Hell, an entire genre can rise and fall in two years (think: chillwave).
Thankfully, on her debut LP No Mythologies To Follow, MØ still carries all the enigma and excitement that made her music so engaging in the first place. The album does not disappoint. And, yes, that's true despite the fact that we've heard many of these songs before. Both "Maiden" and "Pilgrim" from TK016 are collected here. Likewise, "Glass" and "Never Wanna Know" find new homes here. Her collaboration with Diplo, of course, appears on the LP's second half.
My only complaint is with the sequencing. Of the first five tracks, three of them are previously released. That means that if you're already familiar with her singles and EP, there aren't as many surprises in store for you on the a-side. Thankfully, it's a small complaint. The new faces you will encounter (especially opener "Fire Rides" and lead single "Don't Wanna Dance") are more than enough to keep your attention until you reach the mostly unreleased and impressively deep second half. And, if you've been paying attention then you already know that those early singles were most excellent.
Punchy, catchy and upbeat, it's easy to imagine the synth-lit and horn-laced "Don't Wanna Dance" becoming a breakout hit after soundtracking a memorable scene in a show like HBO's Girls. In fact, if the studios aren't already knocking on her door to be the first to license this, they're fools. It offers both indie-cred and crossover appeal.
Meanwhile, the second half is stacked with solid new cuts. Her electro-ballad "Dust Is Gone" is chirping and atmospheric and showcase's her most sultry and nuanced vocals since "Maiden" and/or "Never Wanna Know." The grimy, synth-stuttering groove of "Walk This Way" is as lively and engaging as "Don't Wanna Dance."
So, yeah, MØ's debut does not disappoint. Even putting aside the 8 bonus tracks that appear on the deluxe edition of the album, there is plenty of new material here to justify the full-length format. It's solid from start to finish and, perhaps most importantly, it's both fun and fresh. We caught her at the PMAvillage during SXSW and she was on fire. These tracks sounded great live. Highly recommended.
We typically refrain from posting music videos here for various reasons. However, in this case we're making an exception since none of the tracks are available on Soundcloud (except as 15 second clips).
I've paired this with Kasey's recipe for Kimchi Style Cabbage and Fried Eggs. The recipe, like the album, is bold, spicy, textured, exotic and innovative. You can buy No Mythologies To Follow on deluxe 180-gram 2xLP vinyl from Rough Trade.