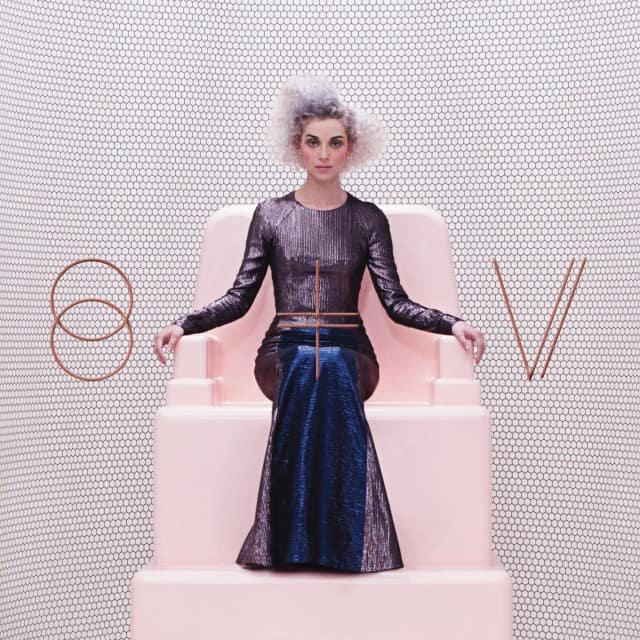 Few people would have ever accused Annie Clark, better known as St. Vincent, as sounding quite like anyone else. Her instrumentation and arrangements have always been distinctive. Her entire discography demonstrates a knack for funky, Talking Heads-esque rhythms and snarling, fretboard-dancing guitar riffs. She's never struggled to differentiate herself as a unique and talented artist.
Despite that, Clark's never sounded as deliberate and self-assured as she does on her latest effort. And she knows it. "I was reading Miles Davis' autobiography and he talks about how the hardest thing for a musician to do is to sound like yourself," said Clark in a recent interview. "I would agree with that. It's one thing to learn how to sing or play some notes, but it's another thing to have a voice. And I feel like I do on this record, so I self-titled it." It's fitting then, as St. Vincent combines the essence of her previous albums into one elegant collection.
Indeed, the album's first single "Birth In Reverse" may be the best exemplar of St. Vincent's music yet. Jagged, sludgy guitar riffs dance off-kilter amid a shuffling, polyphonic rhythm. Lyrics that at first blush appear almost cryptic and non-sensical, ultimately prove to be clever, literate, and plush with social commentary. And it's all packaged into a brilliantly composed and defiantly adventurous pop song.
Having found her voice, Clark's more willing than ever to push her sound in new directions. For example, opener "Rattlesnake" enters with an understated bouncing 8-bit rhythm. Before long though, Clark pushes it into the world of high-res peripherals and next-gen consoles. A disco-tinged groove circles around grungy, multi-layered beats and threaded guitar blasts. Meanwhile, Clark's lyrics enigmatically relate her experience running naked through the dessert after encountering a rattlesnake.
In addition to "Birth In Reverse" and "Rattlesnake," many of the songs collected here should be considered among her best to date. For example, the fuzz-bled "Huey Newton" is mesmerizing. The giddy, neon-lit single "Digital Witness" is addictive with it's horn-laced beat. And the sparkling, jazz-inspired closer "Severed Crossed Fingers" is one of the most melodically-perfect closing tracks I've heard in years.
I can't help but feel like we've been spoiled with many great releases during the first few months of the year. Nonetheless, despite a flood of great releases, you'd be wrong to sleep on this one.
A perfect Musical Pairing would feature a recipe involving molecular gastronomy. One that was both playful and virtuosic. Unfortunately, we're not equipped for molecular gastronomy around here. For that reason, we're pairing St. Vincent with an upbeat and boozy recipe for Blood Orange Margaritas. It may not be perfect, but it's boldly colored, strongly flavored, and sure to leave you a little woozy. I'd say it's close enough. You can buy St. Vincent from Insound and save 10% using coupon febsale10.