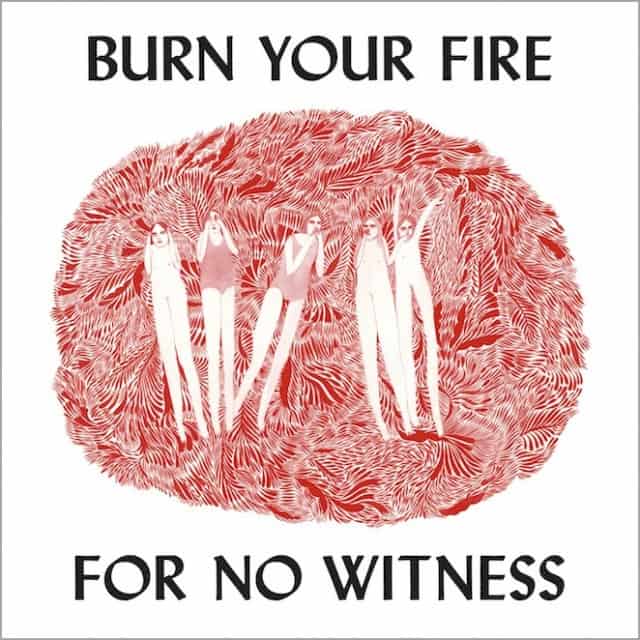 Angel Olsen describes her latest album Burn Your Fire For No Witness LP as a "a collection of songs grown in a year of heartbreak, travel, and transformation." You could simplify even that relatively concise description by noting that, on it's very surface, it's an album about passion. Indeed, no matter how you hash it out, it's an album spilling over with heart-swelling and painfully visceral romance.
Of course, "visceral" doesn't mean loud. Indeed, at times Olsen is fiery and direct, but, just as often as not, she is disarmingly intimate and steady gazed. For example, the graceful and hypnotic "White Fire" is somber and quietly romantic with Olsen softly parsing her lyrics in a very Leonard Cohen-like manner as she almost whispers "If you've still got some light in you, then go before it's gone. Burn your fire for no witness, it's the only way it's done. Fierce and light and young. Fierce and light and young. Hit the ground and run. Hit the ground and run."
There's a lot to admire here, but her vocals rank highly amongst the album's many virtues. Indeed, Olsen's vocals are able to compare favorably to artists like Grace Slick and Mazzy Star's Kendra Smith. Olsen yelps and croons effortlessly alongside the fuzzy guitar riffs and bright piano melody of "Hi-Five" and later shakes out a little old school country swagger on "Lights Out." Whichever approach she chooses the result is always elegant and mesmerizing.
Indeed, throughout Burn Your Fire For No Witness proves to be absolutely spellbinding and beautifully composed. In fact, don't just give this album a listen, live with it for awhile. You'll be glad you did. It is best new music for sure.
It's hard to find the perfect recipe to pair with an album like this. Honestly, I would say it'd go best with a bottle of deep red wine consumed in a candle-lit room. Nonetheless, I'm also pairing it with Kasey's recipe for Buckwheat and Sea Salt Cookie Sundaes. The cookies themselves are deceptively complex thanks to the buckwheat and dark chocolate. Meanwhile, the sea salt adds that little extra flavor to make it rich but not quite sweet. You can order Burn Your Fire For No Witness from Jagjaguwar.