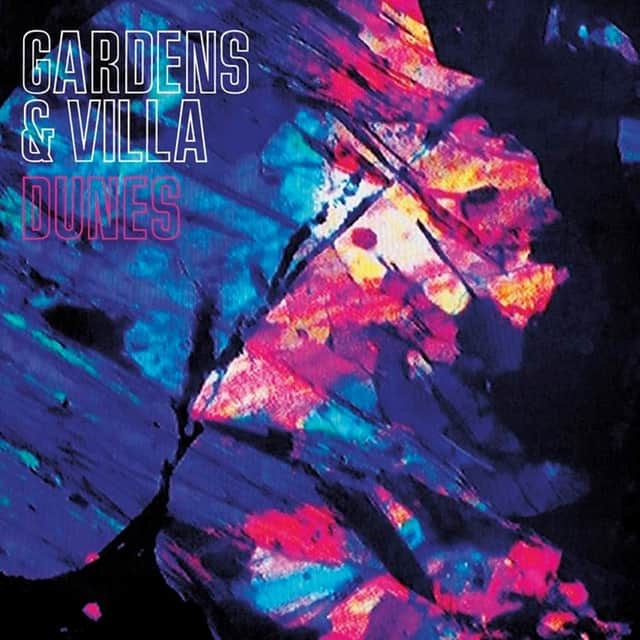 I like to think of myself as an adventurous person. I love travel and spontaneous getaways. I like to "switch things up" in terms of the food I eat,  the drinks I enjoy, and the music I listen to. Of course I have favorite beers, favorite cocktails, and favorite restaurants, but quite often my real favorite is "new." Of course, aside from the music I listen to, I nonetheless spend a lot of time stuck in my routines – partially as a result of geography. For example, I end up cycling through the same lunch spots  because they are close to where I work. That's just one example, but I think you get the idea. Because a number of my routines occur because they are convenient, it sometimes takes a conscious effort to break those routines. Nonetheless, when I do it's often worth it.
I suspect the good folks in Gardens & Villa could say the same. They'd begun writing their latest album Dunes in their hometown of sunny, beachside Santa Barbara. But when it came time to record the album they traveled to Benton Harbor, Michigan in the middle of the winter in order to work with producer Tim Goldsworthy (i.e. Cut Copy, LCD Soundsystem, Hercules & Love Affair). If you don't believe that geography can influence you mentally, then you've not traveled enough. Certainly, this proved true for Gardens & Villa. Initially their creative process began "unraveling" as they struggled to finish the album in their new setting. Thankfully, they eventually found inspiration looking out over Lake Michigan atop the snow covered dunes of a nearby state park.
In the end, their reward for stepping away from the comforts of home to record is album that surpasses their debut (which was fantastic itself) in almost every way. For example, "Colony Glen" and "Bullet Train" are their catchiest tracks to date.  Of course, catchy isn't the same as sunny. For example, "Bullet Train" features a deep, burrowing bassline, creeping guitar riffs, and laser synths to accompany vocalist Chris Lynch as he sings, "The young die young / if they work to hard. / Palm silhouettes, / magnetic rails to the stars. / Come and die young, you were doomed from the start." Indeed, tracks like the atmospheric "Echosassy" share more in common with Disintegration-era the Cure than with the warmth that seeped from their debut.
In addition to featuring the band's strongest singles to date, it's also an incredibly solid collection of tunes from start to finish. Indeed, it won't surprise me if we look back at the end of the year and find some critical agreement that Dunes was one of the year's best albums.
Cozy, clean, and intriguing, I'm pairing this one with Kasey's recipe for Smoked Tuna Salad. Indeed, like the recipe, Dunes is a good record for any time of day whether at home or on the go.
You can nab a copy of Dunes on limited edition colored vinyl from Secretly Canadian. Then head back to the Kitchen to read Kasey's recipe for Smoked Tuna Salad.