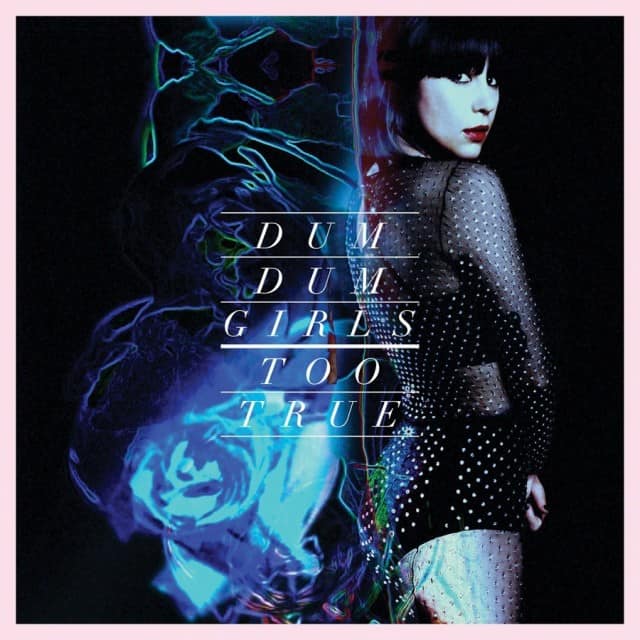 On her very earliest recordings (many of which were collected on the Blissed Out cassette released back in 2010) and subsequent debut record I Will Be, Dum Dum Girls' mastermind Dee Dee dealt in lo-fi rock coupled with the liberal application of gauzy reverb. Her influences were a paranoid, Tarantino-like amalgamation of sugary lovelorn girl group pop and fuzzy late-60's rock 'n roll.
Her sophomore album Only In Dreams and subsequent End Of Days EP saw Dee Dee moving away from her lo-fi background towards a cleaner, pop-friendly sound. Nonetheless, with a few exceptions, there's the sense that she remained faithful to her original influences. In other words, the recordings placed her original vision in sharper focus – but nonetheless retained true to that vision.
In that regard, Too True is both kin and stranger within the context of the band's discography. Although many of the same descriptors could be applied here – paranoid, dark, lovelorn – sonically the new album owes far more to artists like Siouxsie And The Banshees, Suede, The Jesus And Mary Chain, and (in her vocals) Blondie's Debbie Harry than any of their prior cornerstones. For example, on the catchy mid-tempo rocker "Rimbaud Eyes," soft synths swirl smoke-like beneath a glossy soundscape and drum-machine backed rhythm. And, notably, Dee Dee's vocals step firmly into the forefront of the mix – full of swagger and confidence.
Similarly, the fog-like atmosphere on opener "Cult of Love" is so chilly and thick, it's completely unexpected. Nonetheless, it's still bares Dum Dum Girls heritage. With a lo-fi production and a less produced beat, "Little Minx" could fit right in on any of the band's early singles or EPs. And, although it's the most lushly produced track the band's released to date, one could be forgiven for forgetting whether "Trouble Is My Name" appeared here or on Only In Dreams or End Of Days.
To be honest, I suspect I will always view their earliest recordings as the golden era of Dum Dum Girls music. I continue to listen to I Will Be on the regular. Still, that's not to say the new direction isn't a welcome move. After all, it's increasingly clear that Dee Dee's got the talent and charisma to considerably expand the band's audience and influence. And, the bottom line is that this is a great, well-rounded collection of songs.
You can buy Too True from Insound (you'll also find a free MP3 download of "Lost Boy & Girls Club" there). Afterwards, you'll find Kasey's recipe for Roasted Brussels Sprout Quesadillas with Monterey Jack and Scallions in the Kitchen. Sauteed, flavorful and uniquely comforting, it's a perfect Musical Pairing for Too True.