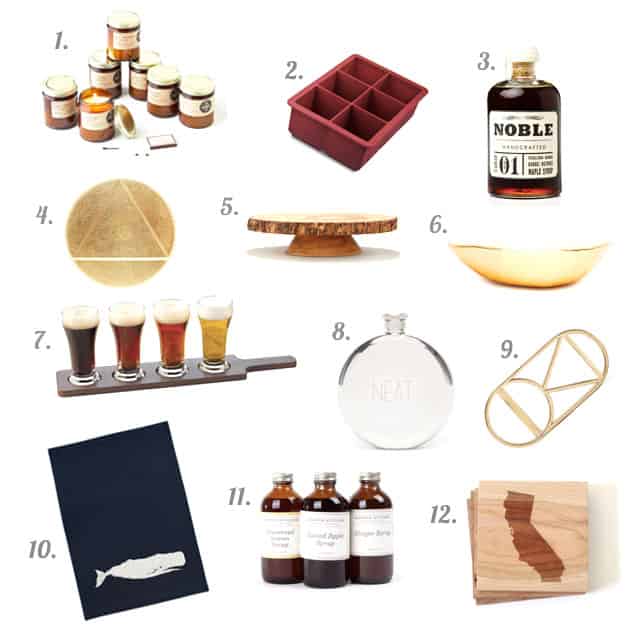 We've searched high and low to compile some unique holiday gift ideas for you. Whether you're shopping for your mom, dad, boyfriend, girlfriend, best friend, sibling, or a co-worker, we think we've found some great gifts for you to choose from.
In addition to these items, we are currently accepting new subscribers to the Turntable Kitchen Pairings Box. This holiday season, we'll be inserting to/from gift cards inside gift subscriptions, and will have printables for you to slip inside holiday cards.
Items featured above:
1. Pommes Frites candles (for your next Turntable Kitchen Pairings Box dinner party; we like Teakwood + Tobacco)
2. Red King Cube Ice Tray (for cocktails)
3. Noble Maple Syrup (for pancakes)
4. Sold brass coaster with leather back
5. Wood bark cake stand (for this cake)
6. Gold bottom dish
7. Beer flight set
8. Neat flask (also available in Tick Marks and 'Best Intentions')
9. Crest 1 bottle opener
10. Whale tea towel
11. Morris Kitchen syrup trio
12. Cherry Wood San Francisco coaster set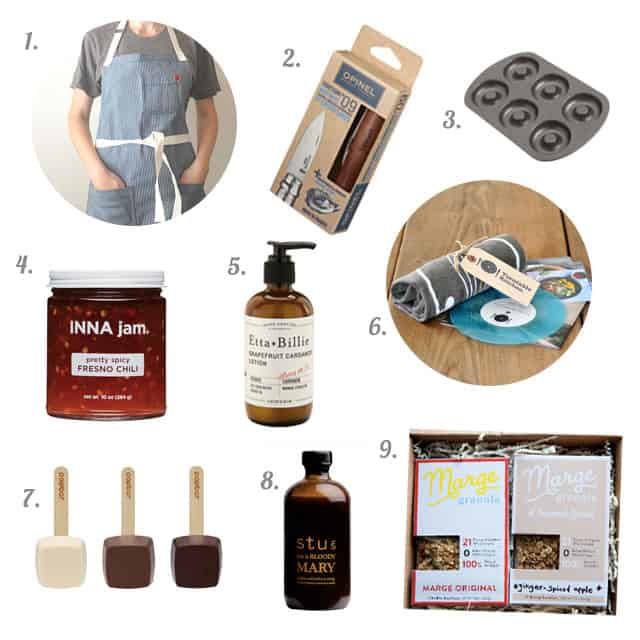 Items featured above:
1. Turntable Kitchen's Apron + Vinyl Record Bundle
2. Opinel oyster knife
3. Donut pan for making these and these
4. Inna Jam subscription
5. Etta + Billie Grapefruit Cardamom body lotion (for dry hands in the kitchen)
6. Turntable Kitchen Tee + Vinyl Bundle
7. Popbar Hot chocolate sticks (just stir them into hot milk)
8. Stu's Bloody Mary Mix (for brunch)
9. Marge Granola Holiday Gift Box
Want more gift ideas? We're pinning them here.