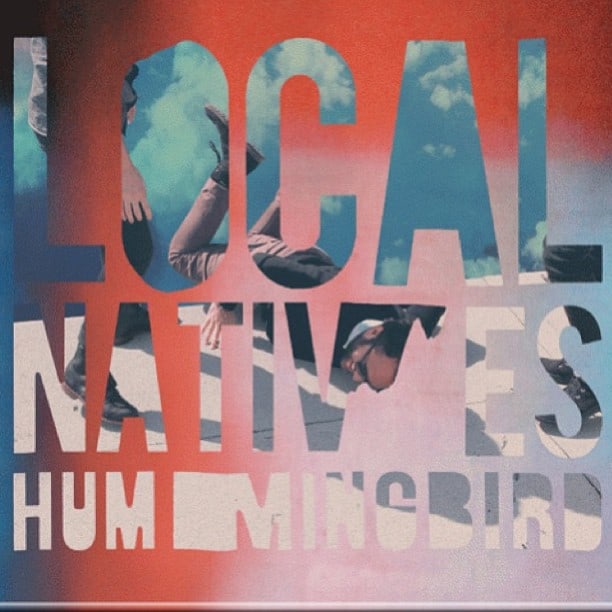 On their sophomore album, Hummingbird, Local Natives trade in the exuberant, cinematic choruses and hyper-charged rhythms that marked Gorilla Manor for an overall atmosphere that is far more elegant and understated than anything they'd released before. Indeed, on their first album the band favored intense, often explosive bouts of drumming that felt tribal and hyperactive. Those rhythms were so strong they almost defined the band's sound. And although Hummingbird's first single "Breakers" continues in this tradition with it's propulsive, clattering percussion, it's an exception here rather than the rule. By and large the band eschews wide-open, ebullient drumming for a sound that's more restrained and light-handed.
It's a bold move for the band as no one would have called the percussion on Gorilla Manor a liability. Quite the opposite. Yet that risky move definitely pays off. Tracks like the plaintive and atmospheric "You & I" and the crisp and lovely "Heavy Feet" exhibit a maturity that exceeds most of the material on their debut. Without a doubt, the band has always excelled at tension, but the more compartmentalized rhythms here allow sufficient space for the expansive melodies and layered instrumentation to unfurl at a more comfortable pace. Thus, although Gorilla Manor was more immediate, Hummingbird may ultimately prove to be the more rewarding listening. At the very least, the two albums offer a refreshing yin and yang within the band's discography.
Along those same lines, Hummingbird is, by and large, often lyrically more direct and personal than it's predecessor as well. Indeed, it's so personal it feels almost vulnerable at times.  On "Colombia," for example, Ayer grapples with the complex and heart-wrenching emotions he confronts following the loss of his mother and the realization that maybe he'd taken for granted just how much she'd given to her family. Even when it's not so lyrically straightforward, Hummingbird often confronts the many shades of loss – although often not without a underlying sense of hope. Although somewhat plaintive, Local Natives are still anything but mopey or depressing.
As a result, Hummingbird is a beautiful album that continues to expand in scope and complexity with repeated listens. In the months since it's release, it's grown to become one of my favorite albums from the year.
Meanwhile, those Saffron Snickerdoodles that Kasey is featuring in the Kitchen today? They are my absolute favorite treat at the moment. I fell in love pretty hard the first time I tried one at Blue Bottle Coffee, and I was incredibly happy to discover how easy it is to make them at home (or so I've heard). They have the perfect chewy consistency and the saffron adds extra depth to the flavor. Similarly, Hummingbird was beautifully produced by The National's Aaron Dessner and is an elegant, subtle record with emotional and sonic depth. It's a perfect Musical Pairing.
You can still snag a copy of the limited edition deluxe edition of Hummingbird on vinyl. When you're done, you can visit the Kitchen to read Kasey's recipe for Saffron Snickernoodles (just like Blue Bottle Coffee makes).