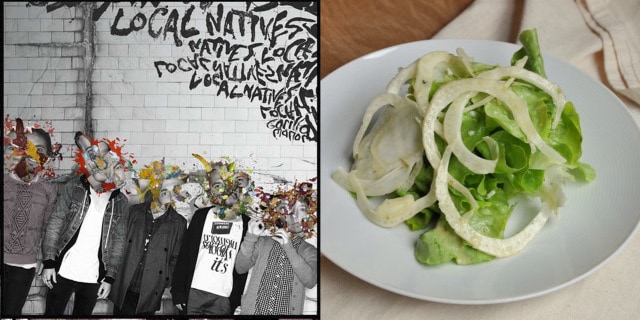 I occasionally struggle finding albums that feel like good pairings for Kasey's salad recipes.  I can't really explain why that is, but it is true nonetheless.  Still, this one wasn't quite as difficult as usual.  Kasey is featuring a coddled egg and anchovy salad that prominently highlights fennel and crisp, fresh greens.  It is stylishly rustic, crisp and clean.  And with that in mind, Local Natives' debut Gorilla Manor, seems like a perfect pairing for this recipe.  It is a sophisticated and yet exuberant album featuring lush compositions that have a tendency to explode from meditative ballads into full-blown rockers; clattering woodsy percussion; three part harmonies; and bright-eyed, plaintive lyrics that embrace travel and self-exploration.  What's not to love?
Named after the place where the band wrote most of the songs featured here, Gorrila Manor is an intimate, personal affair.  For example, the track "Airplane" is about keyboardist Kelcy Ayer's grandfather that he never got to meet: "It sounds like we / would of had a great deal to say / to each other / I bet when I leave / my body for the sky the wait will / be worth it."   The glimmering and evocative "Sun Hands" ambles steadily along with lyrics about losing someone or something precious: "I'll endure the night / for the promise of light / . . . / and when I can feel with my sun hands / I promise not to lose her again."  The track begins as a meditative psych-folk cut before exploding into a fury of howling harmonies, stick percussion and a ferocious guitar riff.  It's a album that features both depth and intricate song-writing, but without being too polite about it.  It is also one of the year's best releases so far.  Buy a slab of Local Natives' brand vinyl over at Insound.
Head back to eating/sf to read Kasey's recipe for coddled egg and anchovy salad.