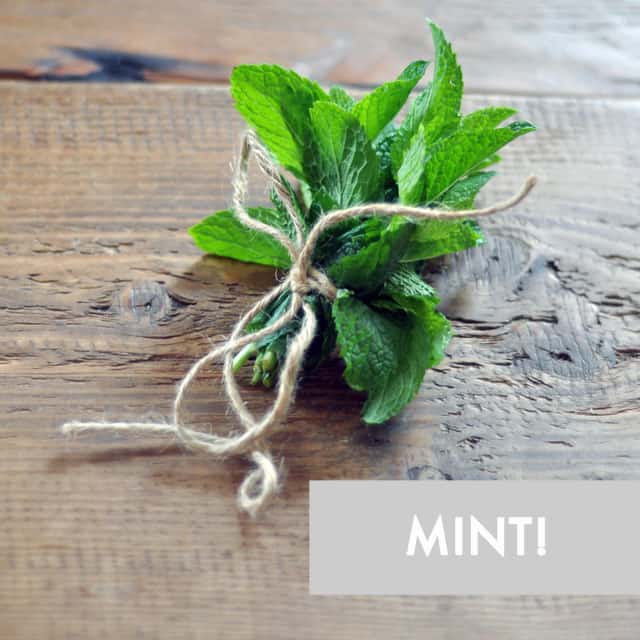 I've been thinking about launching a new series here focused on ways to work fresh herbs into your cooking but before I get ahead of myself and call this a series, I thought I'd start with some tips for using fresh mint in the kitchen.
Mint is a weed so if you're lucky enough to have a yard or a garden, you might actually find yourself complaining about your mint getting out of control. For me, though, living in a small apartment, growing mint isn't really an option. I pick mine up from the farmer's market, or steal some from my parents when I'm visiting their house.
Fresh mint is one of my favorite herbs because it is incredibly versatile, can be used in both sweet and savory foods, and can infuse flavor. Today I thought I'd share a few of my favorite ways to use mint. I'd love to hear yours in the comments, too!
1. In a tisane. A tisane is an herb tea and it couldn't be easier to make. Simply grab a handful of mint, stick it in a teapot and pour boiling water over it. Let sit for a few minutes before pouring. You can sweeten your mint tisane with honey or maple syrup, if you wish, or add a slice of lemon.
2. With watermelon. A favorite combination; adding chopped mint to a watermelon salad (with some salty cheese) really takes it to a new level.
3. In spring rolls. A mint leaf or two is a perfect accompaniment to a shrimp or veggie spring roll.
4. In ice cream. Who doesn't love mint chip? Steep mint leaves in cream to make the very best Mint Chip Ice Cream.
5. In coffee. This is a new one to me. Love the idea of adding some mint to iced coffee.
6. In cocktails. Mint is the star player in some of my favorite cocktails, including mint juleps and mojitos.
7. With meat. This meatball recipe is one of my favorites. I adore the pairing of beef + mint.
8. With chicken. Mint adds a cooling touch to sauces and dips that are great with grilled meat, like these chicken skewers.
9. With veggies. A little chopped mint goes a long way when it comes to adding flavor and creating a visually-pleasing veggie dish. I love mint with eggplant, artichokes, squash…the list is endless.
10. In juice. If you're into juicing, adding a little mint to your fruit and veggie combinations is almost always a win.