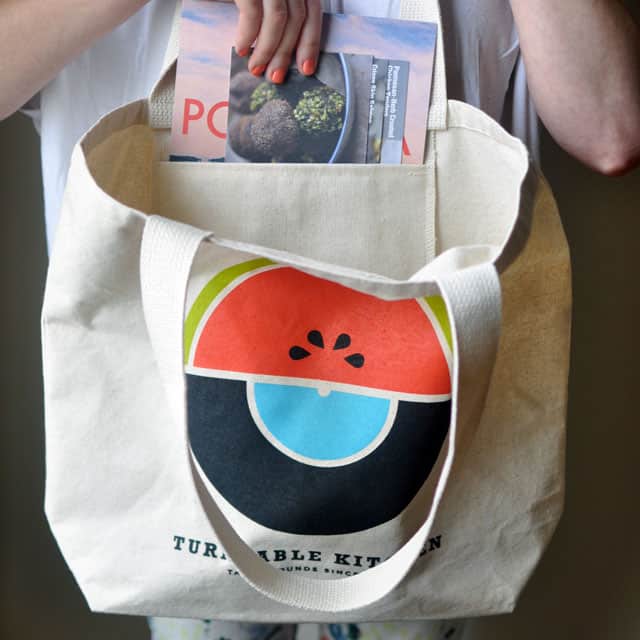 We love a good, sturdy tote bag and we've been wanting to make a TK one for ages. But we didn't want to create just any ol' bag; we wanted to make a product that was high-quality, utilitarian, unique, and fit the lifestyle of Turntable Kitchen readers and subscribers.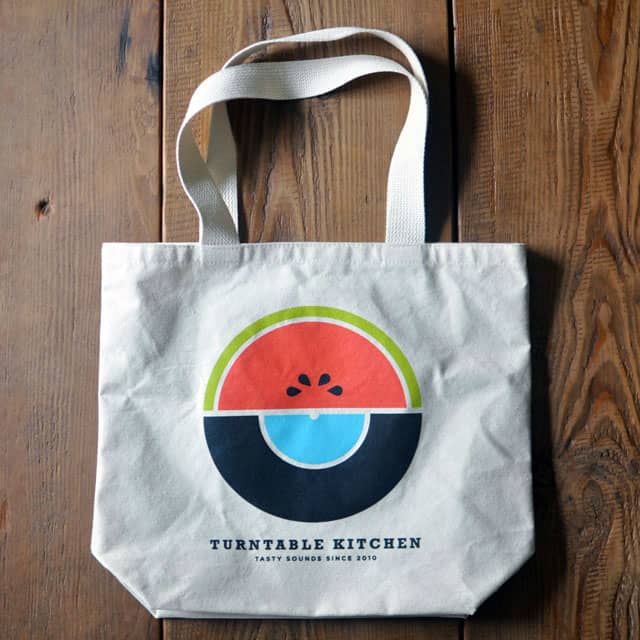 We're thrilled with our offering. Our Watermelon Market Tote is made of heavy 10 oz natural canvas and features cotton weave handles that comfortably hug your shoulders. What's more — each bag includes a very special feature: a fold-out 8″ x 8″ inside pocket that you can use to hold 7″ singles, recipe cards (from your Pairings Box), your cell phone, grocery list, or keys. We can't stand having to dig through the bottom of a bag for our stuff and we knew we wanted our tote to be functional for both farmer's market shopping, as well as record shopping. Our totes are 17″ wide x 15″ tall and have a 5″ gusset so they're roomy enough for your 12″ records, too.
You can purchase the tote on its own for $19.99 + shipping/handling, or buy it as part of a gift bundle that includes a set of surprise recipe cards and a 7″ inch vinyl single from a past Pairings Box ($29.99 + shipping/handling). Totes and gift bundles are available for purchase in the TK Market.
Watermelon design created exclusively for Turntable Kitchen by Amanda Jane Jones.