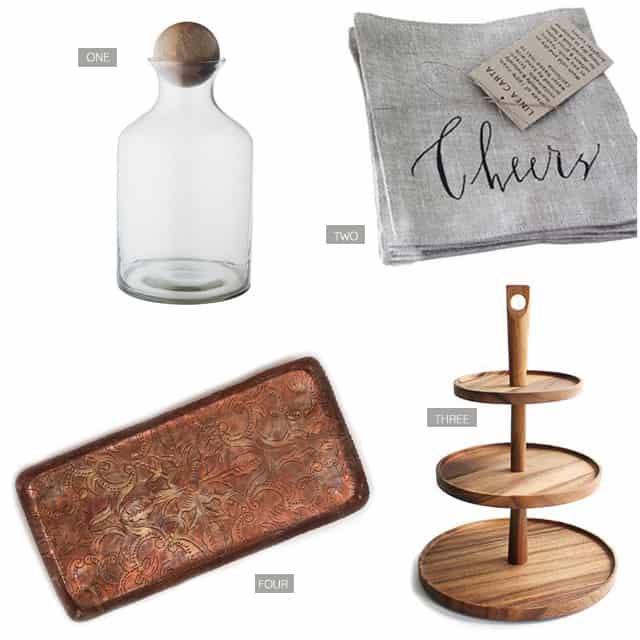 Erin and I 'met' through Twitter (I think I have a pattern of making friends through social media!). I immediately liked her because she was a. from Ohio, Matt's home state and b. someone who clearly knows how to do it all (have a successful career that takes her all over the world, renovate her home, and run a beautiful blog). We met in person at Alt Summit (where she was a speaker this year!) and have kept in touch since. Her blog, House of Earnest, has become one of my daily stops, and I'm thrilled to have her pop by Turntable Kitchen today to share a few of her favorite entertaining pieces for 'Stylish in the Kitchen.' — Kasey
Hello Turntable Kitchen Readers! I'm Erin, popping over from House of Earnest to share with you some of my favorite stylish entertaining pieces that can take you the distance. Regardless of your personal style, these four types of pieces will make entertaining a little less of a conundrum and a little more second nature.
A decanter is always necessary. Even if wine isn't being served, a basic one like the style above from West Elm can be used to hold any other beverage, like fresh squeezed OJ, or can be used to hold a pretty bouquet. Cute cocktail napkins and coasters make a huge difference between serving and entertaining. Stock up on something that lasts, like linen, as well as something disposable for larger groups.
For serve ware, I find that a very large, unique tray can be used for so many different things. It can corral a centerpiece, be a cheese platter, hold a second hot-from-the-oven dish, or act as a tray for your signature cocktail. The trick is to get one that is both sturdy and beautiful.
Tiered stands offer height variation and are so helpful when table real estate is at a premium. Stack them with whatever your heart desires — they're not just for cupcakes!
Having just a few good pieces can make you feel ready for any entertaining occasion, and pieces that coordinate (like the natural, warm pieces above) can pull together your entertaining style even when it's just an impromptu friend who drops by. Be ready with some of these stand-bys and you'll always be prepared.
A big thanks to Kasey for having me!