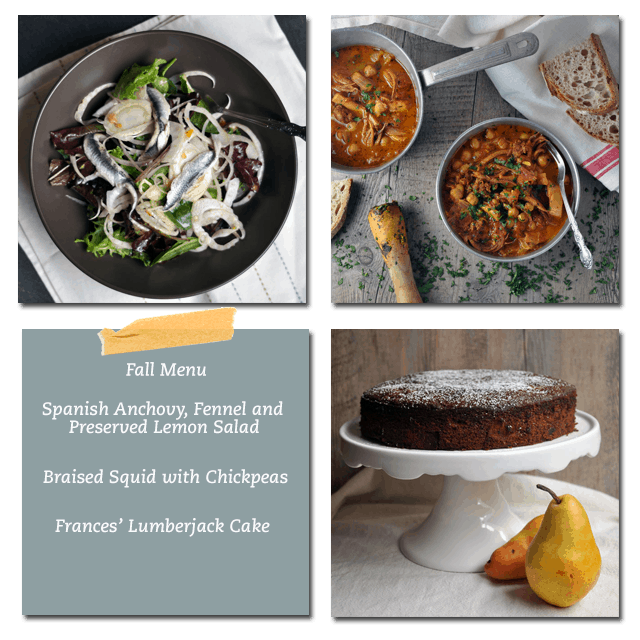 I can't believe that next week is Thanksgiving week. How did that happen? My favorite holiday tends to sneak up on me, and although I spend plenty of time thinking about what I want to make, I always seem to pull together my Thanksgiving menu ideas at the very last minute. While some food bloggers are devoted enough to prepare elaborate Thanksgiving meals weeks prior to the holiday so they can share them with their readers, every year as I eat my turkey, I exclaim, "we need Thanksgiving recipes on Turntable Kitchen!" And yet. I never seem to be prepared to style and photograph. Nor do I ever feel like roasting a turkey prior to our actual feast. Maybe that's for the best.
The only photos we take are of Matt carving the turkey wearing my parents' 'This is what I spent four years in college for' apron (with my dad and grandpa standing over him), of our over-the-top table spread (complete with Russian zakuski), and of us all dressed up, posing in front of the dining room wall. Matt and I have started to sneak more traditional recipes into our menu which are generally well-received; our cornbread stuffing and rum raisin apple pie were slam dunks. This year, I hope to finally make some yeasted rolls. I'm also eyeing Bon Appetit's Thanksgiving menu ideas, including these slow-roasted green beans.
But. But! We still have a few days before Thanksgiving. Not to mention the fact that our international readers have either celebrated their Thanksgiving already, or don't celebrate this holiday at all. So, with a few short weeks left in the Fall, before we slip into darker days, colder nights, holiday parties, and the craziness surrounding the winter holidays, I thought I'd pull together a little dinner menu to help you plan a gathering with friends or family that isn't centered around a holiday or tradition, but rather just good food, good company and, of course, good music. Let's celebrate the month of November!
Find the recipes for this menu below, and be sure to download Matt's "Fall Dinner" Mix so you've got some tunes to accompany your meal. We'd call it a dinner gathering in a box, but we already do that…Let this be your virtual Pairings Box.
Spanish Anchovy, Fennel and Preserved Lemon Salad
Braised Squid with Chickpeas
Frances' Lumberjack Cake