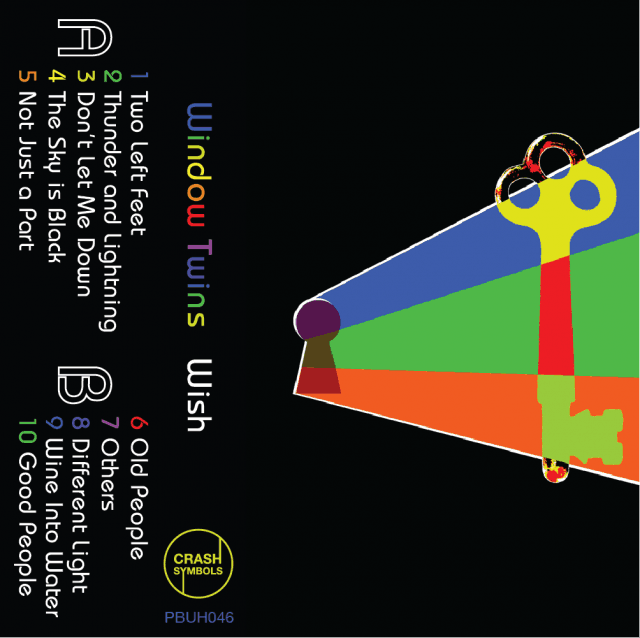 Separately, Tim Cohen and Jon Bernson released two of my favorite albums this year. Cohen as the frontman of The Fresh & Onlys and Bernson as the mastermind behind Exrays. And so it should come as no surprise that I was excited to learn about their most recent collaboration (their second overall) under the name Window Twins. On Wish, Cohen and Bernson blend together live drums, programmed beats, spindly guitar, bright horns, and various layers of electronic sonics set against analog instrumentation to create a dark, texturally-rich, and slow-burning brand of psychedelica.
Album opener "Two Left Feet" is perhaps the most straight-forward track on the album. It's a crisp, grooving folk-jam founded upon a bed of acoustic guitar and warm synths. Cohen and Bernson's harmonies are almost conversational as they smoothly transition between lead vocal duties. It's an engaging and appropriately accessible entry into the slyly quirky and darkly-lit soundscape the duo craft throughout Wish.
Indeed, they are able to effortlessly maintain a delicate balance between soft indie-pop and psychedelic experimentation as the album progresses. By thoughtfully arranging their individual talents with an eye for cohesiveness, Bernson and Cohen's compositions are regularly surprising and always pleasantly engaging. For example, "Don't Let Me Down" begins with spare and clattering percussion, a bubbling bassline, and reverb-soaked vocals before cruising into an unexpectedly bright, brassy melody. Meanwhile, "Different Light" (which is another personal favorite) is percussively shuffling and wryly playful. It's followed by the jazzy and flowing "Wine Into Winter" which opens with a swirling, crashing drum solo before snapping snuggly into a smokey horn-led melody. As a result of the way the duo consistently find new ways to play off of one another's strengths, Wish is a solid and delightful listen from start to finish.
Wish pairs well with Kasey's recipe for Roasted Acorn Squash with Hazelnuts and Balsamic Reduction. The recipe, like the album, features a smooth combination of strong flavors and subtle nuance. Similarly, the recipes two textural elements, squash and hazelnuts, each offer their own unique contribution to this well balanced recipe. It's a great addition to any meal.
You can order this one on limited-edition cassette and/or vinyl (I recommend the very reasonably priced bundle) from Bandcamp. Afterwards, head to the Kitchen to read Kasey's recipe for Roasted Acorn Squash with Hazelnuts and Balsamic Reduction.