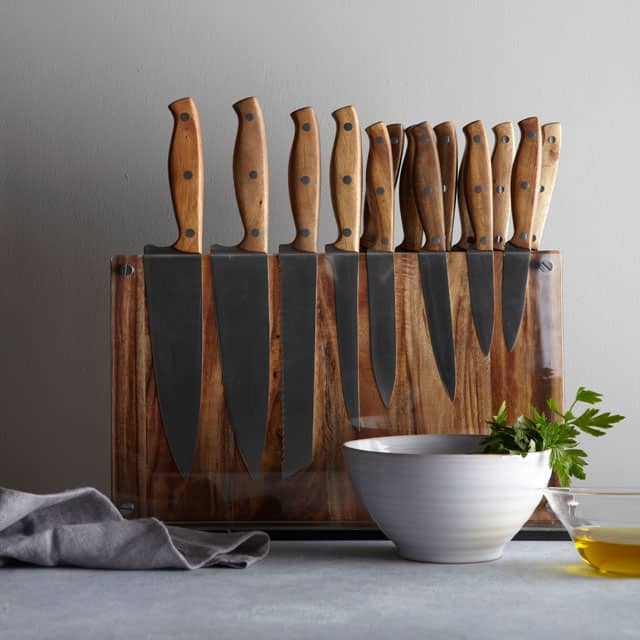 Update: This giveaway is now closed.
We're big fans of West Elm, the cool, Brooklyn-based furniture brand. We love our breezy Stripe Duvet Cover and Paul Loebach bookcase for all of our cookbooks (sadly, it's no longer available!). When the awesome folks at West Elm approached us about curating some of our favorite products for their Fall catalog and website, we were thrilled. For those of you who received a catalog in the mail, you may have already spotted us, and some of our favorite products. In addition to the products we hand-picked for the catalog, we also selected a few favorites for the West Elm website.
From salvaged wood shelves to gingham towels, we went on a pretend shopping spree that we could have kept going and going. One of the products that caught my eye when it first came out was this 15-piece knife set from Schmidt Brothers®. A good knife set is essential to any cook's kitchen and Matt and I always fight over who gets to use the 'good knife.' Even though I love our knives, I've been drooling over this set. Not only do I love the wooden handles of the knives, but I can't get over how beautiful the block is. It's not only functional, but makes a statement, too.
The kind folks at West Elm are offering one Turntable Kitchen reader their own knife set (I'll just continue to covet until I break down and buy it!). What do you have to do to win? Simply leave a comment on this post, telling us why you'd like to win and what would be the first thing you'd cook up with your knives. You have until Tuesday, August 14th at 12 pm PST to leave a comment (1 per person, please). We'll announce a winner on our Facebook page on Wednesday, August 15th, so be sure to Like to stay updated! In order to win, you must provide a valid email address.
Good luck, and big thanks to West Elm for allowing us to host this wonderful giveaway!