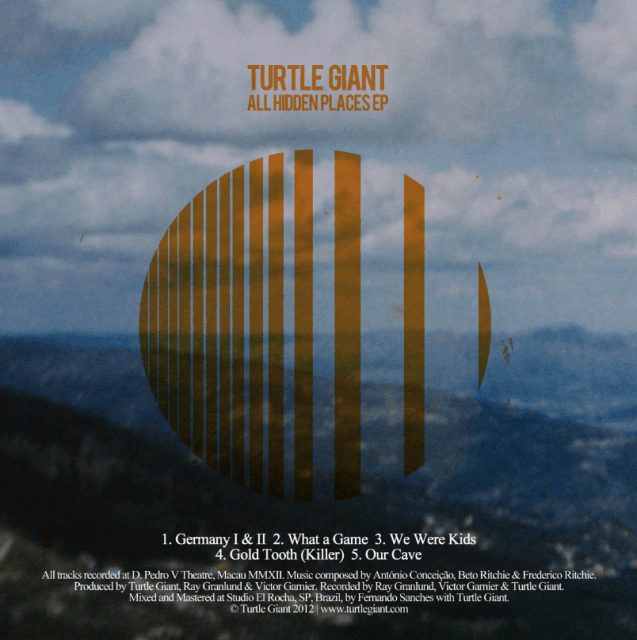 Macau, China is known for many things: it's a gambling mecca, it's the most densely populated region in the world, it's population enjoys the 2nd highest life expectancy in the world, and it boasts a truly unique blend of Chinese and Portuguese cultures. Notable indie rock, however, has never been one of their major (or even minor) exports. Brazilian-based trio Turtle Giant, who moved to Macau from Sao Paulo, Brazil, is aiming to change that.
The Brazilian trio recorded their recent All Hidden Places EP in Macau at the historic D. Pedro V Theatre. The beautiful, aged venue provided a plush and spacious soundscape for the band, affording the trio plenty of opportunities to sprawl out and experiment with their melodies and rhythms. Indeed, each of the EP's five tracks is built upon intricately constructed grooves that evolve through thoughtful variations and alterations of their original tunes.
Album opener, "Germany I & II" is a prime example. Clocking in at just over seven and a half minutes the trio slowly build upon a choppy, side-winding groove buttressed by a rhythm that alternates between humbly spare and crashing-through-the-walls bombastic. At times it sounds as if the band is forcibly pulling threads from Interpol's Turn On The Bright Lights, but at other times they sound far more like they've yanked a fistful of sounds out of Wolf Parade's Apologies To The Queen Mary, often with bits and pieces of Arcade Fire's Funeral woven in for good measure. Nonetheless, they are never satisfied to simply borrow from any of their influences though, instead tailoring the pieces together for their own purposes.
The band's energetic first single (and official first release) is the gritty and explosive "We Were Kids." It begins with locomotive percussion and chiming rhythm guitar before vocalist António Conceição enters the room and intones with a steadily rising cadence: "Oh, we were kids and torn to bits between the good things that we missed all our lives." A wet, reverb-soaked guitar riff rips in a torrent across the chorus alongside Ritchie's vocals and "oh, OHHH, oh, OHHH" chants. It's both addictive and captivating.
Meanwhile, "Gold Tooth (Killer)" is a brooding, lurking jam dressed in all black and anchored by a dark, slinking rhythm and menacing, pulse-like percussion. Standing well-lit amidst the shadows, Conceição sings incredulously: "Creeping my heart, you call me 'killer'? Vulture our homes, and call me killer?" Stabs of guitar gleam bright and knife-like through the dark melody. It's a mesmerizing noir-pop jam.
It pairs well with Kasey's Blueberry Buckle. It's a delicious recipe and sure to be a people pleaser. Similarly, All Hidden Places is certainly one of the best EPs I've heard all year and probably one of the best releases I've heard this year of any length. This one is highly recommended.
Read the recipe for Kasey's Blueberry Buckle today in the Kitchen. The EP is released on September 18. Watch the band's Bandcamp page.