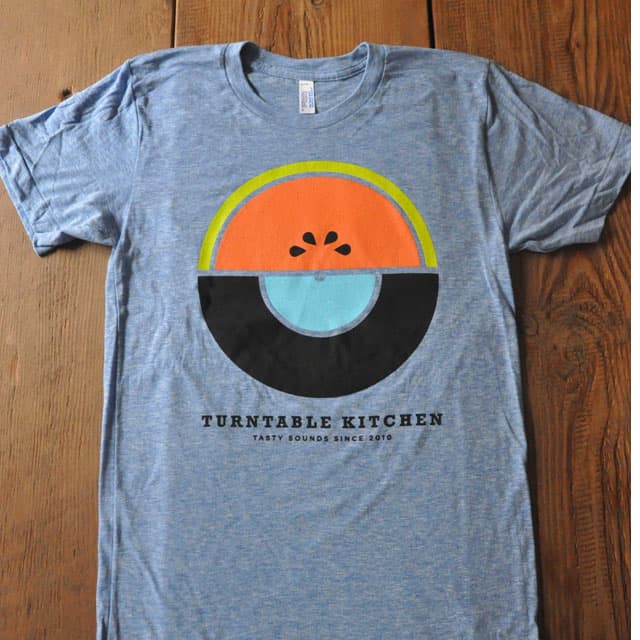 We've alluded on several occasions that we've been cooking up something special for you all and we're thrilled to announce that our new venture is finally here! That's right, the TK Market is open for business.
The Market is something we've been dreaming of since we first launched the Pairings Box. I think Matt and I both sorta fantasize about opening a cool storefront one day and the Market is our way of dipping our toes into curating a selection of goodies we're really proud to sell. Right now, you'll find two brand new Turntable Kitchen tees in there. Designed by the fabulous Amanda Jones (designer at Kinfolk Magazine), the printed graphics showcase what Turntable Kitchen is all about: good food and good music. We worked closely with Amanda to come up with the concepts and we're beyond thrilled with what she cooked up.
We love a good comfy tee, so we went through a lot of trials to find our perfect fit and blend. American Apparel's tri-blend came out on top; it's incredibly soft, loosely fitted, and doesn't shrink in the wash the way most cotton tees do. We love the look of heather so we chose two heathered shades for the tees and selected the track fit as we found it to be universally flattering for men and women. The tees are unisex so just select the size you'd normally order.
You'll also spot some Premium vanilla beans in the market. These are the same ones featured in the Americana-themed March Pairings Box. They're incredibly fragrant and can be used in a myriad of different ways. If you buy some, be sure to give our recipe for Dutch Baby with Caramelized Vanilla Bean Pears a whirl. Each package comes with 10 vanilla bean pods, tucked into our hand-stamped muslin bags and comes accompanied with a recipe for Vanilla Bean Milkshakes featured in the March Pairings Box.
In time, you'll see a variety of different products in the Market — from more TK-branded apparel and goodies to kitchen and music-related products we love. If you're a small brand and would like to be considered for inclusion in the TK Market, please email [email protected]. If you're a reader and/or Pairings Box subscriber, we'd love to hear which of the Premium ingredients and artists you've seen featured in the Pairings Box you'd like to see us feature in the Market.
We're so excited to embark on this new adventure with you, and we so hope you like what we've come up with. And lastly, you'll notice we've freshened things up a bit on the homepage. The Market and Pairings Box are a little easier to spot and navigate to, and we've added a new Features section, where you can check out a curated selection of top content and occasional gems from our archives.
Kasey & Matthew