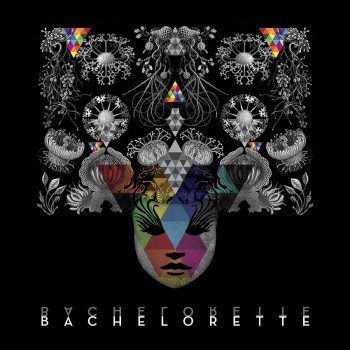 It has been said that all art is a product of its context. That is certainly true of the self-titled third album by New Zealand songwriter Annabel Alpers who records solo albums and performs live as Bachelorette. Bachelorette was recorded while Alpers was living a somewhat transient lifestyle with parts of the album recorded in Libya, Virginia, New Zeland, NYC and the UK. Each of these settings left a mark on the album. For example, the album's final track "Not Entertainment" features a sampled Muslim call to prayer that would ring out in her neighborhood while she was living in Tripoli with her mother. On another track, Alpers weaves cathedral chimes from Oxford into her composition. These little snippets of found sound are weaved into the small, empty spaces of Alpers' recordings adding to the very personal nature of her music which sonically sounds like a thoughtfully arranged blend of electronica, folk, psych and pop.
Indeed, although the recordings at times sound chilly, it is not for want of heart, but instead because that chilliness reflects the sparse, openness of Bachelorette's production. It creates a sense of vastness and isolation. For example, opening track "Grow Old With Me" gradually blows open with little more than Alper's affectless vocals and quiet, ambiant synths. Waves of cool textures build upon ringing tones to flesh out the sonic landscape of the melody. It's followed with a swaying, lullaby-esque groove combined with a pensive, pulsating rhythm on the crisply spacious "The Light Seekers." The aptly named "Blanket" is one of the album's warmest rhythms, but it reminds me of the warmth of a tightly-wrapped wool blanket while sitting alone at a cold campsite in an open, isolated landscape. Which is to say that the track (and indeed the album) is filled with a comforting internal warmth, but is cool on the outside.
This is Alpers' third album under the Bachelorette moniker and (sadly) likely her last. In fact, the album's closing track "Not Entertainment" spells out exactly how Alpers feels about continuing to record as a solo artist under the Bachelorette moniker: "I'd rather watch the others enjoy themselves / And just be happy that I'm not a part of it. / Thank you for listening. / I hope you got enough from this project / to make it worth your while and mine." Indeed, in an interview last year with the site Professional Losers she explained: "I feel like I've explored as much as I want to and lots of different ways of recording and making songs, and I want to stretch myself in other areas, with other musicians and not just fall into patterns of working the same way. It just felt like it was time to move on from the Bachelorette project." Although the Bachelorette recording project has come to an end, you can still catch her on tour with The Magnetic Fields this spring.
It's easy to see why the externally cold, but internally warming Bachelorette is a beautiful pairing for Kasey's Cognac Ice Cream recipe. I don't need to explain that ice cream is cold and Cognac (and liquor in general) are warming. But the album and recipe are also both rich and lovingly textured.
Head to the Kitchen to read the recipe for Kasey's Cognac Ice Cream. Then visit Insound to buy Bachelorette's self-titled album on vinyl.