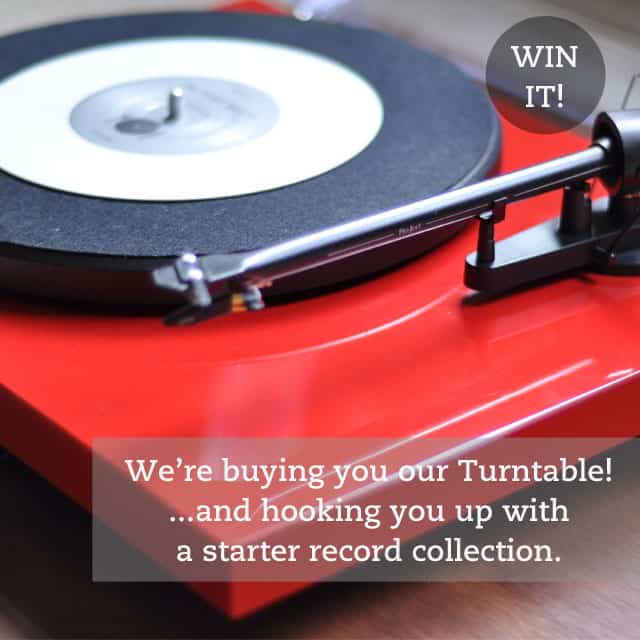 Today we're sharing something REALLY cool with you. A few months ago, we hooked up with the very talented Eric Slatkin of Highbeam Media (not to mention our friends Lindsey & Christian, who let us take over their house) to shoot a video that we hope captures what we feel is the Turntable Kitchen Pairings Box experience. We're proud to share the end result with you today and to celebrate, we're hosting a HUGE giveaway.
That's right. We're giving ONE lucky winner a slick, red Pro-Ject Debut III turntable. The same one that's made many appearances here before and the pretty little number in the video. More, we've teamed up with Mexican Summer and Father/Daughter Records to pull together a killer starter kit for you to get your record collection going. Additionally, we're throwing in a surprise, limited edition Pairings Box exclusive release. As you may know, we've sold out of all four of our previous monthly boxes, so you'll be receiving a very special little treat. The total value of this giveaway is over $500, and the experience you'll get if you win is priceless.
Here's what you gotta do:
1. Watch the Pairings Box experience video!
2. Comment on this post telling us what your favorite part of the video is and why you'd like to win.
3. Like the Turntable Kitchen Facebook page (if you don't already). Follow Turntable Kitchen on Twitter (if you don't already).
4. Share the giveaway and the video via your Twitter account by tweeting the following phrase:
Watch @ttablekitchen's Pairings Box video + enter to win a Pro-Ject Debut III turntable + starter record collection! http://bit.ly/zwMnKR
A random winner will be chosen and announced on Thursday, March 1st. One comment per person, please. This giveaway is open to U.S. and Canadian residents only.
[Update] The contest closes at 12:00 pm PST on Wednesday, February 29th. You have until then to leave your comments and be eligible to win!
Lastly, today's the day! We're accepting new subscribers to the Pairings Box, starting with the March Pairings Box! Head over to our NEW Pairings Box page to start your subscription today >>>