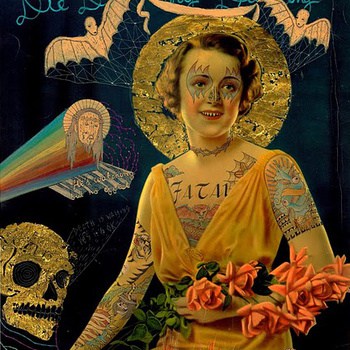 I mentioned in yesterday's post that I was sifting through Bandcamp for music from Bordeaux. Well, to be honest, I didn't stop with Bordeaux. In fact, I delved into portions of the local music scenes from Paris, Toulouse, Lyon and other French cities (at least to the extent that those scenes were represented on Bandcamp). In the process, I discovered weeks worth of great music. And of all of the great bands I found, Paris' Thousand was the most startlingly awesome discovery. The solo project of Paris' Stéphane Milochevitch (who is accompanied only by a female harmonies), Thousand has all of the qualities of a good glass of a strong red wine: bold, smooth, and enticingly spicy. Indeed, Milochevitch's distinctive croon sounds oak-aged with a well-balanced smokiness. With those wood-trimmed vocals centered within a bed of dark synth and sparse acoustic guitar, the result is a particularly drinkable noir style of indie pop.
Get more from Thousand on his Bandcamp page.
P.S. this EP is well worth $4 – Buy it!!