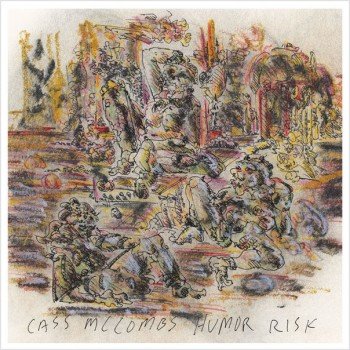 It's hard to believe we're already packaging up our second Pairings Box, but it is true. And while Kasey and I do put a lot of work in to preparing the boxes, we don't do it entirely alone. In fact, we receive a lot of help from family and friends alike. This past weekend our friends Jeff, Matt and Melissa all came by and volunteered their time and energy to help us get the goodies together for the November Box (thanks again guys!). I gave them a sneak peak of the TK002 mixtape (which I think is hands down my best mix yet) and played records while we worked. As part of our way of showing our gratitude Kasey prepared a new homemade goodie to feed our volunteers: a rustic and spongy Carrot Coffee Cake. And, sure I'm biased, but in my humble opinion, it was really damn good. So for the Musical Pairing I wanted an album that was melodically straight-forward and great brunch music. For that reason, I selected Cass McCombs' Humor Risk.
Humor Risk is McCombs' second LP this year (following Wit's End which was released in April), but my first experience with his music. I'd heard his name mentioned repeatedly all year, but hadn't taken the initiative to give one of his album's a full listen. Even for obsessive music bloggers that happens sometimes. However, once I did give his music a listen, I was barely over thirty seconds into the track "The Same Thing" (which had been identified as the track I should listen to first) before I realized I was really going to like this album. I stopped the track and started the album from the beginning and began to gradually fall in love with what I heard. McCombs' melodies are so direct and crisp that they immediately sound familiar. His voice is clear and warm. It bleeds dry wit and thoughtful sincerity. Exploring the man's music more I found a typewritten interview he did with Stereogum discussing Wit's End which I found intriguing. It seemed like a perfect description of his vignette-esque lyricism and naturally-sweetened songwriting: ". . . whatever the thing ended up being, it was Folk. I mean, it's non-commercial. I made this because this is what I make, that's Folk, and it's about people I know and how we're living. It comes from the heart and it's not intended to be sold, it's just intended to be traded, like a Dead tape." Anyways, I'm hooked and can't wait to delve deeper into his other albums.
You can preorder the album from Domino. After you're done with that, stop by the Kitchen and read the recipe for Kasey's Carrot Coffee Cake. You're gonna love it.