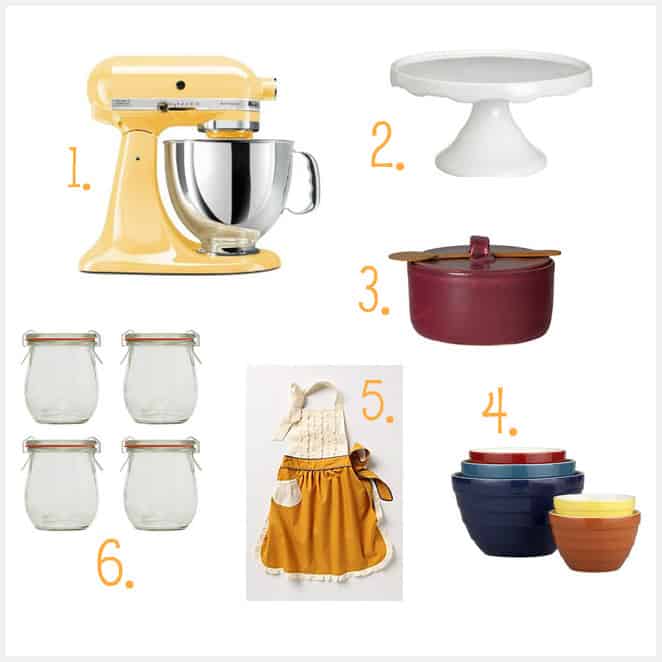 Above: 1. My yellow KitchenAid stand mixer (from Target), 2. White ceramic cake stand (from Amazon), 3. Petite covered casserole (from Terrain), 4. Stacked Parker bowls (from Crate & Barrel), 5. Apron (from Anthropologie), 6. Weck canning jars (from Terrain)
I've been on a serious house decorating kick lately (I blame Pinterest and the many amazing design bloggers I've been following), and this kick, of course, involves my kitchen. When you live in the same place for years, you've got to mix it up! One of my favorite ways to change the vibe of my house and especially, my kitchen? COLOR! I love color. As the days shift from warm and sunny to darker and chillier, you can bring a little sunshine into your life by adding bright bursts of citrus and berry to your kitchen.
I thought I'd share a few fun finds (and some of my favorite kitchen staples). I seriously hardly ever go shopping these days; I love clicking a few buttons and knowing that goodies are on their way.
1. My yellow KitchenAid stand mixer has been with me for two years and it's hands down my favorite thing to look at on my counter.
2. Cake stands make anything baked looked prettier. I nabbed this one on Amazon recently (you can also see it here)
3. This looks like a beautiful dish to serve a hearty stew in.
4. You can never have too many mixing bowls.
5. Aprons can be girlie or masculine. I have a couple of frilly aprons that not only protect my clothes, but actually add a splash of color to my kitchen.
6. Homemade jam looks prettier in these jars, but so does sugar, candies, and candles.
What are some of your favorite ways to bring new life to your kitchen?