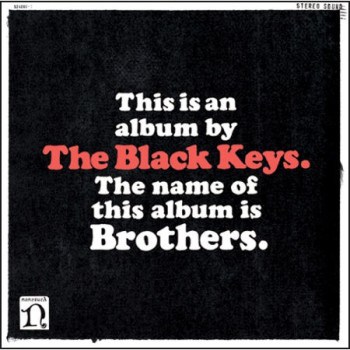 There are few recipes as traditionally American as the hamburger.  It is a simple classic that you can eat with your hand while evoking all the fun of summer barbecues with family and friends.  The hamburger Kasey is featuring today in the Kitchen, although still relatively simple, offers a touch of extra polish when compared to your ordinary burger. Featuring a homemade bun, simply seasoned beef patties, aged white cheddar and fresh greens – it's a clean burger at its unfussy best.  And for those reasons, The Black Keys are a perfect pairing for today's recipe.  The Akron, Ohio-based duo, guitarist/vocalist Dan Auerbach and drummer/producer Patrick Carney, effortlessly blend traditional blues and classic rock n roll together, seasoning the mix with a sprinkle of honky-tonk, to create their own unpretentious, eat-with-your-hands, Delta blues-informed indie rock.
To be honest, you could pair any album from the band's discography with this recipe (we previously paired my favorite album by The Black Keys, The Big Come Up, with Roasted Monkfish with Romesco Sauce and Thickfreakness with Pasta with Wildmushrooms, Peas and Bacon), but Brothers is the most fitting because it is their most polished and outdoor summer appropriate LP to date.  It opens with "Everlasting Light" which balances a pounding rhythm section and a dirty, simple guitar-riff, for a well-produced jam that manages to simultaneously sound both scuzzy and clean-cut.  They keep true to the blueprint with the trembling and steady rolling "Next Girl."   Meanwhile, the album's third cut, "Tighten Up," maybe be their most accessible groove to date.  It features a memorable melody built around steady percussion and a swirling guitar riff accented with some catchy whistling, church-organ pastoral keys closed out with a filthy bluesy bridge/outro.   The duo demonstrate no unnecessary effort to maintain the pace throughout the 15 floor-board stomping, guitar-melting tracks.  And judging by the size of their audience at this year's Outside Lands Festival (which, by my unscientific estimate, was unrivaled by even The Arcade Fire, Major Lazer or Deadmau5) they are a sure crowd pleaser.  Throw in a beer and a few of those burgers we are featuring in the Kitchen and you have everything you need for your final summer barbecue.
The Black Keys – Tighten Up
Bonus: The Black Keys – Summertime Blues (Eddie Cochran Cover)
Head back to the Kitchen to read the recipe for The American Burger.  Then head to Insound to buy Brothers on wax.