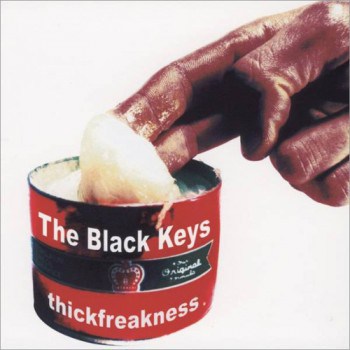 The pasta with wild mushrooms, peas and bacon that Kasey and I threw together last week was pure comfort food at its best. A medley of my favorite ingredients including quality apple-smoked bacon, wild mushrooms, fresh peas from our farmer's market and yummy Al Dente pasta was a sure hit on a day when I was feeling weary. And we must have done something right because after dinner, I was feeling great. Likewise, Akron, Ohio's the Black Keys must be doing something right. After all, Thom Yorke from Radiohead had this to say about the band in a recent interview with Pitchfork: "There are bands I look up to. Like I look up to the Black Keys." Although I wouldn't try to speculate why the Radiohead front man looks up to this relatively low-key Ohio two-piece, it is easy to see why he would love their music: their rootsy, minimalistic brand of blues-rock is rustic warming, comforting, and if you are like me – just makes you feel good, just like today's recipe.
The Black Keys consists of singer/guitarist Dan Auerbach and drummer Patrick Carney. Auerbach's rustic, weathered-bluesman vocals and fuzzy, grimy guitar riffs pair perfectly with Carney's primal, on top of it drumming. On their debut record, The Big Come Up, the Black Keys debuted Carney's own "medium-fidelity" recording process which they crafted using "equal parts broke-ass shit to equal parts hot-ass shit." On their sophomore release, Thickfreakness, the Black Keys didn't stray far from this winning recipe. Instead, they just focused on writing even better songs and catchier melodies. This is a band that doesn't have a bad album in their catalog, and yet many of the songs on Thickfreakness still stand out as some of the band's best, especially "Hard Row," "Midnight In Her Eyes," and "Have Love Will Travel." If you haven't had the time to check out the Black Keys before, this would be a great place to start. You really should head over to Insound and pick up a copy of this album on wax.
The Black Keys – Midnight In Her Eyes
The Black Keys – Goin' Down South (RL Burnside Cover)
The Black Keys – Funk #49 (James Gang Cover)
Head to the Kitchen to read the recipe for pasta with wild mushrooms, peas and bacon.