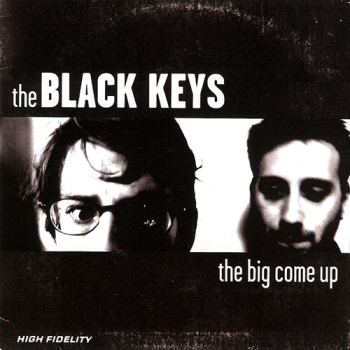 Monkfish is often referred to as the "poor man's lobster."  But that nickname is actually a misnomer for a number of reasons.  First, it isn't exactly cheap.  Monkfish is actually a relatively pricey piece of fish.  Second, although it has a texture that is relatively comparable to lobster, it doesn't actually taste that much like lobster (once you get past the texture that is).  Although, I've got to say that comparing it to lobster is a great marketing plan – especially in light of its unappetizing appearance (as Kasey mentions in her post: you probably don't want to Google monkfish before you try it).  And really, you'd be honestly missing out if you didn't give it a try.  It is subtly flavorful, buttery and straight melts in your mouth.  So with all of that in mind, the Black Keys' 2002 debut The Big Come Up is the perfect pairing for this recipe.  On the album's liner notes, the Black Keys' described the recording process for the album as "medium fidelity" a process that they note requires the liberal use of "broke-ass shit."  But like with the "poor man's" descriptor for monkfish, focusing on that "broke-ass" descriptor for The Big Come Up does this album no justice.  Instead, you'd be better served focusing on the beautiful textures, "raw-ass" boogies, stomping melodies and simple two-piece tunes that form the core of this album.
The Keys consists of singer/guitarist Dan Auerbach and drummer Patrick Carney.  And they keep things pretty simple with their debut.  Most of the songs consist entirely of only vocals, guitar and drums – with some small amount of bass guitar added on 6 of the LP's 14 tracks ("Countdown," "The Breaks," "She Said, She Said," "Yearnin'," Leavin' Trunk," and "Heavy Soul").  But with their intentionally limited palette they manage to make three times more noise than bands twice their size.  Auerbach has a distinctive whiskey-weathered blues-man crow that that flows neatly alongside roaring guitar riffs and Carney's jazzy, soulful drumming.  And it's worth considering the duo's choice of covers on their debut since said covers pretty accurately sum-up the blend of influences that contributed to their unique sound: the delta blues of Junior Kimbrough's "Do The Rump," The stomping rock n' roll fun of the Stooges' "No Fun," the melody-based tunefulness of The Beatles' "She Said, She Said," and the traditional tune "Leavin' Trunk."  The duo have a new long-player titled Brothers set to release later this year.  Until then, why not go back and pick up a copy of their debut if you've missed it up til now.  You can get it at Insound.
The Black Keys – Leavin' Trunk
Head back to the Kitchen to read the recipe for Roasted Monkfish with Romesco Sauce.