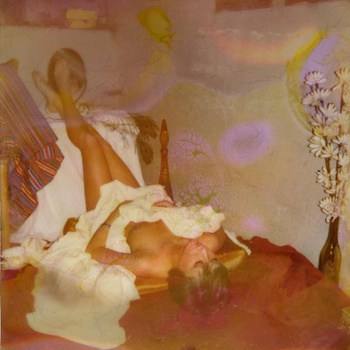 Earlier this month we previewed the track "Colorado" from We Are Trees' sophomore EP: Girlfriend.  It was a gorgeous teaser and I made note of We Are Trees mastermind James Nee's effective-use of orchestral songwriting, leathery percussion, crisply reverbating guitar and billowy, smoke-light vocals.  Well, the rest of the EP is now available and like the track that introduced us to his the new release, Nee's lush instrumentation, thoughtful songwriting and sincere lyrics are in full effect.  Although Girlfriend is an obvious continuation of the themes and palette that Nee utilized on Boyfriend, he has also explored some of the directions in which he could expand that overall sound.  The beautiful, hand-picked melody on "You" is minimal, shimmering and evocative.   The melodically upbeat, but lyrically plaintive closer, "I Don't Believe In Love," is drenched in thick, bleeding reverb, crashing percussion and shredding guitar riffs and definitely sounds the least like anything we've heard from We Are Trees yet.  Which is not to say that Nee jetisoned the elements that made us love the Boyfriend EP.  Far from it, and in fact, the opener "Teenage Heartbreak" is a perfect bridge between Boyfriend and Girlfriend retaining the same clean, resonant earthiness and crisp ambiance that marked Boyfriend.  You can (and should) get it via digital download from iTunes.  No official release date yet, but it will be available on vinyl from Collective Crowd Records. 
We Are Trees – I Don't Believe In Love
Don't forget to "heart" our songs on hypem if you like what you hear!