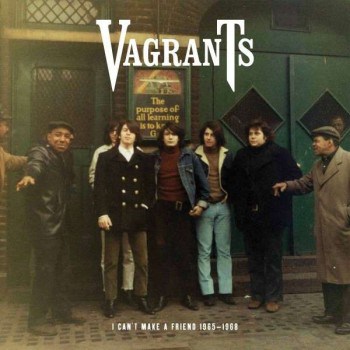 Kasey is featuring her delicious cardamom buns recipe today in the Kitchen.  It's a recipe that she has been planning to posts for months, but for one reason or another kept getting pushed back.  This is no reflection on the quality of the recipe – it's just a common occurrence of blogging.  I suspect most of our fellow bloggers can relate: sometimes you have something you keep meaning to post about, but just sit on for longer than you intended.  Anyways, I know I can relate.  For example, I've been meaning to post about Long Island-based 60's garage rock quintet The Vagrants, but keep putting it off.  And so it is fitting that the Vagrants would pair with today's recipe. Plus, the buns are buttery, flaky and oh-so-addicting, much like the catchy riffs and delicious songwriting of these long overlooked rockers.  And after all, who doesn't love a little rock and roll funk when baking?
A true high-school band, The Vagrants were formed by Queens' Forest Hills High School classmates Peter Sabatino (vocals) and Leslie West (guitarist) shortly after hearing the Beatles perform at the Forest Hills Tennis Stadium in August 1964.  They recruited Leslie's brother, Larry West, for bass playing duties as well as drummer Roger Mansour and organ-player Jerry Storch.  Despite recording at least an album's worth of excellent material during the period between 1965-1968 and achieving cult status in NYC, the band's popularity never gained traction nationwide before Leslie left to form Mountain (i.e. "Mississippi Queen").  But despite the band's relatively short recording career, they developed a significant following in the 60's New York City music scene performing gigs at hot rock n roll clubs throughout New York and creating a lasting impression on the musicians that surrounded them.  John Lennon and Paul McCartney even reportedly came out to watch them perform and they were able to count fellow Forest Hills High School classmates Johnny and Tommy Ramone as fans (Johnny claimed to have seen them dozens of times and to have admired them from across the school cafeteria) as well as a young Billy Idol.  And it is easy to see why they would have made such an impression: their songwriting was crisp, hook-filled and lively, and they offered a perfect marriage of blue-eyed soul mixed with fuzzy, raunchy garage rock built upon a foundation of squealing organs, rubbery bass lines, and rough and tumble guitar riffs.  I Can't Make  A Friend: 1965 -1968 compiles many of the Vagrants best recordings into one great slab of 180-gram vinyl courtesy of Light In The Attic Records.  Definitely a nice addition to your record collection.
The Vagrants – I Can't Make A Friend
Don't forget to "heart" our songs on hypem if you like what you hear!  Get the recipe for Kasey's cardamom buns from the Kitchen.