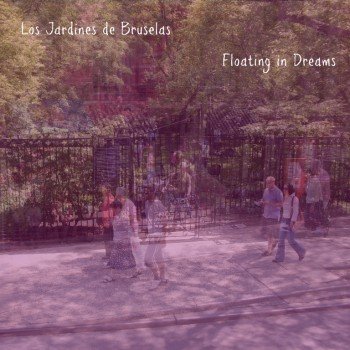 Los Jardines de Bruselas is the solo project of Ezequiel de la Parra who recorded the tracks that make up his debut, Floating in Dreams, in a bedroom in Buenos Aires, with a computer and some instruments with the explicit goal of experimenting as much as possible without losing the 'pop' identity.  From that standpoint, the album is definitely a success.  While Floating in Dreams is one of the more unique discoveries from  my inbox recently, it nonetheless retains a definite sense of familiarity.  For me that familiarity calls to mind the crisp ambiance of blue skies and sun after rain showers on an afternoon spent exploring the nooks, crannies, food and record shops of San Telmo, Palermo Viejo or Recoleta.  Strange, fanciful but nonetheless very real.  Album opener "Diamonds" which features clean, woozy psych-pop melodies that bubble, hiss and unwind in delightful and unexpected ways is very indicative of what you can expect from much of the rest of the album.  Things slow down for the swaying "Changing, Just Growing."  Download it from Los Jardines de Bruselas Bandcamp page.
Los Jardines de Bruselas- Diamonds
Los Jardines de Bruselas – Fog in Australia
Don't forget to "heart" our songs on hypem if you like what you hear!